The EU Digital ID wallet is coming. Here's what it means for you
Estimated reading time: 5 minutes
Proving your identity matters – whether you are a citizen opening a bank account, renting a flat or a business registering a new service. Imagine if you could do it in seconds via a mobile wallet app that works anywhere in the EU? Well, work on the EU Digital ID wallet is under way. Let's explore how it works and why it's needed…
Identity is one of the great challenges of the digital age. 
Trust matters when you are doing business with someone, or trying to access a service of some sort. But in a world of remote transactions behind screens, trust is hard to establish. How can you know for sure that the other party is genuine? 
How do you even know they are human?
In June 2021, the European Commission set out to tackle this problem head on. 
It proposed to give every EU citizen a set of strong digital identity credentials that will be recognised anywhere in the zone. These credentials will be accessible from a  digital wallets and available to anyone from their mobile device. 
What will this mean? Simply, it will give any EU citizen or business the ability to prove their identity or any entitlements quickly and reliably. This will make it much easier to access public and private sector services online – or to simply transact. Previously complicated and time-consuming processes will become simple and quick. 
Use cases might include:
•    Requesting access to a public record such as birth certificate, medical record or land registry 
•    On-boarding a customer to a digital service
•    Signing a business contract
•    Opening a bank account 
•    Filing a tax return
•    Applying for a university place anywhere in the EU
•    Claiming a medical prescription 
•    Proving age
•    Renting a car or registering a company car fleet contract
•    Checking in to a hotel .
The proposal was built on an existing EU regulation – eIDAS (electronic identification, authentication and trust services) – which was established in 2014.
Now, the EU is working with member states to agree a technical framework for the new scheme. It has set a target of September 2022 to agree the eIDAS 2 toolbox and then begin pilot projects.
 
Digital identity and authentication – why are they so hard to get right?
Who are you?
And how can you prove it?
These are simple questions. But when two parties are transacting with each other they become extremely important.
In the 'real' world, for both citizens and businesses, the process is still mostly based around physical documents. Want to buy something, get on a plane or sign a contract? You typically present some kind of physical ID. This could be a passport, a driving licence, a company certificate etc. On most cases, the other party can be fairly confident you are who you claim to be, and then process the transaction.
In the digital world, things get trickier. Neither party is physically present, so merely presenting a passport number/photo is no proof of anything. So how can you prove who you are?
This is proving a challenge for businesses and individuals. As the sharing economy has developed, the number of digital transactions has soared. However, stakeholders are not trained to recognized a genuine from a fake document. They need a robust and easy-to-use digital identity solution.
So what does the digital 'authentication' process look like now? Currently, most methods use a combination of three factors:
•    Something the customer knows (PIN or password)
•    Something the customer has (phone, dongle)
•    Something the customer is (fingerprint, iris, face)
It's a good model, but there's a strong reliance on the first two categories. Unfortunately, it's pretty easy for criminals to steal passwords. They are also getting very skilful at many forms of identity theft such as SIM swap. 
The pressure is on to solve the 'problem' of digital identity. Yet the component parts of the solution are already out there. All that's needed is some coordination. 
This is what the EU is trying to do with its new digital wallet scheme.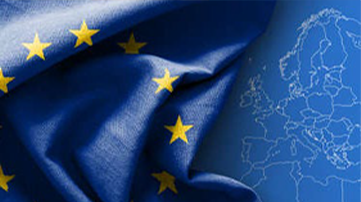 Understanding the European identity experience
What is the current experience for EU citizens when they need to prove their identity or rights?
A little background on the EU Digital ID wallet
One of the foundations of the European Union is the single market. Arguably the key reason for a country to join the EU is to be part of a bloc that can trade together with minimal barriers. A key aim of any EU wallet is therefore to give EU-based businesses a strong, secure and powerful tool for authentication. 
In the long term, this should bring economic benefits for the whole region. According to McKinsey, countries that implement a successful digital ID could unlock value equivalent to 3 to 13 percent of GDP by 2030.
Obviously, the same 'borderless' benefits accrue to citizens too. They should be able to travel and transact freely wherever they are in the EU. More and more, people now need to prove their identities electronically – whatever country they are visiting or living in. An EU wallet will help them to do so.
In the last decade, some EU nation states have tried to build their own digital trust infrastructures. However, these systems are mostly incompatible. An electronic document issued in one country – like a driving licence or a business contract – is usually not readable or legally acceptable in another. 
In 2014, the EU formally responded to this challenge. It launched the EU Regulation on Electronic Identification and Trust Services (eIDAS).
eIDAS mandated consistent standards across the EU for electronic authentication. Or at least, it tried to. The truth is, most member countries did not adopt it. Today, while around 60 percent of the EU population has access to digital ID, only 14 percent of public services allow cross-border authentication. In the private sector, take-up has been close to non-existent.
The EU recognised the shortcomings of eIDAS. After a consultation, it outlined the need to improve the coverage, user experience and cross-border acceptance of digital identity services in the EU.
In September 2020, Ursula von der Leyen, President of the European Commission, revealed plans for a re-vamp of the system: eIDAS 2.0. At its centre will be new digital identity wallet. Any EU citizen or company will be able to request one (although it will remain voluntary for citizens). It will be accepted everywhere across the union.
Von der Leyen said the new scheme would make it easier to travel and do business across the EU, and also address the privacy concerns raised by commercial providers of digital ID.
She said: "Every time an app or website asks us to create a new digital identity or to easily log on via a big platform, we have no idea what happens to our data. That is why the Commission will propose a secure European e-identity. One that we trust and that any citizen can use anywhere in Europe to do anything from paying your taxes to renting a bicycle. A technology where we can control ourselves what data is used and how."
The EU digital will therefore let users store electronic forms of identification and other official documents (driver's license, prescriptions, diplomas etc) safely. This information will be provided by trusted private sources only. And users will be able to decide how much data they want to share for a specific purpose. 
 
The EU Digital ID wallet in practice: business
Obviously, by making digital transactions safe and fast between EU member states, the EU Digital ID wallet will deliver significant benefits to businesses. It should reduce fraud and improve rates of payment completion online.
In short, companies will have much more control of the data they wish to share.
As Thierry Breton, Commissioner for Internal Market, says: "Our European companies, large and small, will also benefit from this digital identity. They will be able to offer a wide range of new services since the proposal offers a solution for secure and trusted identification services."
The wallet will help enterprises to improve day-to-day activities in their own workplaces. Take human resources for example. HR departments will be able to verify quickly the identity of a job candidate and authenticate any documents they submit to support their applications. They can also insert payslips into the wallet app.
And don't forget that the digital ID doesn't just enable attribute sharing. It also supports digital signatures. The wallet can be used to digitally sign work contracts and legal permits. This will make the work of purchasing and procurement teams much easier. They will be able to prove the company's identity by sharing a verified registration certificate with suppliers. Treasury departments will also benefit. They will be able to file and complete tax returns much more quickly.
The ability to sign contracts digitally will have many benefits. Companies will drastically reduce their need to print, sign, scan and send paper documents by post. This will save time and money. It should also be good for the planet by reducing waste and the number of journeys.
 
The EU Digital ID wallet in practice: citizens
Discussions of digital identity can be bewilderingly technical. So, to understand the concept, it helps to think about the consumer experience. 
Most users will access the EU Digital ID wallet in the form of a smartphone app. Billions of people regularly use mobile apps, so the process will be familiar to the vast majority of citizens and businesses.
EU citizens will be able to download the wallet app from the major app stores and have their identity verified with high level of assurance to onboard to their wallet. Once done, they will be able to request their key identity credentials and electronic attestations from official institutions (ex: driver license, health pass, vehicle card registration, diplomas, etc..)  and from private service providers (ex: IBAN bank credential, verified utility bill, etc…). When these credentials are approved and installed, they will be listed clearly on the app. Later, the user may be able to add more credentials from other enterprises with trusted data such as airlines and insurance companies.
With the app installed, the user will be able to select the credential needed to complete a transaction, and authenticate using a password, PIN, biometric or similar.
Let's consider some hypothetical use cases for the EU digital wallet. Obviously, much of this analysis will be guesswork; the wallet is still in the development stage. But enough information has been realised by the EU to make it possible to speculate.
•    Opening a bank account
In the analogue world, opening a bank account is time-consuming and complicated. The user has to fill out a long registration form. Then the bank asks for (paper) identity documents. It may take several days to check them. If either side makes a mistake, there will be further delays. With the EU Digital ID wallet, the bank can request the necessary credentials from the applicant. He or she selects them, and in seconds they are verified by the bank. The process even includes an eSignature that signals the applicant's agreement.
•    Enrolling at university 
This will be especially useful for EU citizens studying outside of their home country. The student can use her EU Digital ID wallet to access, for example, the diploma she gained in one country and have it accepted instantly in any other EU country. 
•    Entering a nightclub
This is a useful use case to explore because it shows how users will be in control of their data. Here, the nightclub just wants proof of age. Previously, a person might need to show a passport or driving licence to gain entry. These documents reveal the holder's age, address, place of birth and more. None of this is necessary in this example. With the EU Digital ID wallet, the person can provide trusted proof of age and nothing more. The process might also include an eTimestamp, providing electronic proof that the transaction occurred at a specific time.
    
The development of the EU Digital ID wallet is an important moment for EU citizens and businesses. As the world migrates from 'analogue' to digital transactions, it represents an opportunity to make online interactions of all types (buying/selling, storing identity, registering permits, sharing certificates) safe and quick. 
The EU Digital ID wallet promises to reduce friction that hampers so many digital processes today. As adoption of the wallet grows, this should build a stronger Europe for people and companies across the union.