Reflections on supporting the Royal Air Force in 2022 and looking forward to 2023
Last year was, without doubt, a busy and eventful year for the Royal Air Force as it successfully delivered global air and space power to protect our nation. As a trusted industry partner, Thales is extremely proud to have played our part in supporting the RAF's considerable achievements at home and overseas. We're also proud of our role in working with the RAF to help build the Next Generation Royal Air Force.
While supporting the RAF to 'Succeed Today', we're also helping the RAF 'Innovate for Tomorrow' by harnessing innovation in digital technologies, sensing, and lightweight, novel defence capabilities to create sustainable advantage for an increasingly digitally empowered force.
Our success in 2022 would not have been possible without harnessing the experience and expertise of our people and by working collaboratively with the RAF, UK MOD, and industry partners. Here's a round-up of some key activities and a snap shot of what 2023 has in store.
Transforming UK MOD Air Traffic Services
The Aquila-led team, a joint venture between Thales and NATS continued to transform the ground air-traffic management services at airfields in the UK and overseas under the Marshall Programme.
In 2022, the full Marshall Surveillance solution was declared operational at RAF Shawbury and the Lincolnshire Terminal Air Traffic Control Centre was opened at RAF Coningsby. Of particular note, teams from Thales and Aquila completed the installation and integration of the Thales Star NG Primary Surveillance Radar and RSM970S Secondary Surveillance Radar on top of the Rock of Gibraltar, which is an impressive 413 metres above sea level. We're immensely grateful to the RAF Chinook Force, which transported all of the equipment in underslung loads to the top of the Rock. In 2023, both radars will be integrated with the advanced Thales TopSky Air Traffic Display system to provide cutting-edge air traffic management services to RAF Gibraltar and Gibraltar International Airport. 
During 2022, Thales Radar and TACAN installations were also completed at RAF stations in the UK and overseas including Marham, Valley, Odiham, Brize Norton, Spadeadam (Dead Water Fell), Akrotiri, Lossiemouth, Cranwell, Leeming, Benson and Coningsby. This significant transformation activity will continue on RAF stations throughout 2023.

Head-turning achievements
Last year was a typically busy year at the Thales High-G Training and Test Capability facility at RAF Cranwell. Designed and built by Thales in partnership with Austrian firm AMST, the RAF Centre of Aviation Medicine (RAFCAM) uses the facility to train fast-jet pilots in the Royal Navy and RAF to recognise the effects of G-force, develop awareness of it, and learn the physical techniques to counter its effects during combat missions. The facility is also used to trial and test new equipment for use on fast-jet aircraft and by pilots. The High-G facility is an excellent example of whole-force integration and how industry, the UK MOD, and the RAF work together to successfully provide state-of-the-art training that helps save the lives of fast-jet pilots.
Availability of the High-G facility has always been the main performance measure, so we're delighted to report we achieved 100% availability in 2022. Pilot feedback, gathered by RAFCAM, rated our training and services as either 'Excellent' (93%) or 'Good' (7%) and included numerous positive comments. On the 9th November, the facility passed a significant milestone by spinning its 2000th subject. In 2023, we'll be looking to send many more pilots from 0-9G in one second!

A winning performance at RAF Brize Norton
In 2022, Thales played an integral role, as part of the whole force, in supporting RAF Brize Norton's operational output. A partner in the AirTanker consortium and aviation service provider of the RAF's Airbus A330 'Voyager' aircraft, we provide the only end-to-end training to RAF pilots and air and ground maintenance crews anywhere in the world. Our Voyager Training Academy blends classroom, desktop, and synthetic training to ensure crews are able to support the RAF's air-to-air refuelling and strategic air transport missions worldwide. In 2022, our training successfully supported the RAF on operations in the UK and along NATO's eastern flanks, together with RAF participation in key exercises in Australia and the US. And more recently on operations in Qatar, where 12 Squadron – a joint UK-Qatar Typhoon squadron – supported by a Voyager tanker aircraft provided round-the-clock air security during the FIFA World Cup.
Across the road dividing RAF Brize Norton is the Atlas A400M Schoolhouse. This joint venture, between Thales and Airbus, is as important as ever as the RAF continues to transfer its tactical airlift capability from the C130J Hercules to the Atlas A400M. With the Atlas A400M successfully providing tactical airlift and strategic oversize lift capabilities throughout 2022, the Atlas fleet will no doubt be in high demand during 2023 and we look forward to supporting the Air Mobility Force at RAF Brize Norton as they continue their important work in delivering global air power. 

GCAP
Building on our work in support of the RAF FCAS-Technology Initiative and UK MOD FCAS Acquisition Programme, we were delighted to see the recent announcement of a new trilateral agreement between the UK, Italy and Japan to develop the next-generation of combat air fighter jets. The Global Combat Air Programme (GCAP) builds on the substantial progress already made by the UK MOD and Team Tempest, a UK industry consortium led by BAE Systems, and in 2022 we were delighted to be awarded our first set of contracts by BAE Systems in support of this next-generation of Combat Aircraft. In 2023, we'll continue to work closely with the UK MOD, BAE Systems, and other key international and industry partners, across a range of activities to enhance and unlock the true power of "digital" in the GCAP partnership.

RAF Digital and MD MSS
In 2022, we were extremely proud to be recognised as a strategic partner by RAF Digital as it looked to meet the challenges of building the Next Generation Royal Air Force by integrating data, information, cyber and digital technologies. The RAF's first Chief Digital Information Officer and his team have done a fantastic job in diagnosing the scope of the challenge and have set a clear strategy and way forward.
In support of the work of RAF Digital, a key focus for Thales in 2023 is to further integrate and enhance our Multi-Domain Mission Support System (MD MSS) capability for an ever-increasing RAF and RN user-base. MD MSS, previously known as AirScape, enables the transfer and exploitation of information to support rapid decision-making and the timely delivery of effects. Information and digital technology lie at the heart of the Next Generation Royal Air Force and MD MSS, with its wide range of defence, intelligence, and aeronautical related data feeds, providing a single point of truth, will help the RAF to fully harness the full potential of its people, equipment and networks in an increasingly digitally empowered force.

© Crown Copyright
Team Pellonia – air platform protection
In July 2022, building on our strategic partnering arrangement with the UK MOD, we were delighted to join the RAF, DE&S, Dstl and industry partners Leonardo and Chemring Countermeasures at the Farnborough International Airshow to announce Team Pellonia. Working in partnership to provide Next Generation Air Survivability (NGAS), Team Pellonia will ensure access to the best possible integrated self-protection systems for UK Armed Forces platforms, so aircraft crews can respond to emerging threats with life-saving speed and agility. 
With Team Pellonia industry partners already on contract to provide protection systems for the RAF's fleet of Shadow surveillance aircraft and the new Wedgetail Airborne Early Warning (AEW) aircraft, 2023 will be an exciting year for Team Pellonia. It will also be exciting for our team in the UK, which provides both ELIX-IR, our world class infrared-based threat warning system and VICON XF, our intelligent countermeasures dispensing system.

Countering Uncrewed Air Systems
The threat from Uncrewed Air Systems (UAS) is already significant and rapidly increasing. As a result, 2022 saw considerable focus at Thales in countering this growing threat to our Armed Forces. Our team in Belfast developed and deployed at pace our RAPIDSentry capability to support RAF Counter-UAS operations. This involved the rapid certification, test-firing, and installation of RAPIDSentry systems and in 2023 we'll continue to deploy additional capabilities. RAPIDSentry is just one way we're helping the RAF achieve control of the air against an increasing UAS threat. This year, we'll also continue to collaborate with Leonardo to optimise the RAF's ORCUS counter-drone system capability, as well as with other industry partners as we support the UK MOD's considerable C-UAS efforts.
Deserved recognition where it's due…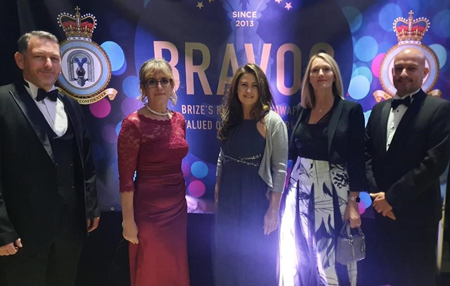 In 2022, it was a privilege to sponsor the BRAVO Awards that celebrated the outstanding work of the nearly 7,300 service personnel, contractors and civilian staff who work at RAF Brize Norton. We were also delighted to sponsor the Defence Academy's AeroSystems Course graduation at Shrivenham, the No 1 Group Awards Ceremony held at RAF Coningsby, the RAF Aircrew Profession Conference, the Qualified ISR Course graduation at RAF Waddington and, once again, the RAF's ASTRA Awards Ceremony held in the RAF Museum. 
We also recognise the vital work of the RAF Benevolent Fund in supporting the wider RAF Family and in 2022, through our Charitable Trust, we continued to provide financial support. This year is our 20th anniversary of supporting the RAF Benevolent Fund and we're looking forward to marking this anniversary at the Royal International Air Tattoo. 
…and building a force to be reckoned with
Our investment in enhanced learning, recruitment and upskilling, and cross-border secondments will increase in 2023. By ensuring our people have the rich diversity of experience and expertise, we're also ensuring we provide the services, solutions, and support the RAF needs to achieve its vision to be the most operationally successful, agile and innovative Air Force in the world; one that's always there for our nation.
Put simply, our mission is to support the RAF's ability to rapidly project air and space power, wherever it's required, to protect the UK, its people and its territory. We have supported the RAF for over 100 years and will continue to do so – helping the RAF 'Succeed Today' and 'Innovate for Tomorrow' as they continue their important journey in building the Next Generation Royal Air Force.