Monitoring Earth and climate change impact from space
The blue planet or the green one? As climate change is becoming one of the greatest long-term challenges that society is facing, its consequences on Earth are more and more visible, starting with its colour, when observed from space.
To anticipate the consequences of global warming and protect our planet, we need precise information about how the natural environment is changing. Some Earth Observation satellites can provide reliable and highly accurate information on Earth over long periods of time and on a global scale.
While meteorology was the first scientific discipline to use space capabilities in the 1960s, satellites are now able to help us monitor how healthy – or not – the planet we call home is, based on a broad range of data including weather analyses, the oceans' colour and temperature, or measures of earth gravity. Three-quarters of the data used in numerical weather prediction models depend on satellite measurements, says OECD's quarterly magazine, OECD Observer.
"It's not something we can study from Earth. Of course we would get some data, but we wouldn't be able to get a global view. It would be like watching television through a little hole," says Sandrine Mathieu, Product Line Manager for Meteorology, Environment and Oceanography, at Thales Alenia Space.
"Satellites give us a global view that progresses in time, showing how events are related and how fast they are evolving," she adds.
Some of the observation satellites orbiting around the Earth are purpose-designed for environmental monitoring. Satellites allow scientists and decision makers to better monitor the impact of climate change, and they can also be the only solution to monitor parts of the world where ground systems are not deployable.
Every day, their eyes stay focused on our planet, capturing images that provide invaluable data to help us respond when nature goes wild, as well as to understand climate change, make better use of natural resources and protect populations at risk.
© Thales Alenia Space, Master Image Programmes, ESA
Creating a 'digital twin' of Earth
For example, satellites were able to detect the impact that the intense bushfires in Australia at the end of 2019 had on air quality in the United States, 15,000 kilometres away.
Another key purpose of satellites is the monitoring of oceans. Around 70% of the planet's surface is covered by oceans, which have a crucial impact on climate, regulating heat, absorbing CO2 and providing food as well as economic sustenance to coastal communities.
Monitoring the oceans from space means we can have a comprehensive picture of their health by checking their depth with millimetre accuracy thanks to radar technology, their temperature with thermal infra-red sensors, and their salinity and – last but not least – their colour through the eyes of optical sensors.
Oceans are not always blue. Their hue depends on the concentration of phytoplankton and other particle matters that could indicate discharges or the presence of pollution. By keeping an eye on oceans, we can detect algae bloom, which have a deadly effect on marine wildlife.
The new-generation satellites will offer greater capabilities. The next step in the study of the Earth from space will be a hyperspectral 2D sounding meteorology mission that will provide a 3D vision of the atmosphere, compared with the surface data we can gather today. This will provide a gigantic leap in the knowledge we can apply to air transport, as well as the study of typhoons and air quality.
"The logical continuation is the creation of a 'digital twin' for the Earth, which will allow us to gather all sorts of environment parameters (biodiversity, agricultural ressources, water quality, water height, …) on the global surface planet and monitor them in real time. By observing  and understanding interactions we will eventually be able to anticipate pollution, extreme events, harvests, forest fires, climate change impacts, etc ," says Sandrine Mathieu.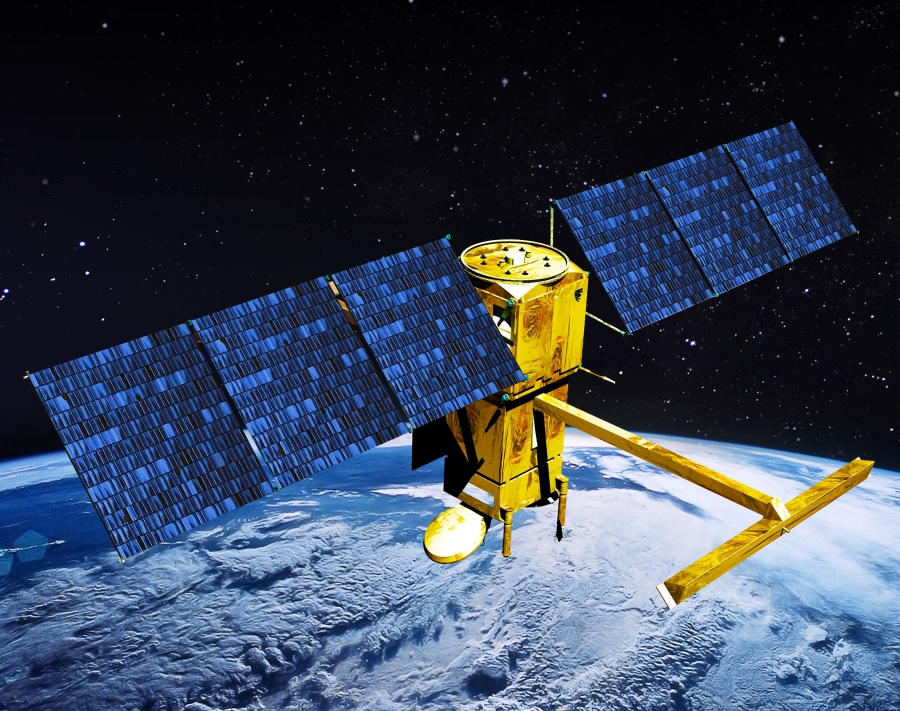 Providing technology that benefits the daily lives of people
At Thales, we're fully aware of the impact of global warming. For more than 40 years now, Thales Alenia Space engineers have leveraged their expertise to give the world's scientists and decision-makers the means they need to acquire vital data for environmental monitoring, oceanography and meteorology.
Thales Alenia Space has been at the forefront of European geostationary meteorology, as prime contractor for three generations of Meteosat weather satellites on behalf of the European Space Agency (ESA) and EUMETSAT, the European operational satellite agency for monitoring weather, climate and the environment.
The company is also involved in major Sentinel missions, a key to Europe's environmental monitoring efforts. Sentinel satellites are being built on behalf of ESA as part of the European Union's Copernicus programme. Thales Alenia Space is a major partneronboard this very ambitious programme, which is designed to monitor land and ocean, vegetation, soil and coastal areas, and study sea-surface as well as the temperature and colour of sea and land.
As a world leader in altimetry and a major partner onboard the most iconic international missions dedicated to oceanography, Thales Alenia Space is also working on the French-American oceanography satellite SWOT (Surface Water Ocean Topography), which will revolutionise modern oceanography by detecting ocean features with 10 times better resolution than current technologies. 
Thales, which aims to provide technology that benefits the daily lives of people around the world, is committed to fighting climate disruption. Observation of the Earth from space is crucial to defining and implementing responsible environmental policies as satellite missions ensure that the environment we live in – the air we breathe, the water where we bathe and the forests we walk in -- remains as clean as possible.
Learn more about Thales's commitments in favour of the environment:
Learn more about our solutions in