Thales creates eco-friendly credit cards
Eco-friendly credit cards
Thales is committed to sustainability and we care about the environment –  just like you!
Did you know that the amount of plastic used to produce banking cards every year is equivalent to the weight of 150 Boeing 747s?
And that the six billion banking cards made every year produce a carbon footprint equal to 500,000 passengers flying from New York to Sydney?
 
Developing a life cycle strategy for an eco-friendly card involves a global approach in which banks have to choose the right technology, processes, and products to achieve a substantial reduction in negative environmental impacts such as energy consumption, carbon footprint, and plastic waste. 
Since 2019, 214 banks have signed up to the Principles for Responsible Banking, leading the way to a future in which the banking community makes the kind of beneficial contribution to people and the planet that society expects. 
The Principles provide the framework for a sustainable banking system and help the industry to demonstrate how it makes a positive contribution to society. The CEO of each signatory bank commits to the official principles, including a target aimed at reducing the negative impact caused by banking products and services.
With its payment card solutions and services, Thales is supporting banks to implement environmentally-friendly and sustainable practices.
We have developed a full set of tools that enables our banking clients to develop a consistent strategy to achieve their target of reducing the negative effects of their products and services. 
Our sustainable products and services cover every aspect of a bank card's life, focusing on Reduction and Compensation. They range from bio-sourced and recycled card body materials to a carbon offset programme.
Our approach to delivering on sustainability is built on four key pillars:
      1. Thales Gemalto Bio-Sourced (PLA) Card
      2. Thales Gemalto Reclaimed Ocean Card
      3. Thales Gemalto Recycled PVC Card
      4. Thales Gemalto Carbon offset programme
​
#1. Thales Gemalto Bio-sourced (PLA) Card

One way to avoid plastic waste is to use alternative eco-friendly materials. Thales Gemalto Bio Sourced PLA cards replace 84% of fossil-based PVC with bio-sourced PLA made from non-edible corn.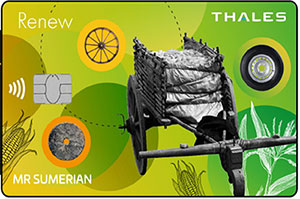 Do you know what PLA is? 
Polylactic acid (PLA) is a sustainable plastic substitute made with renewable bio-sourced resources such as corn. It is non-petroleum-based and non-toxic if incinerated.
Thales was the first card manufacturer to provide a PLA card body for banking cards, an achievement that has enabled us to gain more expertise in bio-sourced card production than any other company in the world. Millions of Thales PLA cards have already been delivered worldwide and certified by the major payment schemes.
 
#2. Thales Gemalto Reclaimed Ocean Card

Plastic waste is also having a devastating impact on our oceans. Thales Gemalto Reclaimed Ocean cards are made using 70% plastic cleared from coastal areas. One card contains roughly the equivalent of one reclaimed plastic bottle.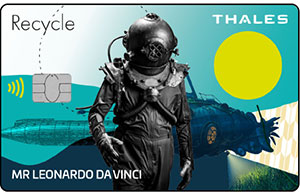 Thales believes in reusing plastic waste, especially post-consumer waste  produced and discarded by the end consumer.
To achieve this goal, we decided to work on post-consumer recycling.
We're now rolling out Thales Gemalto Reclaimed Ocean Cards, which use plastic reclaimed from coastal areas which would otherwise end up in the world's oceans.
Thales and Parley for the Oceans
Thales has partnered with Parley for the Oceans, the award-winning global network whose members come together to raise awareness for the beauty and vulnerability of the oceans and collaborate on projects that can end their destruction. 
The partnership between Thales DIS and Parley empowers worldwide card issuers to offer their customers Thales Parley Ocean Card made with Ocean Plastic® – a premium material up-cycled from plastic bottles collected from coastal communities.  
Parley's Code of Conduct further differentiates Ocean Plastic® from other recycled materials by prioritizing traceability and the well-being of the employees and communities participating in the supply chain. 
In November 2020, Thales won the prestigious 2020 Élan Award of Excellence in the Unique Innovation category by the International Card Manufacturers Association (ICMA) for the American Express Green Reclaimed Ocean Plastic Card.
  
ICMA's Élan Awards of Excellence celebrate design innovation, security and technical achievements that power the card industry.
#3. Thales Gemalto Recycled PVC Card
Thales Gemalto Recycled PVC cards help banks use less first-use plastic. They're made using plastic waste from the packaging and printing industries, and contain 85% less first-use PVC.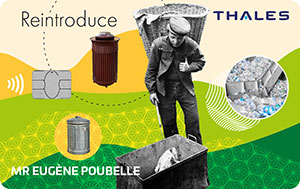 The Thales Gemalto Recycled PVC card aims to replace first-use plastic in banking cards.
It's made of post-manufacturing material that comes from different industries such as packaging and printing. As a result, it contributes to reducing the use of first-use PVC by 85%.
 
#4. Thales Gemalto Carbon Offset Programme

The Thales Gemalto Carbon Offset programme helps companies compensate for the carbon footprint of their cards in a comprehensive way. 
Thales works to minimise the carbon footprint of all its products and services. We then partner with leading consultancies, auditors and non-governmental organisations (NGO) to offset what remains through the use of a variety of carbon mitigation programmes around the world, such as the Acre Amazonian Rainforest scheme in Brazil. 
Our customers are welcome to enroll in this programme too. As a result, our cards are not only carbon neutral but also feature a carbon-neutral logo to demonstrate their green credentials to your customers. 
More and more clients are climbing on board and taking action to protect the environment. Will you be next? Join us, and together, let's make a positive impact!