Want to know more about an alternative to PVC credit cards? 
Then you're in the right place. 
In this Q&A page, you'll discover answers and key facts about PVC and banking cards.
What kind of plastics are credit cards made of?
How much plastic is the card industry using?
What's wrong with PVC?
 What's the solution to reduce PVC?
We'll also present a substitute for PVC cards in line with the many eco-trends shaping the banking sector in 2020. 
This alternative to PVC has helped banks reduce PVC in their cards by 80% and support their eco-friendly initiatives.
Let's jump right in.
What kind of plastics are credit cards made of?
There's nothing more familiar than the expression « paying with plastic,» right?
The word "plastic" usually refers to credit and debit cards instead of using cash (bills and coins) or a bank check.
And for a good reason - the cards are made of plastic.
More precisely, the plastic the credit cards are composed of is polyvinyl chloride acetate, most commonly known as PVCA or PVC. 
How much plastic is the card manufacturing industry using?
And banking card manufacturing uses PVC a lot.
Think about it.
Annually, it's 30,000 tonnes or 5,000 adult elephants or 150 Boeing 747s.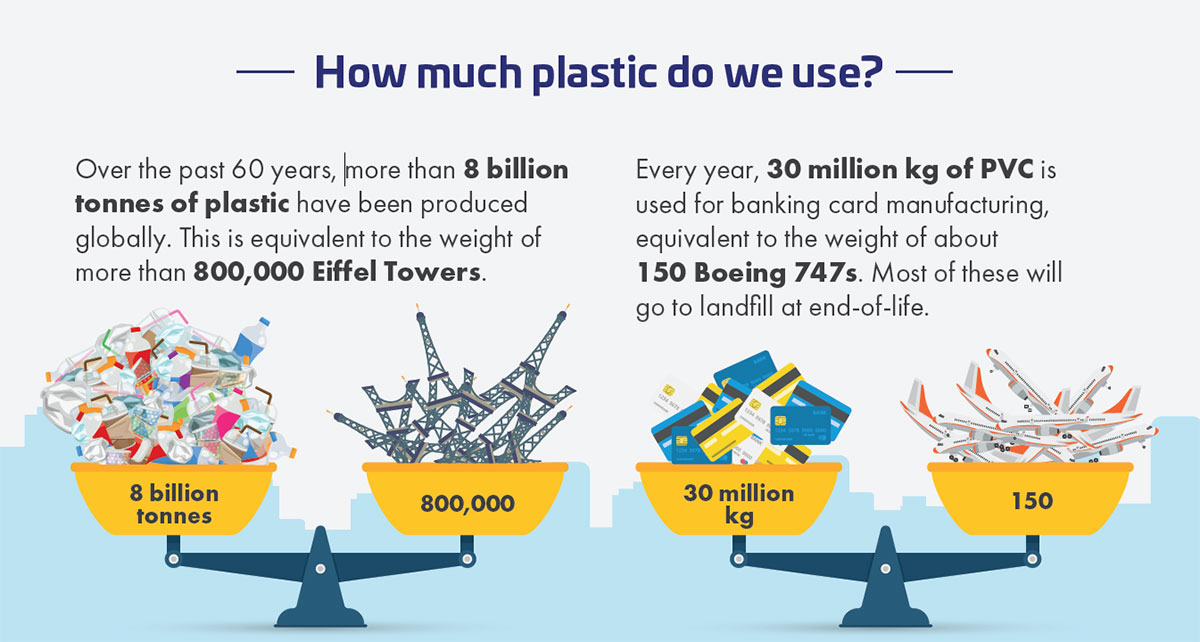 What's wrong with PVC?
What exactly is PVC, you may ask? 
PVC is a composition of polymers of vinyl acetate and vinyl chloride. 40% of the PVC molecule comes from petroleum; the rest is chlorine.
This material is dense and water-resistant. When polyvinyl chloride acetate is combined with additives (phthalates) that increase plasticity, it produces a fairly durable, flexible material. 
It's ideal for food packaging, floor covering, children's toys, pharmaceuticals, bags and pipes, and personal care products, such as shampoos, perfumes, soaps, nail polish, hair sprays, and…credit cards and bank cards in particular.
But here is the rub: PVC is far from being environmentally friendly.
Its first drawback is its origin: non-renewable fossil fuel and high level of chlorine. But its negative environmental impact does not stop there. 
PVC is appreciated for its outstanding durability.
This is not a problem when it stays in the form of a payment card. However, it becomes a nightmare when the card reaches its expiry date.
PVC, like other familiar petroleum-based plastic, is not biodegradable. Instead of decomposing, it just accumulated in the environment.
How about recycling?
PVC recycling is challenging due to a variety of additives, pigments, and low economic value for the outcomes. Incineration is the common way to get rid of PVC permanently. It, however, creates toxic pollution in the form of dioxins and compounds containing chlorine when incinerated.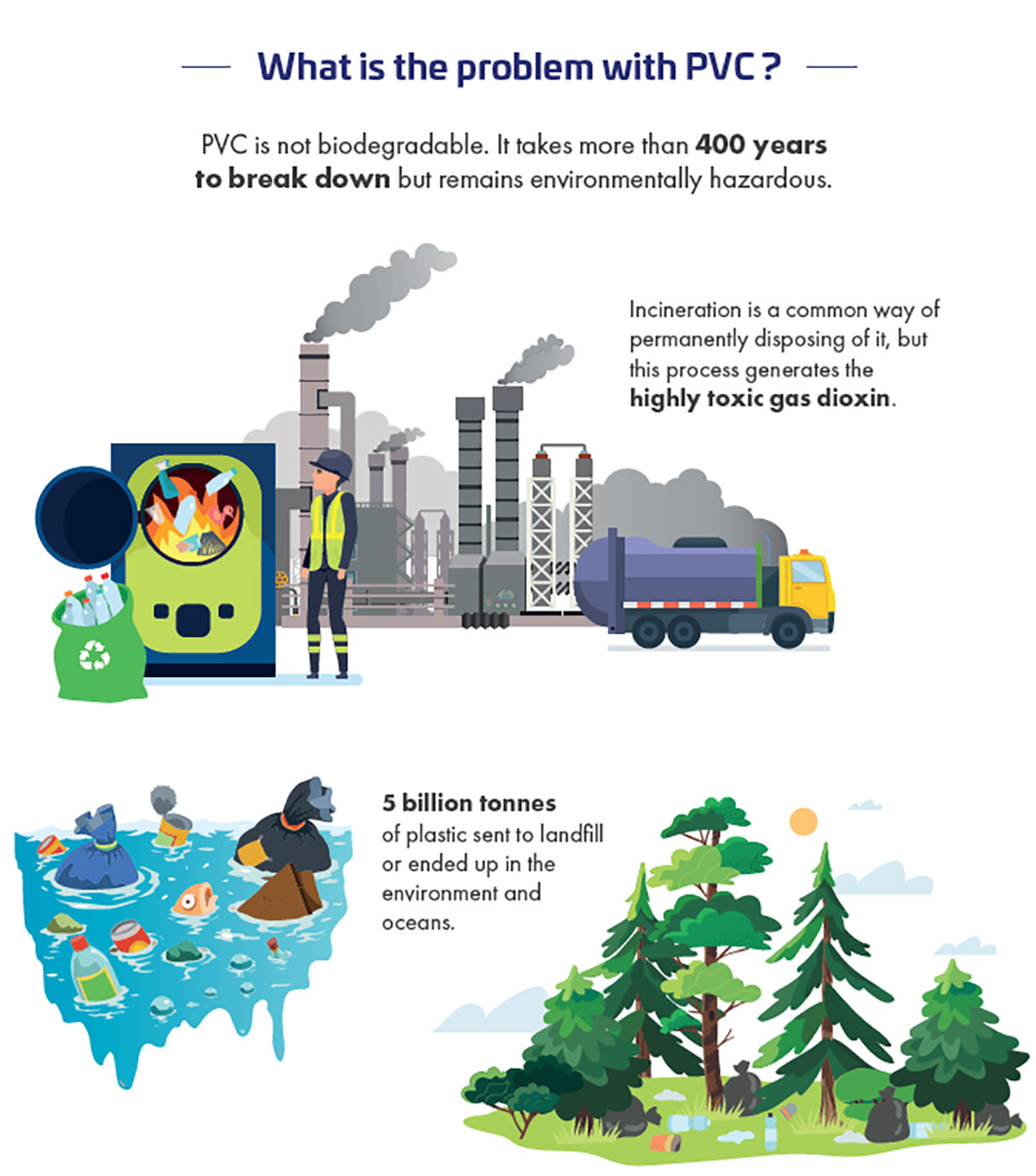 What's the solution to reduce PVC?
The banking card industry is tapping into new technologies and alternative materials to PVC, including using renewable raw materials that can also reduce the consumption of natural resources in their production.
One of these alternative materials is a bio-based plastic known as polylactic acid (PLA).
Thales is supporting banks in taking actions towards environmental-friendly practices and sustainability.
In particular, Thales has developed bio-sourced eco-friendly cards using PLA produced from non-food corn. 
Today, some Thales customers already offer a more sustainable alternative to traditional plastic PVC debit and credit cards.
Thales' contribution covers every aspect of a bank card's life, from bio-sourced materials to eco-packaging.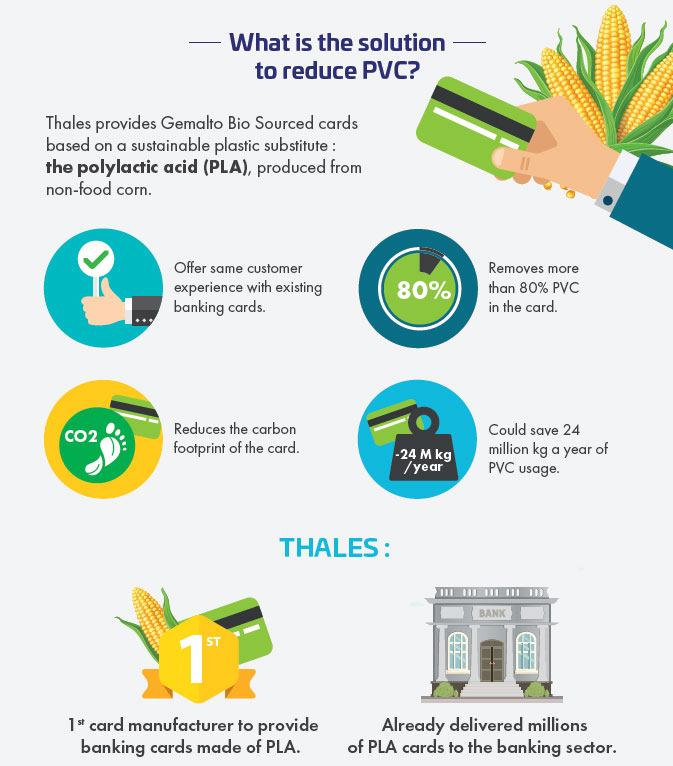 After all, cards are highly visible to the consumer.
For a card issuer, a way to increase the value of its brand and offer in the eyes of its eco-conscious clients is when it visibly reduces its impact on the environment.
Now it's your turn to say, "Hit the road, PVC!"
Are all credit cards plastic? The answer is no longer "yes." 
Many banks have already made this essential shift to address customer concerns. 
Could you be the next one?
Collaboration with our clients lies at the heart of our process, and we will be pleased to share with you some of our best practices with eco-friendly solutions. 
If you have a question on PLA or just enjoyed reading our infographic, please leave a comment in the box below. 
We look forward to hearing from you.
More resources