Eco-friendly credit cards
Developing an eco-friendly card's life cycle strategy is part of a more global approach where banks have to select technology, process, and products which result in a substantial reduction of their carbon footprint and the development of sustainable practices.
Thales, with its payment card solutions and services, is supporting banks in taking actions towards environmental-friendly practices and sustainability.
In particular, the company has developed a full set of tools that enables its banking clients to build a consistent green strategy that moves beyond empty environmental claims.
Our contribution covers every aspect of a bank card's life, from bio-sourced materials to eco-packaging produced by a manufacturer with a robust environmental policy.​​​​
Thales Gemalto's suite of green banking tools is built on four key pillars:
      1. dematerialisation,
      2. alternative materials,
      3. green factory,
     4. end of life management.
​#1 Implement processes to accelerate dematerialisation
Our services help reduce the excessive and unnecessary volume of printed documents (such as personalised card carriers, inserts, PIN mailers..) associated with delivering and activating cards, sharing information with cardholders and providing issuers with reporting solutions.
The Gemalto card carrier compiler tool enables you to manage advanced carrier design and implement frequent online content updates and so scale down the number of leaflets you need to bundle with a card. 
We also offer PIN by SMS. This innovative and secure solution for delivering PINs and PIN reminders via text messages means you can cut both mailout print runs and postage costs. 
Our Gemalto Card Companion application links payment cards with smartphones to make it easy for you to contact cardholders whenever you want, without using paper. 
And our Secure Transactions web portal and electronic invoicing solution let you monitor personalisation and dematerialisation processes in real-time and gradually reduce your need for paper reports.
#2 Use organic and non-toxic alternative materials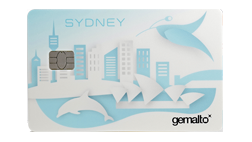 ​Our MasterCard and Visa-approved bio-sourced bank card is made from polylactic acid (PLA), a plastic substitute for biodegradable cards. Using renewable sources such as corn, it can be recycled back to its initial resin over and over again without loss of quality. It is non-petroleum based and non-toxic if incinerated.
PLA is compatible with magstripe, contact, and dual interface card technologies. Gemalto is currently the only company providing this kind of card body technology for banking cards.
​And there's more.
A complete range of eco-friendly packaging is also available, enabling smart delivery of your banking cards while reducing your impact on the environment.
#3 Source from a green supplier
Thales global environmental policy aims to manage our overall environmental impact.
So not only do we ensure eco-friendly delivery of our products, but we also embrace green manufacturing practices – as the ISO 14001 certifications of all our significant sites testify. 
We also promote eco-design at every stage, from product conception to re-engineering.
Let us show you how.
This process covers the product's environmental impact, such as resource consumption and emissions during manufacturing to waste and end-of-life disposal. 
Thales offers all its customers a "carbon offset" solution to compensate greenhouse gas emissions generated by card production. This option provides financial support to energy-saving and renewable energy programs that create "carbon credits".

#4 Manage card's end-of-life
Our role is to facilitate your end-of-life product management by acting as an intermediary between our clients and partner recycling companies. 
This position ensures you have buy-in to a total green strategy, and enables you to save resources by recycling valuable metals and plastics.
With increased consumer expectations regarding environmental initiatives, Thales can offer a complete set of tools to build a consistent green package that goes beyond greenwashing* claims.
*The term "Greenwashing" is used to refer to communications put out by companies on their progress in terms of sustainable development, without any real action being taken to back up the claims. 
Greenwashing is a contraction of the words green and brainwashing. 
About smart card technology
Smart card technology is an excellent Green IT tool. 
It is a very familiar portable object with a rather long life-cycle (several years) and an extremely low carbon footprint (equivalent to just 1 km by car per card manufactured). 
Besides, it has a very low electric consumption (only seconds and when in use).
More resources