New Thales UK headquarters opened by Prime Minister Theresa May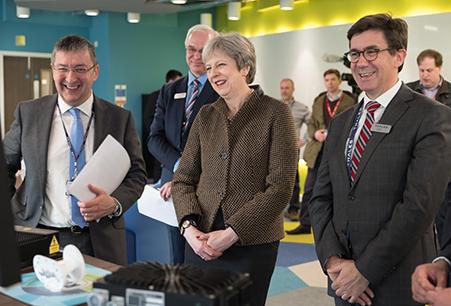 Hosted by Victor Chavez, Chief Executive of Thales in the UK and Pierre Eric Pommellet, Chief Operating Officer of Thales Group, the visitors were taken on a tour of the research and technology centre. The Prime Minister was shown a number of key projects for Thales in the UK including the European Aviation Network, which will provide 4G connectivity on flights across Europe and some of the lifesaving capabilities developed for our armed forces.
There was also an opportunity to meet a number of the 350 graduates and apprentices Thales employs in the UK. To hear about how the company participates in activities to promote STEM (science, technology, engineering and maths) to address the UK's engineering shortage and increase diversity.
The opening of the state of the art facility in Green Park, Reading, reaffirms Thales as a major contributor to the UK economy. The new site is bringing 500 highly skilled jobs to the area – including 300 specialised engineers – with capacity to accommodate a further 100 jobs as Thales grows in the region. This is a significant part of Thales's overall contribution to UK prosperity, employing 6,500 people with annual revenues of £1.3bn.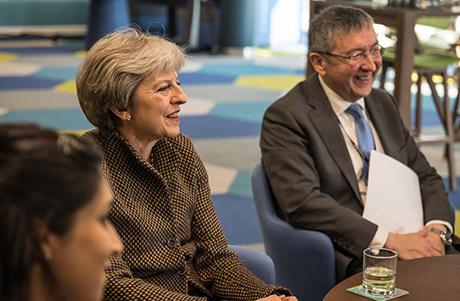 The new site promotes Thales's emphasis on fostering innovation, being one of the company's five global centres specifically designed to focus on research and technology –spending around £70m annually in the UK on research and technology. Further to this, the site will serve as Thales in the UK's centre of excellence for secure radio communications, network and infrastructure systems and cyber-security consultancy.
Victor Chavez said: "The move to Green Park represents a strategic step forward for Thales, bringing together some of our key businesses with our Research team to ensure we remain on the cutting edge of customer-focused, technology and business model innovation. This new world-class workspace sets the benchmark for future working environments across Thales in the UK; designed to enable collaboration with customers, partners and suppliers as well as supporting our move to Smart Working."
Prime Minister Theresa May said: "It was a great pleasure to join Alok Sharma to officially open Thales UK's Headquarters in Green Park. I really enjoyed meeting some of the staff who are going to work at the site, including several apprentices who are beginning a career in engineering. 2018 is the Year of Engineering and it's so important we encourage our young people to take up careers in this vitally important area."
Alok Sharma MP said: "I am very grateful to the Prime Minister for taking the time to come to my Reading West constituency, to open the new Thales UK Headquarters in Green Park. I am delighted that Thales, a major contributor to the UK economy, has chosen to base its UK headquarters locally once again demonstrating that the Reading area is an economic powerhouse in the country. Thales, is also a major exporter from the UK demonstrating the strength of the UK manufacturing sector."