Playing a part in Australia's success
The people we all rely on to make life better and to keep us safer – they rely on Thales Australia.
Combining a unique diversity of expertise, talents and cultures, our architects design and deliver extraordinary high technology solutions. Solutions that make tomorrow possible, today.
At a time when progress offers huge opportunities – and faces serious challenges, our customers trust that we have the skills, and experience to turn leading-edge technologies into systems and solutions that are both imaginative and resilient, human-centred and sustainable. From the bottom of the oceans to the depths of space and cyberspace, we help our customers think smarter and act faster - mastering ever greater complexity and every decisive moment along the way.
employees across 35 sites
in self funded R&D over the next three years
worth of exports in the last 10 years
With 35 sites across Australia, Thales has a footprint in every state and territory. From Canberra to Cairns and from  Sydney to Darwin – Thales Australia is working hard for our customers across the country each and every day.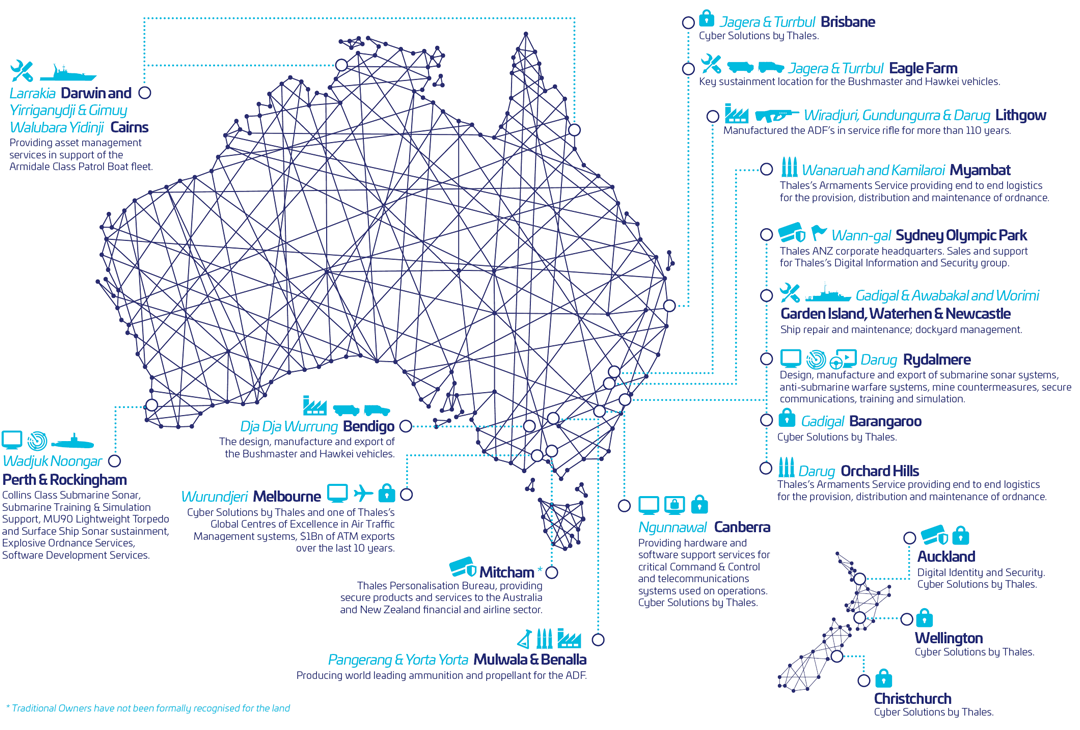 Our corporate responsibility mission is at the very heart of what we do. Each activity we undertake and every relationship we hold is underpinned by our commitment to building a future we can trust for our people, our communities, our environment and our business.
Our business
We behave responsibly and promote sustainability at every level of the business. We act with integrity and morality in every situation, and uphold the law at all times. We're strictly politically neutral.
Our people
Our people are the backbone of our business, and the way they're valued and treated at Thales in Australia is testimony to this. We promote equal opportunities and diversity within our workforce. We're transparent and consistent in all of our actions.
Our communities
We're part of the local community. The national community. The global community. And within our communities, we build strong relationships and maintain a neighbourly spirit. We're proud to support a variety of local and national youth, technology and education causes.
Our environment
We're passionate about preserving the planet for future generations. That's why we operate in a way that protects the environment, preserves biodiversity and respects natural sites. We're reducing our footprint by minimising our resources, seeking less environmentally harmful alternatives where we can, recycling and preventing pollution wherever possible.