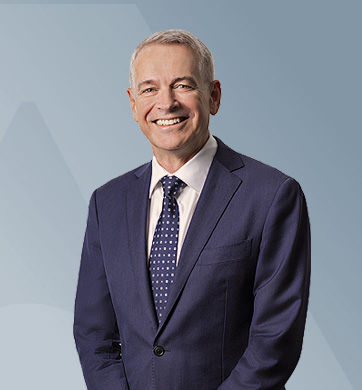 Chris Jenkins
Non-Executive Board Director
Chris Jenkins is a defence industry leader, a passionate believer in local skills, and a strong advocate for Australian engineering, technology, design and manufacturing.  Focusing on delivering performance advantages for major defence and infrastructure customers, he has played a crucial role in transforming the company into one of Australia's largest suppliers and exporters of mission critical products and services.
 
Chris has held senior roles in Thales locally and internationally for over 35 years. He is currently a non-executive Director of the Thales Australia & NZ Board.  From January 2008 until August 2022 he was the CEO of Thales Australia and NZ.  This followed two years as Vice President Operations, and before that three years as CEO of a Thales consortium in the Netherlands, delivering that country's national public transport smartcard program.
 
Prior to this, Chris was Managing Director of Thales Underwater Systems in Australia from 1999 to 2003. He previously held senior marketing, sales and project director roles in the business, and was also a key player in its creation as a Thales/GEC joint venture in 1996.
 
Chris started in the defence industry as a mechanical engineer with Racal in 1981, Plessey in 1983, and then GEC Marconi in 1990, heading up its Underwater Systems business in Australia.
 
He is currently the National President of the Australian Industry Group and member of the AIG Defence Council.  
 
He has a longstanding involvement in large-scale projects in critical industry sectors, and was previously Chairman of the International Centre for Complex Project Management, as well as a member of the Defence Portfolio Ministerial Advisory Council and the DSTO Advisory Board, and an Advisory Board member of the Centre for Defence Industry Capability.  He was also a Non-Executive Board Director of Naval Group Australia.
 
Chris is an Honorary Fellow of the AIPM, a Fellow of Engineers Australia, a Patron of RUSI NSW, and an Adjunct Professor of the University of NSW. In 2013 he received the Insignia of Knight in the French National Order of the Legion of Honour.