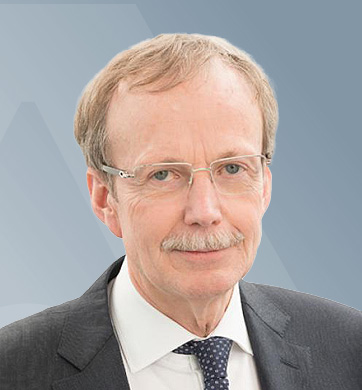 Michel Mathieu
Non-Executive Director
Michel Mathieu retired from THALES, where he spent forty years, starting as a development engineer in the field of Air Traffic Management and ending at the position of SEVP, Chief Operating Officer and Chief Performance Officer for the THALES group worldwide and member of the Thales Executive Committee.
During his career, he has developed an international expertise in the field of civilian and military air traffic management systems, surface radar, software intensive systems and more generally management of complex programmes. He has gathered a long experience in bringing teams from different cultures to work together.
He held the position of COO and CPO of Thales group from 2015 until 2017, covering the entire operations of Thales worldwide. In addition to his operational control duties, he focused on competitiveness initiatives, mainly the transformation of the Support Functions and of Procurement.
Between 2009 and 2014 he was EVP, General Manager of the global Avionics business of Thales. His responsibility was covering civilian and military flight avionics, electrical systems, training and simulation, in-flight entertainment and electronic tubes, with a turnover of around 3 billions Euros and more than 10 000 employees.
In parallel to his responsibility in Thales he has been elected as the Chairman of the coordination committee of CORAC (French Council for Civilian Aeronautical Research) in 2014 for two years.
Between 2004 and 2009 he held the position of CEO of ThalesRaytheonSystems, a transatlantic joint-venture between Thales and Raytheon, world leader in air defense systems. At that time he focused on the integration of the JV and on the development of the common air defense system for the Nato nations and on the launch of a new generation of 3D radars on the international market.
His first CEO assignment was in 1997 to head the Joint-Venture between Thales and Siemens in the field of Air Traffic Management with operations in five countries including Australia and USA. He managed this business, which became fully owned by Thales in 2000, during seven years. He focused on the delivery of many complex systems worldwide, on the improvement of customer satisfaction, on the rationalisation of the industrial footprint and on the renewal of the product offering.
Before that he held several program management, business development and P&L management positions in the field of surface radar and air traffic management.
He is a graduate of Télécom ParisTech. He completed his studies at the Centre for Advances Armament Studies (CHEAr) in Paris. He has been decorated with awards of « Chevalier de la Légion d'Honneur » and « Ordre National du mérite ».
Michel Mathieu is married and has two children. He lives in Paris, France.