Thales expands its India presence with the opening of its 1st Design Center
This new Design Center in India is now part of the global network of 13 Thales Design Centers located in Europe, Latin America, North America, Middle East and Singapore
The Center is an extension of Thales' Engineering Competence Centre in Noida and will be a hub for innovation, research, and development in the country  
It will host a combination of three essential ingredients: a team of experts, cutting-edge tools, and a space designed to foster creativity and innovation
Thales, celebrating its 70th anniversary in India this year, has opened its first world-class Design Center at its Engineering Competence Centre in Noida. This Thales Design Center will serve as a hub for creative and innovative thinking, and help drive collaboration with customers, partners and academia to develop new products and services for India and for the world.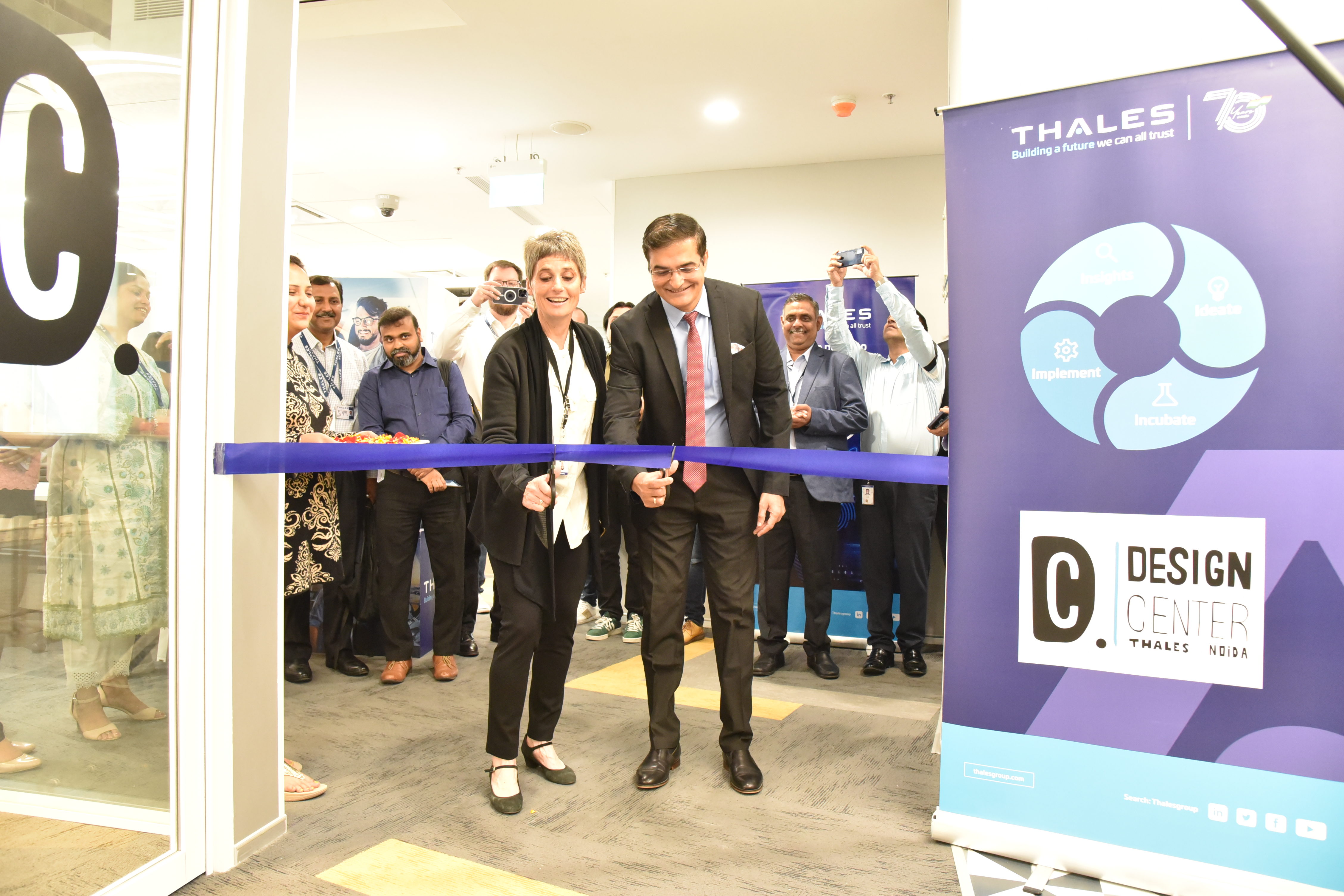 The opening of this cutting-edge facility, the 13th of its kind worldwide by Thales, is part of the organisation's expansion plans in India. It stands as a testament to India's importance for the organization and its steadfast commitment to driving innovation and growth in the country.
The Thales Design Center in Noida boasts of a classic combination of a talented team of experts including UX designers, Design Thinking coaches and other professionals, latest tools and technologies, and an open, collaborative space that is designed to foster creativity and innovation. The objective of this Center is to working closely with customers, partners, and academia to develop new products and services, and continue to partner India in its growth and success in the years to come.
"The inauguration of the 1st Thales Design Center in India is a reflection of our commitment to invest in the country's talent, technology prowess and innovations. It fits perfectly with the Government of India mission to make India a world centre of research and innovation. This Center is a step further in our innovation approach as it will enable co-innovation together with our customers, partners and academic institutions, utilizing the perfect combination of a team of experts, cutting-edge tools, and a state-of-the-art space designed to foster creativity." Ashish Saraf, Vice President and Country Director for India, Thales.
About Thales
Thales (Euronext Paris: HO) is a global leader in advanced technologies, investing in digital and "deep tech" innovations – connectivity, big data, artificial intelligence, cybersecurity and quantum technologies – to build a confident future crucial for the development of our societies. The Group provides its customers – businesses, organizations and governments – in the defense, aeronautics, space, transport, and digital identity and security domains with solutions, services and products that help them fulfil their critical role, consideration for the individual being the driving force behind all decisions.
Thales has 81,000 employees in 68 countries. In 2021, the Group generated sales of €16.2 billion.
About Thales in India
Present in India since 1953, Thales is headquartered in Noida and has other operational offices and sites spread across Delhi, Hyderabad, Bengaluru and Mumbai, among others. Over 2000 employees are working with Thales and its joint ventures in India. Since the beginning, Thales has been playing an essential role in India's growth story by sharing its technologies and expertise in Defence, Transport, Aerospace and Digital Identity and Security markets. Thales has two engineering competence centres in India - one in Noida focused on digital identity and security business, while the one in Bengaluru focuses on hardware, software and systems engineering capabilities for both the civil and defence sectors, serving global needs.