Thales and Weibel Scientific sign a cooperation agreement strengthening bonds between the Danish and French Defence industry
• Thales and Weibel Scientific, signed today a cooperation agreement integrating the high performing XENTA Doppler family of short-range ground mission radars into the renowned Thales radar portfolio - bringing to market a best-in-class solution for force protection and critical infrastructure.
• Signed in the presence of the French Minister of Armed Forces, Madame Florence Parly, the Danish Minister of Defence, Madame Trine Bramsen at the Franco Danish Industrial day held at the Danish embassy in Paris, Thales reinforces its bonds with the Danish Defence industry in–line with the new Danish Defence Industrial strategy.
• The combination of Thales' international leading radar position, full digital radar technology and expertise in various bands, with the highly advanced Weibel Doppler superior radar capabilities, provides an exceptional solution in the Thales offering.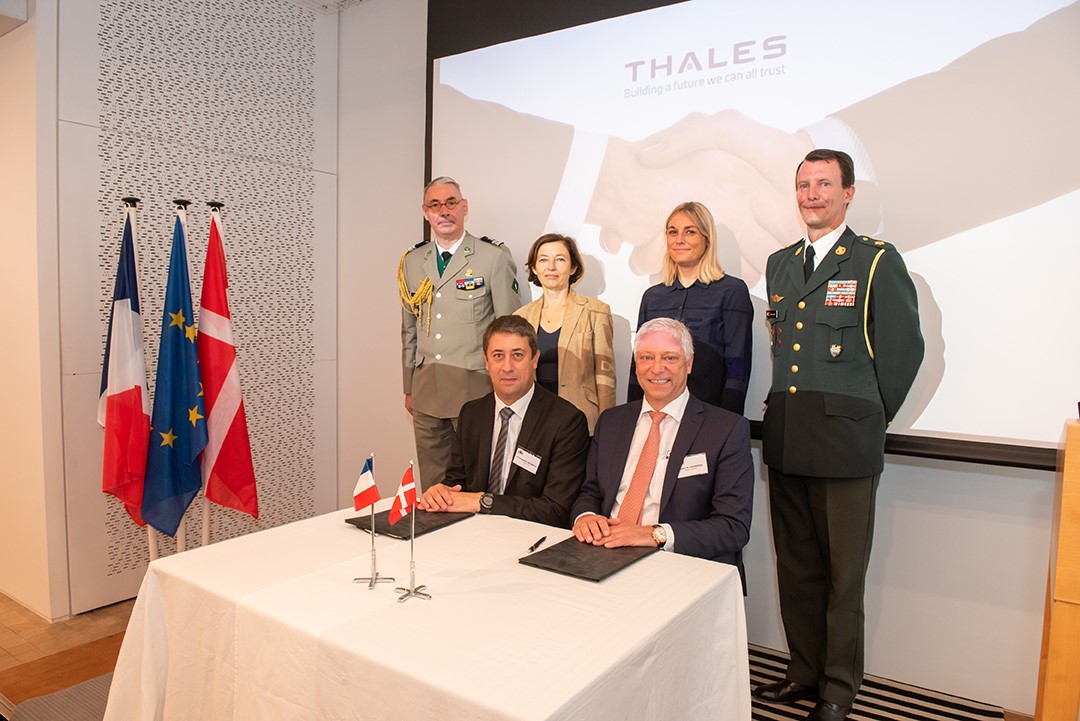 From the left: French Defence Attaché, Colonel Vincent Samson, French Minister of Armed Forces, Madame Florence Parly, Danish Minister of Defence, Madame Trine Bramsen, Danish Defence Attaché, General Prince Joachim, Vice President Thales Land and Air Systems,, Christophe Salomon, and CEO and President Weibel Scientific, Peder R. Pedersen . Copyrigth: Thales Group
Thales and Weibel Scientific (a Danish advanced doppler radar manufacturer) today signed a Cooperation Agreement to develop and strengthen the bonds within European defence industry - creating shared international export opportunities integrating Weibel's short- range ground mission radars into the Thales radar portfolio to address Ground Based Air Defence (GBAD) or C-UAV missions.
At the Danish Embassy in Paris during the Danish Industrial days, Thales and Weibel Scientific today signed an agreement to extend Thales's portfolio with the newly developed high performing XENTA radar family dedicated to short-range ground missions. This cooperation will leverage Thales' recognized international radar position with the highly advanced Weibel Doppler radar superiority to offer best in class product.
The collaboration will strengthen the businesses of both companies, creating additional opportunities for both Thales and Weibel Scientific to deliver the best solution forces are expecting. In particular, Thales will offer a common solution for the Danish Army Ground Based Air Defence incorporating the Weibel XENTA-M5 radar into the advance Thales GBAD solution.
The new cooperation between Thales and Weibel Scientific sets a milestone for the European commercial relations between the Danish and French defence industry, and underlines Thales' commitment to invest locally in countries through industrial partnerships and collaborations – and is in-line with the new Danish Defence Industrial Strategy.
It is within Thales' DNA to work together with the local industry to maximise the benefits for our customers. Using local industry as a part of the Thales advanced solution will, from a Thales perspective, benefit both the Danish market and create new export opportunities with Weibel Scientific. Tommy Ayouty, CEO Thales in Denmark.
 I am delighted with Thales' decision to include our radar into their global product portfolio. The XENTA radar offers an exceptional capacity within counter drone and air defence. With Thales, it will significantly improve radar offerings to meet end-user needs. The acknowledgement by the top-tier Air Defence and Air Surveillance solution provider Thales is the best recognition we could have hoped for. Peder R. Pedersen, CEO and President Weibel Scientific.
About Thales
Thales (Euronext Paris: HO) is a global leader in advanced technologies, investing in digital and "deep tech" innovations – connectivity, big data, artificial intelligence, cybersecurity and quantum computing – to build a confident future crucial for the development of our societies. The Group provides its customers – businesses, organisations and governments – in the defence, aeronautics, space, transport, and digital identity and security domains with solutions, services and products that help them fulfil their critical role, consideration for the individual being the driving force behind all decisions.
Thales has 81,000 employees in 68 countries. In 2020 the Group generated sales of €17 billion.
About Weibel Scientific
Danish Weibel Scientific is the global leader in the market for advanced Doppler radar systems. For more than 40 years, Weibel has sold cutting-edge radars around the world for use in space, aerospace, defense and missile defense systems. The company has delivered more than 5,000 radars to more than 40 countries. On a daily basis, Weibel radars are used to protect lives and assist on ground, at sea, in air, and in space. The core of Weibel's products is the high quality data derived from advanced digital signal processing of radar data from its triple wave form Doppler radars. Latest, the 3D Digital Array technology combined with machine learning propels Weibel's XENTA C-UAS and SHORAD radar family into a new realm beyond traditional radar systems, where even very small drones can be detected, tracked and classified at ranges never seen before. Weibel continues to push the laws of physics to develop and deliver tip of the spear Doppler radars to users all over the globe.