Thales in the UK is committed to being at the forefront of the next great revolution in naval technology. Maritime Autonomy. We will ensure that our products and services continue to deliver operational advantage to our customers in line with their requirements and aim to ensure that  servicemen, women and platforms remain safe from existing and emerging threats.
At Thales, we are enabling our customers to undertake their individual responsibilities using automated, unmanned technologies.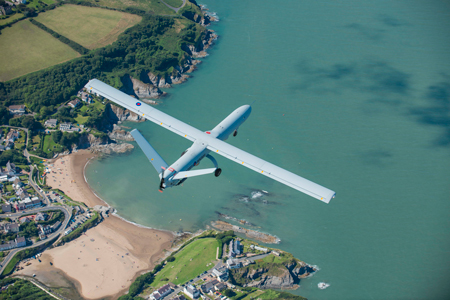 Exercise Unmanned Warrior 2016 was the largest exercise of its kind, proving the concept of Maritime Autonomous Systems (MAS) working alongside conventional platforms at sea on an unprecedented scale. The result was a greater acceptance by top tier naval forces that maritime autonomy will play a significant role in future operations.
Thales showcased above water, surface and underwater capabilities with Watchkeeper Unmanned Aircraft System (UAS) and Halcyon Unmanned Surface Vehicle (USV) in a Mine Counter Measures (MCM) role. We are working closely on a DSTL led consortium to deliver Maritime Autonomous Platform Exploitation (MAPLE) integrated Command and Control (C2) on Royal Navy warships for the first time. This consortium will be demonstrating MAPLE as part of Autonomous Warrior 18 (AW18) in Australia.
Thales is working hard to become a  trusted partner for small and medium sized enterprises (SME) and academia, unlocking the potential of maritime autonomy and creating opportunities for everybody in a nascent sector.
We recognise that SMEs provide agility and open innovation which complements the resources and access to markets and legislators that larger companies offer, particularly when barriers to entry  inevitably arise. Thales has a long pedigree in technical innovation and excellence, overcoming challenges such as legislative compliance, security clearance and legal liability.
Thales is  transparent about the immaturity of MAS technology and the global market. No company can truly claim a monopoly on expertise, this is why we are encouraging and fostering collaboration through the development of an eco-system of knowledge and experience, with the ability to be agile and responsive to opportunities as they arise.
We are committed to fostering and developing academia, investing in sponsorship programmes and collaborative ventures. Our long-standing connections with Plymouth Council, Southampton University, Bristol University, the South Coast Marine Cluster, The National Oceanography Centre (NOC) and the University of Plymouth's Marine Institute, sharing knowledge and expertise for mutual benefit.
Continuing the long history Turnchapel Wharf has with the Royal Navy, Royal Marines and Industry, Thales has created a UK Centre of Autonomy for the development, assessment and certification of autonomous systems at our new waterfront facility in Plymouth. Turnchapel Wharf is changing the way autonomous capability is developed by enabling rapid exploration and exploitation of emergent and disruptive technologies.
The UK Centre of Autonomy offers a secure location to conduct a full evaluation cycle for multi domain platforms. Its facilities include meeting rooms, office space and network services with adjacent water side facilities including secure, fully equipped workshops and storage, platform mooring for multiple craft including Thales's autonomous capability development platform and rapid access to the water via a slip way.
Turnchapel Wharf has an enviable location affording trial teams rapid access to both shallow and deep water. This access increases actual trials time by decreasing transits and enabling progressive trials to be planned around differing sea conditions from sheltered shallow waters to deep open sea.
Turnchapel Wharf has been fitted out by Thales with the explicit requirement for the development, assessment and certification of maritime autonomy.
The Thales Maritime Autonomy Centre based in the South West has turned two. The centre is used for research and trials for a range of cutting edge maritime autonomy projects.
The official opening of the Thales in the UK's Maritime Autonomy Centre, designed for the purposes of trialling and testing major autonomy programmes.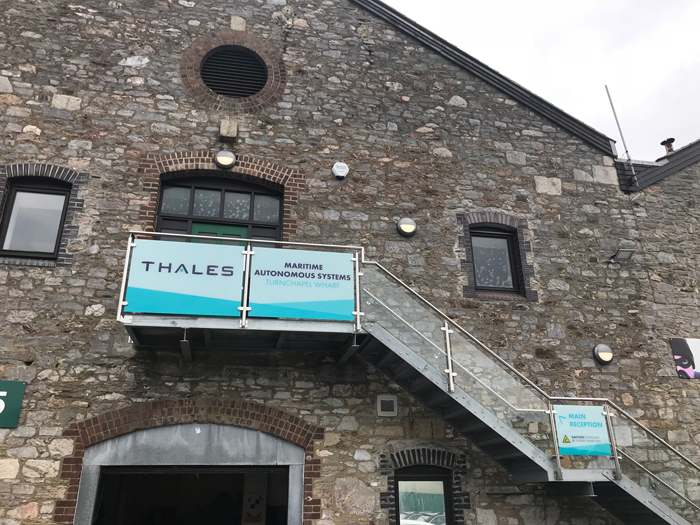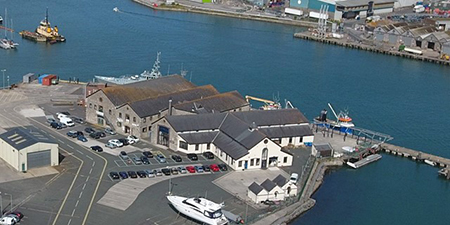 Exercise Unmanned Warrior highlighted some of the challenges faced by MAS technology, cultural acceptance of the concept, command and control resilience and ethical and legal considerations are some. There is however no argument that maritime autonomy will be a force multiplier for navies globally.  However, progressing maritime autonomy requires a champion and Thales is committed to rising to that challenge.
Maritime forces worldwide face similar challenges: smarter, more agile and more widely dispersed adversaries in an increasingly congested environment. At the same time they are coming under the conflicting pressures of increased tempo and reducing budgets, with no additional funding for autonomous systems. These can only be reconciled by more effective practices and unlocking new capabilities through technology and commercial practices. Equally, the same technology offers opportunities to potential adversaries and counter-MAS becoming more and more important.
The legislative environment is now catching up with autonomous vehicle technology and industry needs to work closely with all stakeholders to shape a workable legal framework for the future. We are working closely with the Maritime Coastguard Agency (MCA) to develop best practice ensuring we are a responsible industry partner in MAS development.
Fulfilling the potential of maritime autonomy may be the "Dreadnought" moment for the 21st Century and our customers are now acknowledging this,  understanding that soon, possessing MAS will not suffice; they must possess the most interoperable, integrated, resilient, secure and capable systems of systems that exist today and will be available tomorrow.
If MAS development becomes a race, Thales intends to be at the front.
Contact
Matthew Hunt, Maritime Autonomous Systems Lead 
T:+44 (0)7891426648
E: matthew.hunt@uk.thalesgroup.com
 
David O'Sullivan, Capture Lead Autonomous Systems 
T: +44 (0)7807578508
E: david.osullivan@uk.thalesgroup.com