Beat the Hackers Escape the Room
Imagine. A global company is under attack from foreign hackers. Their security isn't fit for the challenge. They need urgent help. Are you able to prevent disaster and unlock the code? Put your team to the test in our Cyber Escape Room. But beware; you have only 10 minutes to crack the code…
Can you beat the hackers?
Welcome to our Cyber Escape Room!
What is it?
An Escape Room is a real-life team-based game in which players solve a series of puzzles and riddles within a limited time frame.  
The Cyber Escape Room is a mobile box which offers a unique 10 minute cyber experience and can be placed in any office. Using clues, hints, and strategy, participants complete the objectives at hand. During the debrief all the cyber elements can be discussed.
This 10 minute rush makes the escape room not only exciting, but also helps raising Cybersecurity awareness.
This escape room challenge is open to teams of up to three people. Teamwork, excitement, euphoria and relief guaranteed!
Honors
Since the launch in September 2017, the Cyber Escape Room has been awarded with the Thales Communications Best Practice Award and received nominations for the Dutch TIM Award and the international C&IT Awards, Digital Communication Awards, Field Marketing and Brand Experience Awards, Campaign Event Awards, The Drum Content Awards, International B2B Marketing Awards, Content Marketing Award and Thales InnovAward.

Try it yourself
Our Cyber Escape Room is very mobile. This means that we can place the box temporarily on-site. This way you can raise cyber awareness amongst your employees or customers in a fun and exciting way.
The game is played by a group of approximately 3 people for a duration of 10 minutes max. We can handle 4 groups in 1 hour. All we need is a floor space of 3,00m x 3,00m and a power outlet (220V).
The box is completely detachable so it can be set up in any office space. However, if placed on a floor (not being the ground floor), an elevator is mandatory.
Dimensions separate parts: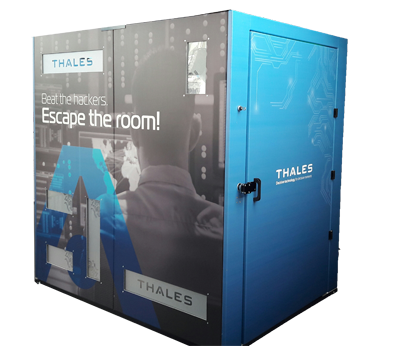 2 door panels, each 1,50m (w) x 2,03m (h)
2 side panels, each 2,00 (w) x 2,03m (h)
Dimensions installed box:
1,50m (w) x 2,00m (l) x 2,03m (h)
Weight:
Each panels weighs about 40-50 kilo
One side panel contains a PLC and weighs about 75 kilo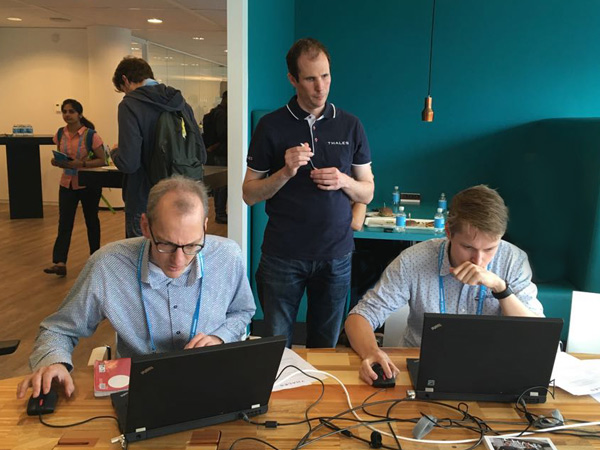 Special: Log Forensics 101
Our Security Operations Center receives over 100 million of security events every day. But which events really matter? Which ones are so severe that emergency response teams should be alarmed? Are you able to separate the Wheat from the Chaff?
 
We dare you to analyze the logs of a network after a security incident and uncover the relevant events. Can you find out what happened? Unravel the cyber mystery via digital forensic investigation.
 
Welcome to a 21st century whodunit mystery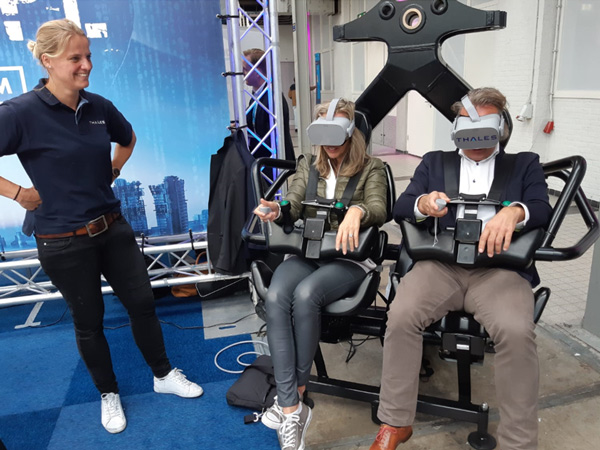 Special: VR Escape Room – The Ride
A company has been attacked by a virus in cyberspace and you have got to destroy it.
Do you have what it takes to log into cyberspace, hunt the virus and defeat it?
Just a fun virtual reality game to escape the daily routine.