Thales has used cyber range technologies for testing and developing its own products internally for over 10 years and as a result, decided to enter into a partnership with Diateam in 2019. Together, they created a Cyber Range, part of Thales's Cybels Train & Experiment product line family. 
Cyber Range platform is a powerful tool to organize and deliver cybersecurity trainings (Pentest, Forensic, etc …) offering expert contents. 
It is a turnkey solution offering packaged contents and administration as well as pedagogic tools. It offers a capacity to virtualize your networks and test the resilience of these networks to Cyber attacks in a safe environment. Cyber security staff thus improve their cyber readiness through representative scenarios. It Range prepares your teams for real life scenarios, even the most challenging ones and enables you to keep pace with the latest threats as it is connected to Thales's Cybels Threat Intelligence platform.
Training
To run hands-on cybersecurity training exercises for beginners to top notch experts. It includes immersive scenarios, challenges like capture the flag and red-team/blue team exercises that trainers can design themselves.
Testing & Evaluation 
To produce digital twins of an ICT/OT infrastructure for testing purpose; highlight security weak points or other metrics such as performance issues.
Research
To conduct research thanks to a safe and isolated "sand-box" environment suitable for malware analysis. Searchers can observe the malware behavior as if it were in a real environment, evaluate ICT/OT architecture esiliency and identify Indicator of Compromises (IOCs) to be used in detection systems.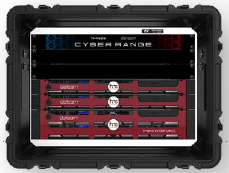 A hybrid simulation engine
That allows mixing simulated systems and components as well as plugged real – non simulated – devices and software components in order to reproduce technical contexts with the highest accuracy.
A traffic generator
To give life to virtualized systems and to reproduce both nominal and abnormal patterns of operation.
A cyber toolbox
That provides the tools needed to perform training tasks, e.g. a vulnerability analysis tool, etc.

A scenario design tool 
That allows trainers to prepare training modules for students/trainees

A set of libraries, i.e. system topologies, training scenarios, malware packages, attack scenarios, etc.
To evaluate new attacks detection methods, mitigation methods, perform malware emulation and much more.
An administration environment
To manage participants and configurations.