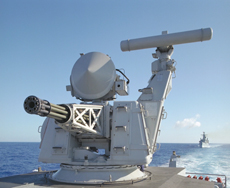 The system automatically performs the entire process from surveillance and detection to destruction, including selection of the next priority target. The crucial importance of a last-ditch defence system has been proven on numerous occasions. To provide for this need, Thales developed Goalkeeper, an extremely effective system, that incorporates the 30 mm, 7-barrel Gatling gun with special missile-piercing ammunition. The combination of MPDS ammunition and a firing rate of 4200 rds/min gives the system the power necessary to destroy missile warheads.
Goalkeeper provides excellent performance against surface targets. Search and track radars, weapon control and integration of the total system are Thales' strengths. A high detection probability for small targets is ensured in all weather conditions by the use of an I-band search radar. Pin-point target tracking is achieved by the dual frequency I/K-band track radar. Continuous search with track-while-scan ensures rapid engagement of the next priority target in multitarget scenarios.
 Goalkeeper's capabilities have been proven many times during sea-going trials. U.S. trials in which 3 types of live missiles were destroyed by Goalkeeper, conclusively confirmed the capabilities of this proven Close-In Weapon System.
 Goalkeeper is operational in the navies of Belgium, Chile, the Netherlands, Portugal, Qatar, South Korea, the UAE and the UK.