Order intake and sales at 30 September 2022
Thales (Euronext Paris: HO) reported today its order intake and sales for the period ending 30 September 2022.
"In the first nine months of 2022, Thales achieved a very solid commercial performance, with order intake up 41%.
Despite an operating environment marked by supply chains tensions and the geopolitical context, the Group is keeping pace with respect to sales growth, driven in particular by the momentum of the digital identity and security segment (DIS, formerly Gemalto).
In spite of the current uncertainties, we confirm all our Full Year objectives. All Thales teams remain mobilized to serve our customers and to implement our strategic initiatives."
Patrice Caine, Chairman & Chief Executive Officer
Order intake1: €15.4 billion, +41% on an organic basis2 (total change: +45%)
Sales: €12.3 billion, +6.4% on an organic basis (total change: +9.6%)
2022 organic sales growth expected in upper part of the range set in July 2022 (between +3.5% and +5.5%3)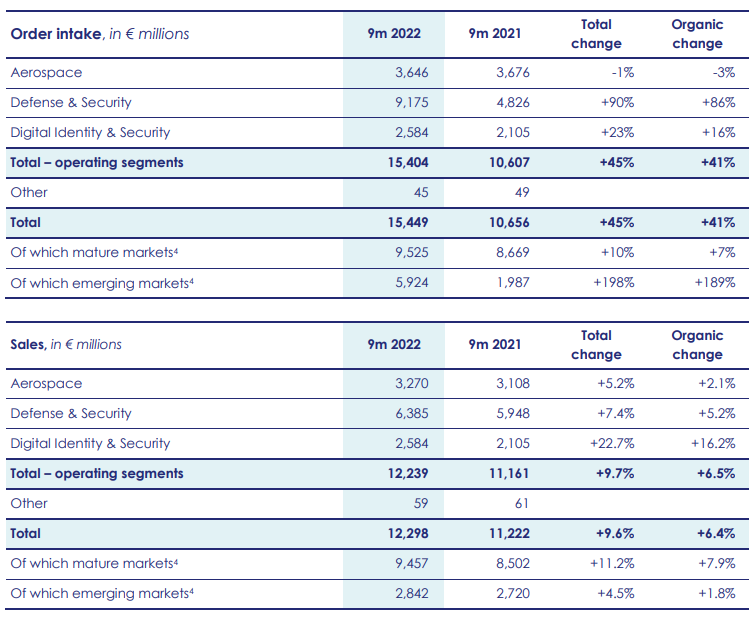 We are pleased to invite you to participate in this conference call (or webcast), in english, on:
Wednesday, October 26, 2022 at 8:30 AM (CET)
NEW LOGIN PROCESS
Using the following link, you will be able to register, get your personal PIN and choose the most convenient method of connection: list of dial-in numbers or a "call me" option, by entering your phone number.
https://register.vevent.com/register/BI300238bf3a18493fbbdfce1c61520733
It will also be possible to follow the conference call through a webcast by using the following link:
https://edge.media-server.com/mmc/p/4mdzfrz8
If you are unable to listen to the call, you can use the webcast link above, 1 hour after the event. The recording will be available for a year.
 
Notes
[1] In accordance with standard IFRS 5, the financial data for the "transport" operating segment have been classified under "discontinued operations" following entry into exclusive negotiations with Hitachi Rail with a view to disposing of this business.
[2] "Organic" means at constant scope and currency. See note on methodology and calculation in press release 
[3] Corresponding to €17.2 billion to €17.6 billion based on October 2022 scope and exchange rates.
[4] "Mature markets": Europe, North America, Australia, New Zealand. "Emerging markets": all other countries. See table on page 6 of the press release.