In-flight broadband reaches new highs with 4G solution from Thales in the UK, Nokia and SkyFive
Following successful rollout across Europe, Thales in the UK, Nokia and SkyFive are launching a new 4G LTE Air to Ground (A2G) solution to a global market. Delivering a fibre like connectivity experience, A2G significantly improves the inflight access to web, streaming and on-line games to passengers. In addition to improved passenger experiences, aircraft operators will benefit from significantly shortened installation times, minimising the time aircraft are out of operation.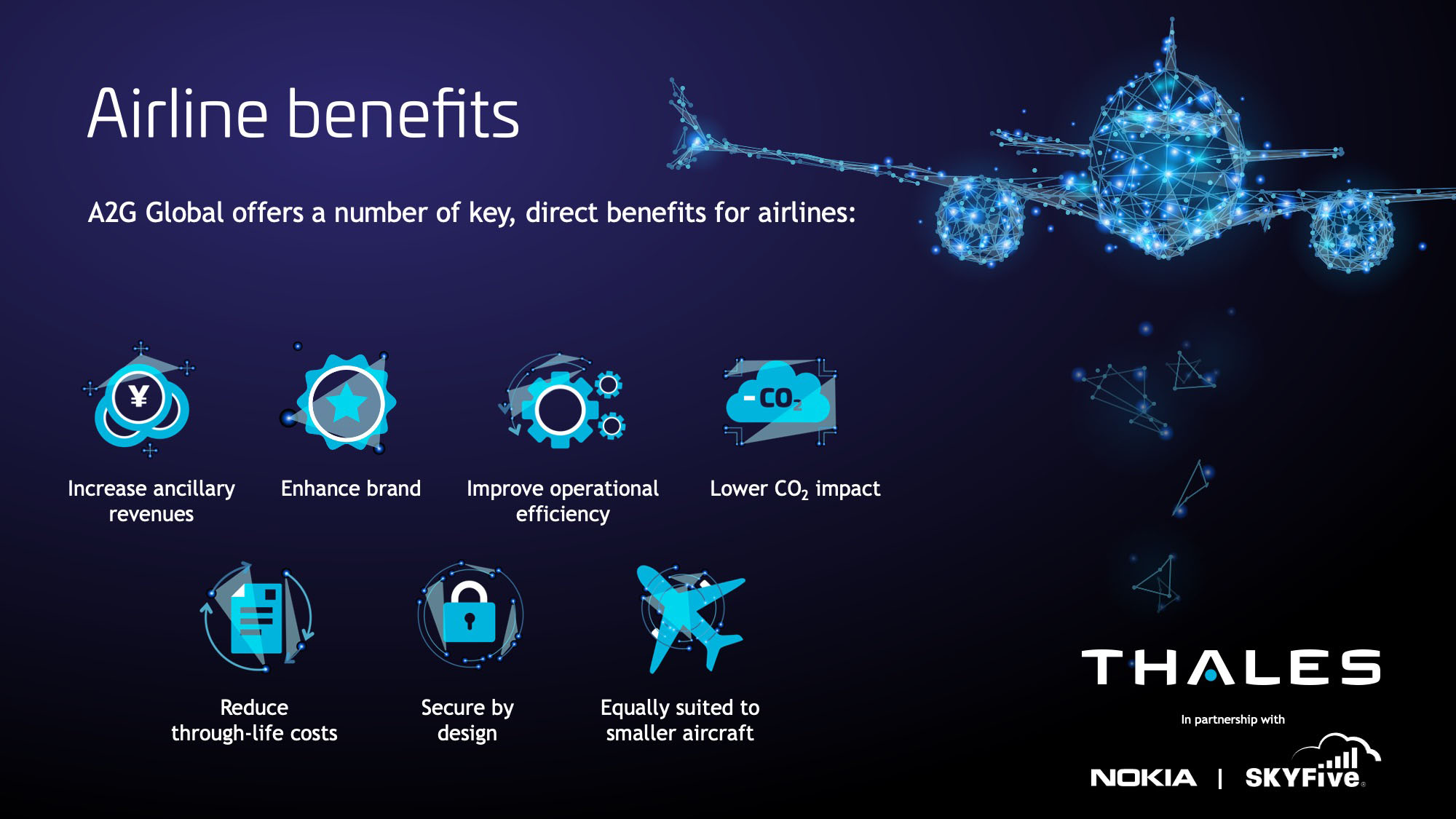 Improved connectivity, enhanced experience
Offering seamless connectivity with speeds up to 100Mbps and latency of less than 50ms, this 4G LTE solution connects aircraft to high-speed Wi-Fi from the ground up. Utilising existing 4G technology, A2G connects aircrafts with the nearest purpose-built on-ground towers, seamlessly handing over between masts mid-flight to create consistently fast 4G connectivity throughout journeys. The high speeds and reduced latency are achieved through the impressive 4G LTE performance, combined with the short distances between the aircraft and towers, which are densely grouped to prevent aircrafts sharing bandwidth. The network's design also means A2G has greater capacity per km2 than current satellites. 
Aboard A2G enabled aircraft, the experience for passengers will be comparable to using a 4G mobile phone service on the ground. The easy-to-access connection will make it possible for passengers to make uninterrupted video-conferencing calls, watch live TV or stream the latest series in HD from their own handset.
Easy installation, savings for airlines
As the aviation sector emerges from its biggest challenge yet, A2G presents an opportunity for carriers to make significant savings, improve customer experiences and increase ancillary revenues. Compared with SATCOM systems, the compact nature of the 4G antenna reduces CO2 emissions and cuts installation times down to just 12 hours, meaning aircraft spend less time out of operation while technology is installed. 
Once installed, new 4G enabled in-flight capabilities will create an aircraft environment for an Internet of Things in which operational efficiencies such as engine offload data can be viewed in real time, customer experience can be measured and targeted advertising can be introduced. Better connectivity can also support the facilitation of new COVID-19 safety protocols as they are implemented.
Collaborating to create a safe, global network
The technology is being rolled out in regions around the world where domestic and international carriers will be able to use the 4G masts on land. It has been developed through a collaborative partnership with Thales providing the onboard terminal (modem+RF) and antenna; Nokia responsible for on-ground infrastructure and SkyFive's patented software algorithms ensuring that aircraft can reliably connect at high speeds, high altitudes and across long ranges. With 30 years of experience in connecting airlines and proven European Aviation Network success, Thales has leveraged its expertise to ensure the benefits of the faster speeds do not come at the expense of a secure platform.
Andy Humphries, Managing Director, Flight Avionics at Thales in the UK, commented: "For airlines, passenger connectivity and operational efficiency have been strategic imperatives in the past and are even more pronounced in the wake of the COVID-19 crisis. At Thales, we have used our expertise to deliver proven fast and reliable aircraft hardware and software solutions underpinned by a robust worldwide support network. Combined with SkyFive's specialism in A2G services and Nokia's mobile network infrastructure, the project will bring industry disrupting performance for passengers and airlines alike, with reliable Wi-Fi and low transmission latency delivered with low upfront investment and operational costs. We believe A2G will help to expedite the recovery of the sector by transforming the air travel experience while reducing costs as people start flying again."