Understand and analyse
Cyber Threat Intelligence makes it possible to understand and constantly analyse the cyber attack threat level, and thereby enable the confidence ecosystem to adapt its line of defence.
It is the glue that holds together the various cyber warfare pillars together: the monitoring carried out around the clock by Cyber Security Operations Centres (CSOC), real-time detection thanks to the CYBELS Sensor, the analysis of threats and the implementation of tailor-made actions by our teams of architects.
In order to provide effective protection from cyber attacks, the techniques and methods of attack must first be understood. Cyber Threat Intelligence caters to this crucial objective: relevance of lines of defence. Cyber criminal target business operations and IT systems, so it is therefore very important to maintain a level of knowledge of such threats to adapt the detection of each of our customers.
Cyber Threat Intelligence provides means to collect, analyse and then sort all of the data related to a cyber attack, the attacker and the procedures used. Taking action as part of a community is one of the major challenges of Cyber Threat Intelligence insofar as it lets each player broaden their knowledge of attacks and protect themselves more effectively.
Today, by sharing their analyses of cyber criminal behaviours and procedures, Cyber Threat Intelligence teams are improving their knowledge of cyber threats in order to consolidate their ability to detect, anticipate new risks and fight cyber attacks together.  They present the Thales Cyber Threat Handbook. Thales Cyber threat Intelligence experts have examined 20,000 cyber attacks, 9 geographical areas and 16 business sectors.
 In the face of increasingly organised cybercrime, this constantly updated mapping is crucial for a better understanding of the threats.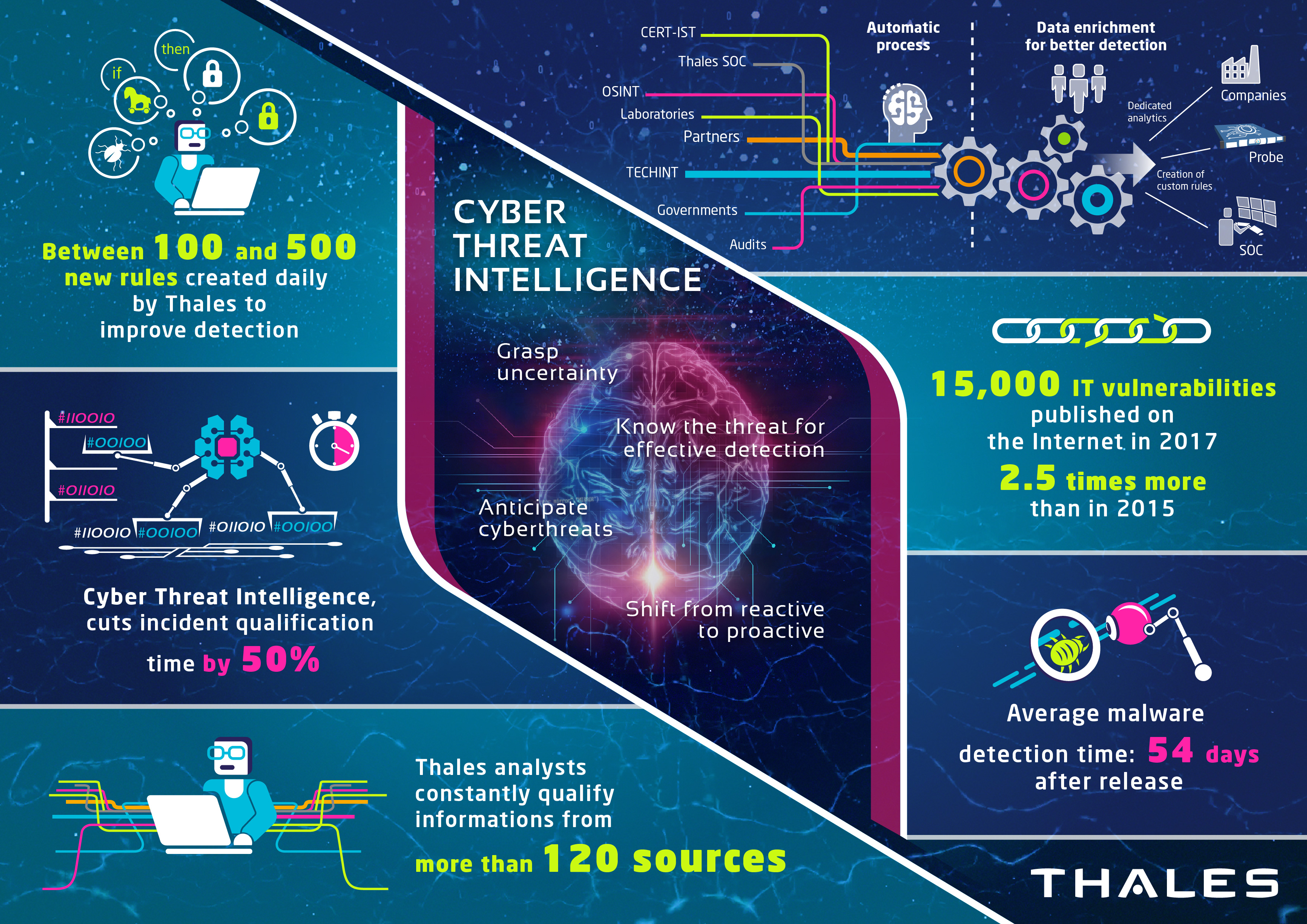 You might be interested in this:
Press release Thales presents the 2022 Thales Cyberthreat Handbook
Article Thanks to ESET Thales reinforces its cyber threat intelligence capabilities
Press release Thales alerts on the risks linked to cybercrime in its new edition of the "CyberThreat Handbook: organised cybercrime"
Press release The Cyberthreat Handbook: Thales and Verint release their "Who's Who" of cyberattackers
Press release Thales and Sekoia release financial cyberthreat report