As military operations become increasingly data-driven, infantry troops have come to rely on intelligent, high-performance imaging and target location systems to augment their perception of the operational situation and collaborate with other assets and the command chain to engage adversaries.
 
Units equipped with connected optronics systems help to build to a common operational picture that allows them to make the right decisions at the right time and raise the tempo of operations. But the sophisticated equipment that is making the augmented soldier a reality today has pushed up the cognitive load and physical burden on infantry troops deployed on the front line. 
Co-development with operational users
As the European leader in the optronics market, Thales has drawn on the experience and insights of successive generations of operational personnel to develop a complete range of soldier equipment that is both easy to use and optimised for tactical mobility and agility. 
 
The SOPHIE family of hand-held thermal imagers and target locators is a prime example of this co-development effort.
Thales created the concept of the hand-held thermal imager back in the 1990s, and has sold more than 16,000 SOPHIE HHTI to 55 countries to date. The latest new members of the SOPHIE family — SOPHIE Ultima and SOPHIE Optima — take the concept to a new level. 
With their ground-breaking opto-mechanical architecture and best-in-class optical performance, they bring together four key functions in one compact, lightweight unit. Each new SOPHIE thermal imager and target locator replaces four legacy products, dramatically reducing the Size, Weight and Power (SWaP) footprint of the soldier systems of the future.
The range capabilities of the SOPHIE family are unequalled on the market today. The launch of Sophie Ultima in 2018 marked the beginning of a new era in long-range day/night imaging and target location for special forces and infantry platoons. With its cooled infrared imaging technology, SOPHIE Ultima can reliably identify a tank at distances of up to 6 km.
 
In 2020, Thales expanded the family to include SOPHIE Optima, which can identify a tank at a range of 3 km, and whose uncooled infrared technology delivers the same range performance as the current generation of cooled infrared imagers and target locators.
 
Both products offer a wide field of view to detect threats sooner, and an embedded geolocation capability to locate targets precisely even in a GNSS-denied environment. Both are equipped with a unique high-resolution glass day channel and image fusion technology to reveal targets with unparalleled clarity in daylight as well as night-time or low-light conditions.  They are produced at the Saint-Héand site, the Thales's center of excellence for dismounted soldier optronics.
Multi-mission capabilities for the age of collaborative combat
SOPHIE Optima and SOPHIE Ultima enable platoon leaders and special forces units operating in daylight and at night to safely take up a position on any type of mission, detect and reconnoitre threats, identify and geolocate targets, request fire support, control mortar fire and assess the effects of an engagement at long range. 
 
The next-generation products in the SOPHIE family use the same intuitive user interface to optimise training requirements, and were designed from the outset for maximum maintainability. Cybersecured by design, they are equipped with standard communication interfaces and share information automatically with other units and the command chain, only transmitting relevant data that is strictly needed to make critical decisions and engage targets.
Superiority on the front line
For today's fighting forces, informational superiority is crucial to mission success. Modern warfighters need the capacity to detect, identify and engage adversaries in daylight and at night, and to share information in real time with the command structure and other units in the theatre.
With their common user interface and mechanical design, the products in the SOPHIE family deliver the best performance on the market while optimising through-life costs. As the age of collaborative combat dawns, SOPHIE augments soldiers' perception of the tactical situation and shares high-resolution EO/IR imagery and location data automatically and securely to raise the tempo of operations and guarantee informational and tactical superiority in any situation.
 
Infantry units need to be prepared for every eventuality, including the rigours of large-scale high-intensity conflict. The hand-held thermal imagers and target locators in the Sophie family replace four separate devices with a single, lightweight product, maximising usability, maintainability and performance while reducing the physical and cognitive burden on the soldier.
Recently presented at Eurosatory 2022, VisioLoc® is a unique new geolocation capability that Thales offers for commanders of tactical and specialised units. VisioLoc® is available right now for our SOPHIE Ultima and SOPHIE Optima.
VisioLoc® enables section commanders, platoon leaders and leaders of specialised and special forces units to extract very precise geolocation coordinates – typically Category 1 CE90 – in any conditions, even in GNSS-denied environments.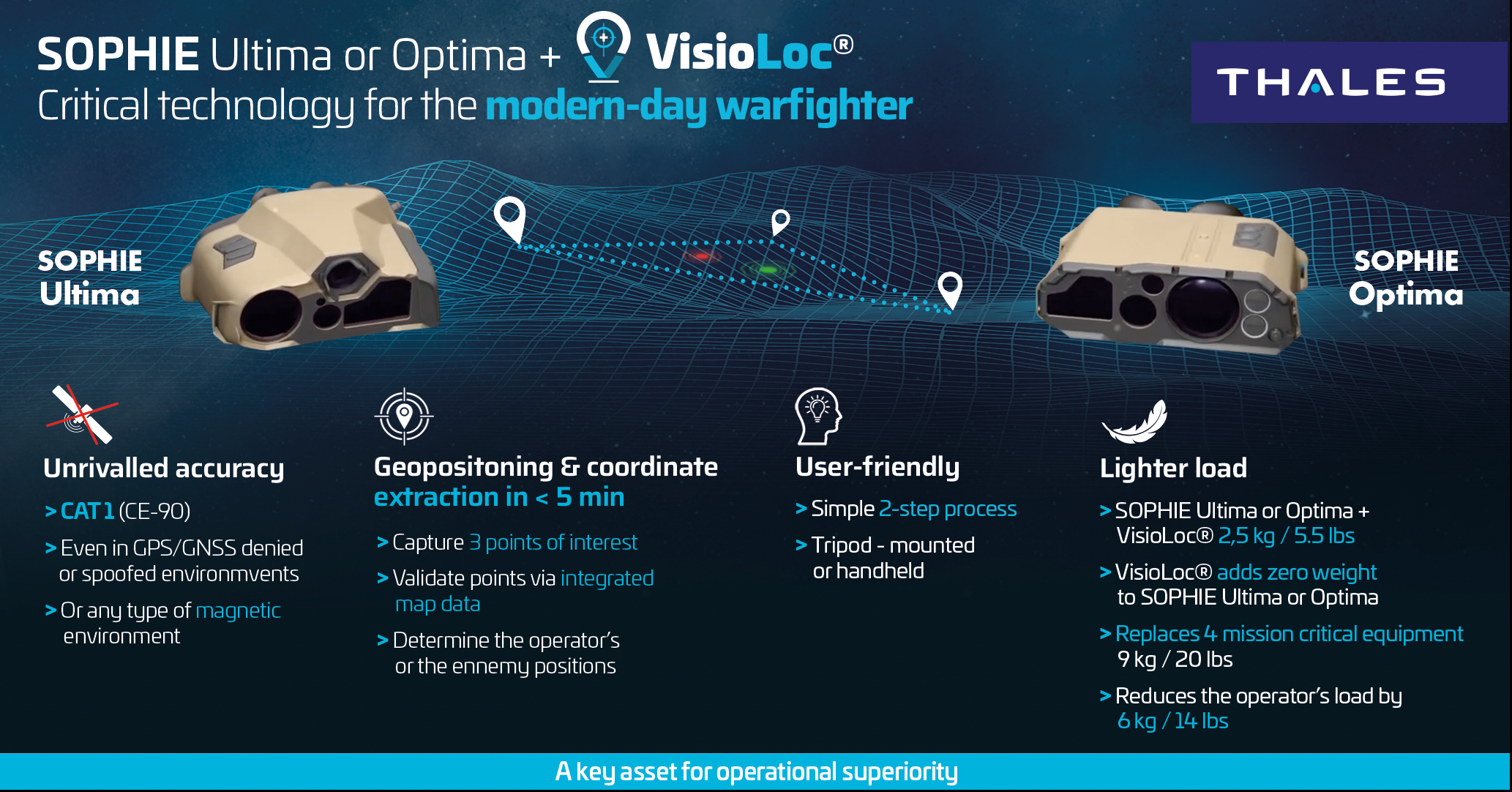 For more