Multiple-battery, scalable, modular charging solution
Combines the functions and capabilities of multiple battery chargers into one small and scalable package.
Thales' line of modular battery chargers are configured to charge a wide range of military and commercial batteries.  These chargers are fully operational in tactical environments and provide advanced features, such as State of Health, State of Charge, and dynamic power distribution for every installed battery.
Simultaneous charging of multiple warfighter battery types
Rugged and sealed for austere mission environments
Charges in heavy rain without cover

Comprehensive battery management software aids in managing use/deployment of batteries
Units can be cascaded and powered from a single power source
Powers directly from solar panels and generators
eMUBC Expeditionary Modular Universal Battery Charger
The Universal Battery Charger (UBC) is a modular solution that's designed to charge handheld and manpack batteries, such as the BB-2590, PRC-148, PRC-152, BB-390, and conformal batteries.  As the US Army's program of record charger, the UBC weighs approximately 6 pounds, is small enough to be carried in a ruck sack, and is rugged enough to be vehicle mounted. New battery types can be charged by creating new adapters that interface with the UBC's non-proprietary standard adapter interface. Multiple UBC charging systems can be cascaded without need for additional tools.
 
Man portable and vehicle mount
Fast charging
High efficiency
Built-in battery tester
Modular cup design allows user customization
Operational MIL-STD-810G
Simple, intuitive user interface
Weighs approximately 6 lbs (2.72 kg)
4 USB ports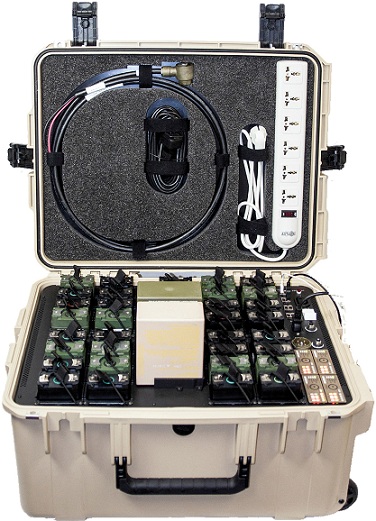 Modular Bulk Charger
The Modular Bulk Charger can charge 34 batteries simultaneously, which equates to 32 PRC-148 or PRC-152 batteries, and two BB-2590 batteries.  Similar to the UBC, the bulk charger also uses a modular adapter design and can be easily reconfigured to charge other battery types. 
Fully operable in tactical environments
8 USB ports (2.0 A max. on each port)
Operates from both AC and DC power
State of health indicator, all charging bays
The Tactical Handheld Radio (THHR) 8-bay Battery Charger 
solution is a scalable charging system that charges eight AN/PRC-148 or AN/PRC-152 batteries simultaneously, and also provides for the addition of new batteries through software upgradability and an innovative modular design. The base unit weighs approximately 6 pounds, is small enough to be carried in a ruck sack, and is rugged enough to be vehicle mounted. This system is based on technology from field-proven Universal Battery Chargers, allows charging in heavy rain, and other harsh environmental conditions without cover. The charger incorporates a built-in solar charge controller for harvesting power from solar panels.
As an example, the MBC's Army configuration can charge the following batteries simultaneously: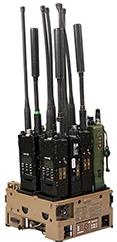 ·       12 Conformal Batteries (CWB)
·       16 PRC-154 Batteries 
·       8 PRC-148 or PRC-152 Batteries
·       2 BB-2590 Batteries
 
New battery types can be charged by creating new adapters that interface with the UBC's non-proprietary standard adapter interface.  The MBC operates from both AC and DC, and cables are provided with each system, in addition to 8 USB ports for charging smart phones and tablets