In a fast-moving, highly demanding and competitive world, all banks and Fintechs would probably agree that the design of debit and credit cards plays a significant role in ensuring high customer acquisition and retention levels while boosting transaction usage. 
However, designing a card that conveys a strong brand image, adapts to schemes and industry requirements, supports differentiation and delights end-users can represent a significant challenge. 
To add even more complexity, schemes have been introducing massive changes in their standards, allowing for more space and creativity on the card and multiplying possibilities.  
In parallel, card manufacturers have been racing to propose new options and materials to foster innovation. 
The result? 
The possibilities of choice have become almost infinite for banks, and harnessing them into a single card can prove a real headache. 
At Thales, with our long and proven worldwide experience in card, personalisation and packaging, we have seen the environment, design trends and our customer's needs evolve.  
These changes drove us to engage in deep customer-focused studies to understand what was at stake. 
With the support of our nine regional design expert teams covering more than 80 countries: 
We analysed 110+ most recent payment card launches 
And reviewed 40+ innovative credit and debit card programmes. 
We extracted the main trends and compiled them into a comprehensive catalogue. 
We will introduce the critical findings for each trend and communicate on each separately throughout the year. Then we will present our Design Trends Tips and Solutions catalogue. 
Let's start with some key findings and takeaways.
Top four trends in payment card design 
#1 Minimalism: less is more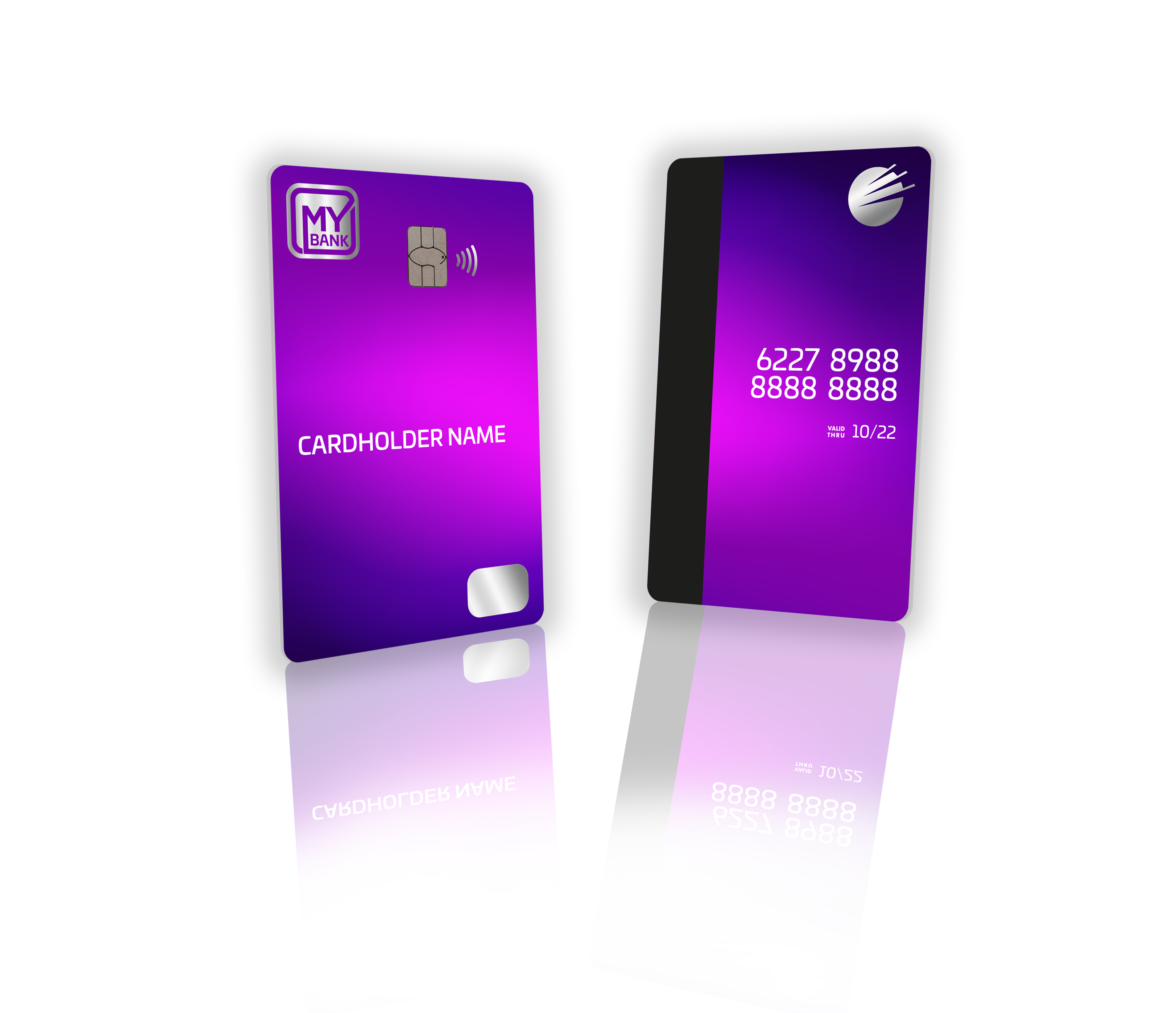 What is minimalism in card design? 
The minimalist design prioritises the essential and is generally quite bare: 
The front side often contains only the bank and scheme logos.  
The background is mainly composed of a single colour or a gradient.  
The back of the card often repeats the front design without associating any particular effect and displays the technical and security elements. 
Traditionally, minimalist designs targeted VIP and high-end programmes. 
Fintechs came along and changed everything. In need of differentiation, they started using minimalist designs for all their programmes. 
Minimalism had become their brand image: a symbol of simplicity, modernity, proximity and even customer transparency. 
There's more. Fintechs blurred the lines further still: 
Using premium materials such as metal, they democratised them and their associated programmes or services.  
They also de-codified the usage of certain features such as fluorescent or phosphorescent inks, usually targeting youth programmes and implemented them for their mass-market and high-end segments. 
So, here is our first takeaway. 
In essence, minimalism has become a design trend and no longer matches a specific programme. 
Get ready to reconsider how to use minimalism in design and how to associate it with card programmes and materials.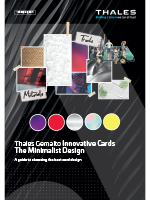 Thales Gemalto Innovative Cards
How to continue being distinctive and engage in minimalism card design? Deep dive into our in-depth minimalism trend analysis.
Read more
Let's move to our second trend. 
#2. Instant brand recognition: be identified as unique and innovative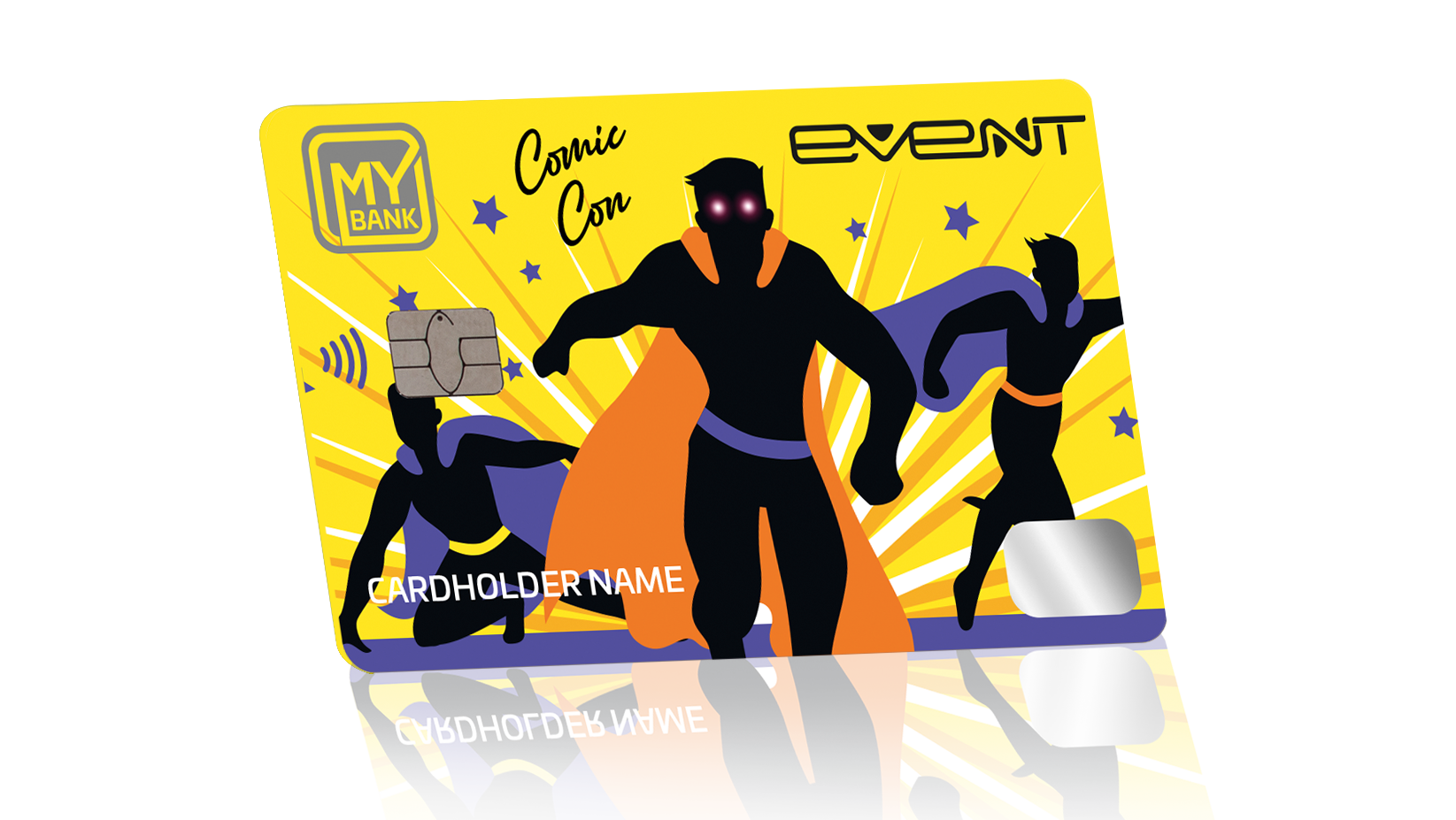 The link between the bank and its customers has never been so important. 
Banks are at the very core of an environment that is evolving more and more rapidly and that has experienced radical changes over the last few years:  
Less physical contact with the closure of bank branches, the increase in mobile contactless connections and complex sanitary measures 
The rise of new competition (Fintech and neo-banks) 
Growing users' expectations, demanding better acknowledgement of their needs. 
All these generate a crucial need for visibility and a strong brand image. The bank must be disruptive and innovative to differentiate itself from the rest of the pack. 
What better way to do it than with the bank card and its design? 
To achieve this, the bank has the choice of two main paths: 
Using design but also features and plastics innovatively - extending the magnetic stripe to the card edge, creating a typography-based design, developing bespoke modules and breaking away from what is traditionally used. 
Enabling its customers to co-design the card, giving them the space to hyper customise it to reflect their personality, tastes (personal signature, choice of picture for the card background…) and interests.
Here is our second takeaway. 
Hyper-customisation and creativity are two major ingredients in a 2023 card design strategy.  
In other words, from being simply a utility, the card is becoming an exhibit to be proud of. 
#3. User experience based on a user-centric approach provides improved convenience and inclusivity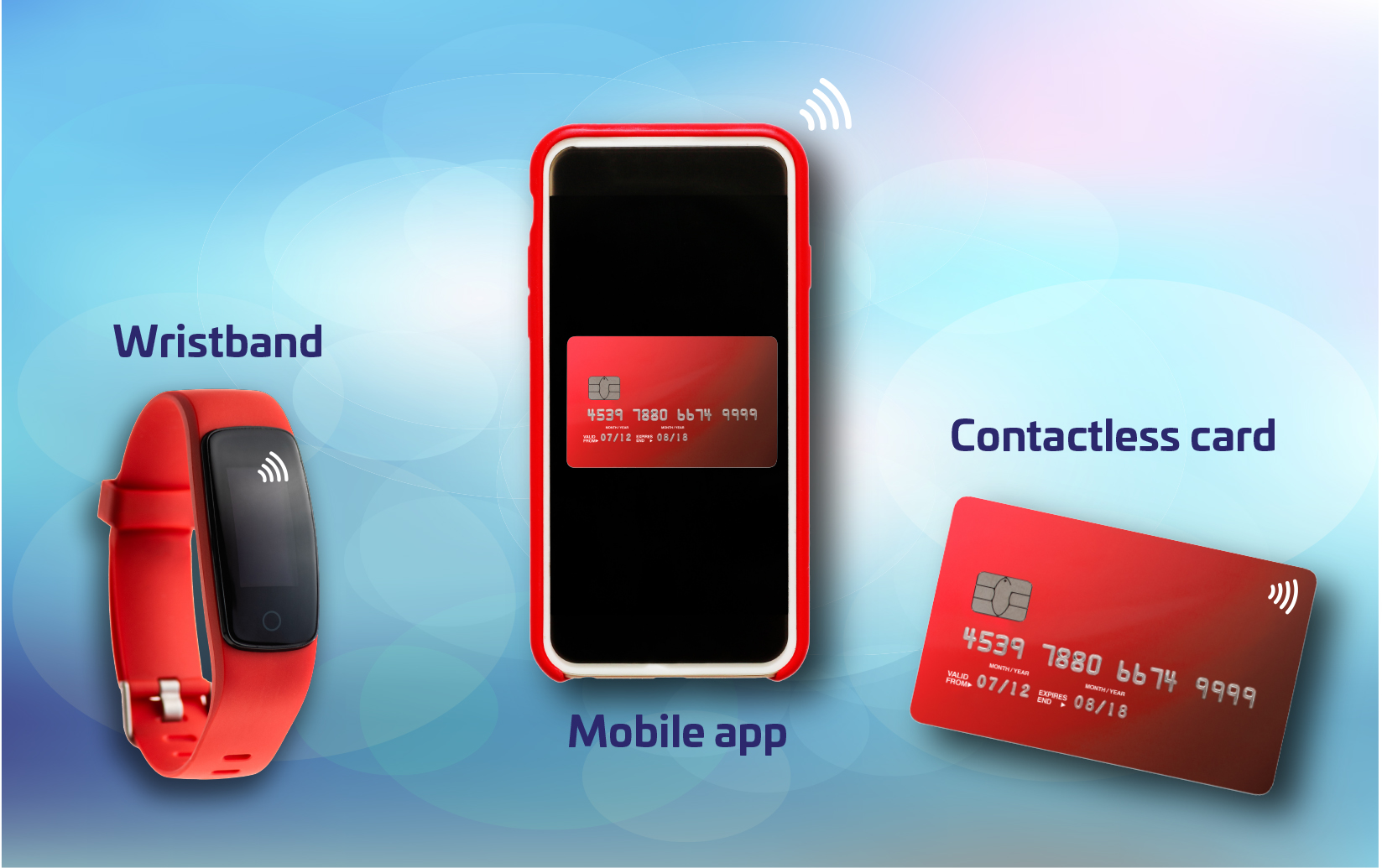 End-users expect all their banking services, including cards, to be easy to use and adapt to their needs. 
But all users don't have the same expectations. 
Some seek that their payment media provides them with a frictionless, flexible, but straightforward experience while adapting to their way of life and habits. 
This could be achieved through wearables and specific form factors or devices.  
Customers want to enjoy the convenience of using a single device to do it all -their morning jogging, buying a coffee on the way to the office, accessing a festival or concert, stepping into the bus … -and no more having to turn up with cash, entrance tickets, a purse or wallet with different types of cards… just a tap of their wrist. 
For others, the request is that these payment means should adapt to their specific needs, including those related to accessibility. 
Let's illustrate this. 
Today 2.2 billion people around the world have visual impairments.  
Many face difficulties whenever they want to pay on the street, on the Internet or in shops.  
And if we broaden the scope, this could even concern anyone in a low-light environment. 
In some cases, people with visual impairments may also face security issues.  
Their means of payment should allow them to feel more protected when using them, avoiding being marked as a potential scam victim. 
Increasing vulnerable people's inclusion is already possible with a large array of products and options such as specific notches, braille, larger fonts, improved contrast and specific graphical personalization layouts… 
And this will probably continue growing, fuelled by the ESG (Environmental, Social and Governance) initiatives. 
In a nutshell, for one payment, there are endless possibilities to accommodate specific needs. 
Let's move to our last trend. 
#4. Sustainability: make it your call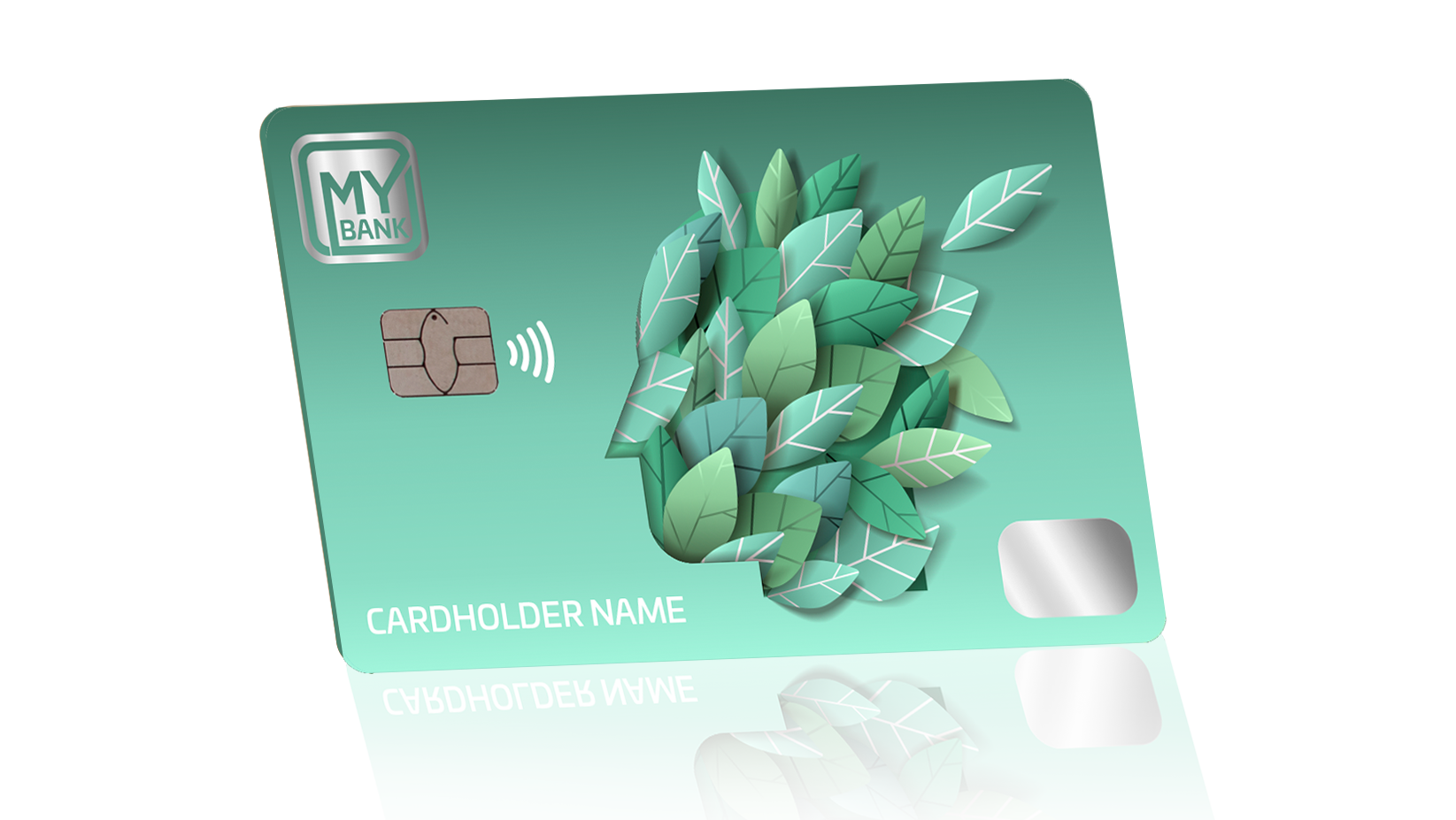 The road to sustainability is long, but we have been experiencing a quantum leap in the last two years. 
This acceleration results from the combination of society's steadily increasing environmental awareness and the pressure exerted by lobbies and governments. 
Initially, most banks were first considering proposing a single programme targeting their eco-conscious clients. 
Now the vast majority are contemplating adding more programmes to their offer. Some are even proposing nothing but ecological products or services. 
As manufacturers have also introduced a large range of products, banks need to find the most appropriate product that matches their sustainability strategy, whether it is based on bio-sourced materials such as PLA or recycled ones such as rPVC or Ocean PlasticTM based on reclaimed rPET from the oceans.
Nevertheless, the choice of material should not be the only aspect of a more responsible payment card. 
Broadening the approach, banks should tackle other aspects that could include eco-design. 
Beyond that, they should also consider packaging, graphical personalization, transport, distribution channel and end-of-life products. 
Sustainability is not only a material but a holistic concept. 
Unique payment card designs: mobilize our expertise
Creating a payment card in 2023 that unfolds the right messages, elicits usage and retains customers through a perfect design is quite challenging. 
The good news? 
You can learn more about the trends by accessing our complete catalogue.
You can also mobilize our team of experts for support or advice.
Over the past thirty years, our Design experts have been extensively involved with more than 3,000 financial institutions, retailers and other players to support them in this challenge, amongst others.
Bank on the TOP payment card manufacturer
Thales is a leading EMV chip manufacturer and the world's #1 payment card supplier.
You can trust us to deliver on innovation, quality, sustainability and branding in every aspect of your business – from card design to printing and even packaging.
Learn more about card body and finishing options.