Plastic contamination of the oceans is a fast-growing global issue. The world faces the potential extinction of many sea species and the interruption of the entire ecosystem. 
Everyone has a role to play in solving this critical problem and ensuring that plastics won't outweigh fish in 2050, as the Ellen MacArthur Foundation predicted in 2016. 
The threat is already ubiquitous.
Plastic is found at all levels of the marine food web, in the deepest ocean trench and on the highest mountain peak.
The truth is there's no magic quick fix for ocean threats, but we can be part of those who redress the balance, step by step.
For banks, fintechs and their environmentally conscious customers, the Thales Gemalto Ocean Plastic® card is a way to make a difference. 
The new upcycled payment card -made primarily from Ocean Plastic® from Parley for the Oceans- can become a symbol of positive change and an invitation for everyone to join the combat against marine plastic pollution.
On this page, we're going to:
•    Explain what's behind the Parley and Thales partnership
•    Explore the new Thales Gemalto Ocean Plastic® card opportunity
•    Detail American Express's move to Ocean Plastic® cards - a first in its industry
• take you behind the scenes and reveal how challenging it can be to reinvent card manufacturing practices
But first, let's learn more about Parley for the Oceans.
 
Who is Parley for the Oceans? 
Parley for the Oceans is an environmental organisation founded in 2012 to address major threats towards our oceans, the most important ecosystem of our planet.
It nurtures a global collaboration network where creators, thinkers and leaders come together to raise awareness for the vulnerability of the oceans and take action to end their devastation.
Its mission is to connect, inspire, and empower ocean advocates and support the development of alternative business models and ecologically sensible products that give consumers a different choice, an everyday option to change something.
In essence, according to its founder Cyrill Gutsch, plastic is a design failure, highly addictive, and we must free ourselves from it. The idea is to propose practical, thoughtful and creative solutions to plastic pollution.
Parley's short-term actions focus on cleaning shorelines and oceans and slashing virgin plastic production. 
Who's partnering with Parley?
Parley started its focus on fashion, art and youth culture with much success.
The organisation has formed alliances with major partners, including Adidas, Anheuser Busch InBev (Corona), American Express, the Republic of Maldives, the United Nations, the World Bank and collaborators spanning the worlds of science, art, fashion, design, entertainment, sports, space and ocean exploration.
In banking, Parley partnered with American Express in 2019 to launch the first credit card made with Ocean Plastic®.
What is unique about Ocean Plastic®?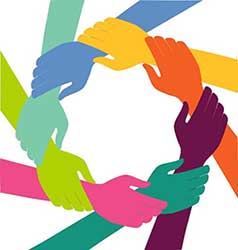 Parley's code of conduct clearly differentiates Ocean Plastic® from other recycled materials by prioritising traceability and the well-being of all individual contributors and communities in the supply chain.
The following commitments are part of Parley's code of conduct: fair wages, transparency and verified sources, no child and forced labour, health and safety, and equal opportunity.
Parley can count on 350,000 volunteers working on beaches and coastlines worldwide to spread awareness about what is happening to the oceans.
Learn more and discover Parley's extensive research and development program and initiatives. 
 
Parley is guided by a simple, scalable strategy: Parley's A.I.R. strategy. It stands for Avoid (plastic everywhere), Intercept (plastic pollution), and Redesign (the source of the problem: the material).
Thales and Parley for the Oceans
Thales has been working with Parley since 2019 for the American Express Green Card project.
Today, the partnership between Thales and Parley empowers card issuers to offer their customers Thales Gemalto Ocean Plastic® card made with Ocean Plastic® – a premium material up-cycled from plastic bottles collected from coastal communities. 
 
Thales and Parley collaborate to address two things that most cardholders and banks can buy into cleaner oceans and a solid commitment to implement solutions.
 
Learn more about the toxic journey of a credit card in our 2021 report.
The new Thales Gemalto Ocean Plastic® Card
Why do we do this? 
Thales supports banks in every aspect of a bank card's life, from green payment cards to eco-packaging and related processes. 
As a responsible provider of many industries, we believe our mission is to offer a complete set of tools that enable our clients to develop a consistent, environmentally innovative strategy.
What is the Ocean Plastic® card?
Today, Thales and Parley offer Ocean Plastic® cards made from marine plastic debris that Parley collects for the Oceans.
More than a material, the payment cards made from Parley Ocean Plastic® can also encourage banks and end customers to take further actions for the oceans.
The card consists of 70% Ocean Plastic® supplied by Parley and manufactured by Thales with its proven technology. 
We can issue the cards for all major schemes, including Visa, Mastercard, American Express and China UnionPay. 
And there are more payment schemes to come as we see the growing demands from different regions worldwide.
The result?
We use upcycled P.E.T. from the coastal area, a less toxic component than P.V.C. With the production of each card, we prevent approximately one plastic bottle from entering our oceans.
The big idea?
Every action adds up. Every bit of plastic we intercept helps to protect the oceans from plastic pollution from around the world. And every card has an opportunity to go even further by making even more impact on the oceans.
The Parley Card
In addition, the Parley Ocean Plastic® card offers the issuer exclusive Parley Partner benefits and engages their customers with a card that creates global impact through Parley projects worldwide. 
With each purchase, cardholders can protect oceans and earn rewards for taking action.
In other words, banks can partner with Parley when they choose the Thales Parley card and leverage Parley's activities and communication power.
The Ocean Plastic® cards collected by Parley for the oceans provide:
State-of-the-art technology: It took years of research and development to roll out the card successfully.
Fully-certified products and processes: The cards comply with ISO and payment scheme standards.
Seamless payment experience: All the interfaces and P.O.S. in the market could accept the cards.
Optimised lifespan: The cards passed the same ageing tests as standard P.V.C. cards.
But stay with us and discover American Express's bold move.
 
The Amex Green Card's new eco-design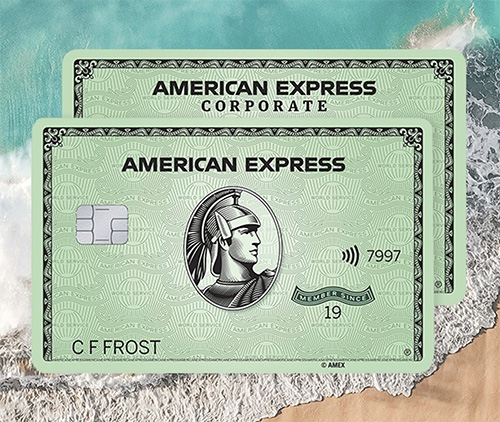 The long-awaited new American Express® Green Card was launched in October 2019. 
The 50-year-old iconic charge card still features the recognisable Roman centurion but now has a new eco-design.
Why is it a first in the banking industry?
To divert plastic from entering oceans, Amex decided to stop producing more plastic right away and initiate the use of upcycled marine plastic waste instead.
Amex is known for being a major credit card issuer and payments processor that provides travel-related services worldwide. However, many people do not realise it's also an environmentally friendly company driven by green concerns and a step-by-step action plan to reach its 2025 environmental goals.
The company has ambitions to eliminate single-use plastics across all its operations by 2025. 
In 2018, for example, American Express became a CarbonNeutral® company powered by 100% renewable energy. 
In 2019, the company developed brand new emblematic American Express®-branded green cards: an American Express Green Card and an American Express Corporate Green Card made primarily from reclaimed plastic.
American Express chose Thales D.I.S. for this new venture in the payment card industry.
It needed Thales' proven reputation as a leading manufacturer with a unique commitment to delivering projects. 
Above all, Thales shares the same belief in environmental responsibility, and this common spirit brought them together.
Thales is proud to support Amex as a pioneer in delivering reclaimed plastic cards from the oceans to its customers and contributing to reducing single-use plastic in its operations worldwide.
Behind the scenes:  The making of Thales Ocean Plastic® Card
Adapting upcycling marine plastic waste and transforming it into a banking card sounds simple. But it is not.
It took a lot of reengineering because we had to:
•    Deal with new material and its supply chain,
•    Move up the manufacturing learning curve fast, 
•    Adapt to match with various printing and finishing options.
And turning a commitment into reality wasn't all plain sailing.
The good news?
Since 2019, we have successfully manufactured over 10 million cards.
 

More resources on Parley Ocean Plastic

®

, eco-innovative bank cards and related topics
Take action with Parley now
The clock is ticking, according to Cyrill Gutsch. We have all the opportunity to make a change. 
So, if you have a question about Ocean Plastic or eco-friendly cards, please comment in the box below. 
We look forward to hearing from you.