Hear… what you're paying for

Some 89% of visually impaired people say that they have already been victims of fraud or errors when paying for goods and services (according to a survey done in 2019 by Handsome and Ethik Connection among 120 people in France).
The good news?
Visually impaired customers can now have greater control of every payment they make. 
Thales and its partner Handsome, a Fintech specialist in inclusivity, have come up with a discreet and secure assistive technology solution for people with visual impairments that gives them greater control and makes each payment more secure and trusted.
The payment card is paired with the cardholder's smartphone app, which vocalises the transaction details.
A description of each step – the amount, PIN validation, remaining attempts in case of incorrect PIN, the transaction is OK – is encrypted and sent by the card to the phone enabling the cardholder to hear the details and pay in full reassurance. 
The result? 
Customers are sure they're being charged the right amount.
And there's more. 
The cardholder needs only their card and their phone and no other additional accessories. 
Here's why.
 
How does the voice card work?
The process is very simple:
1. When a customer receives their new card, they tap it on their phone to pair the two devices.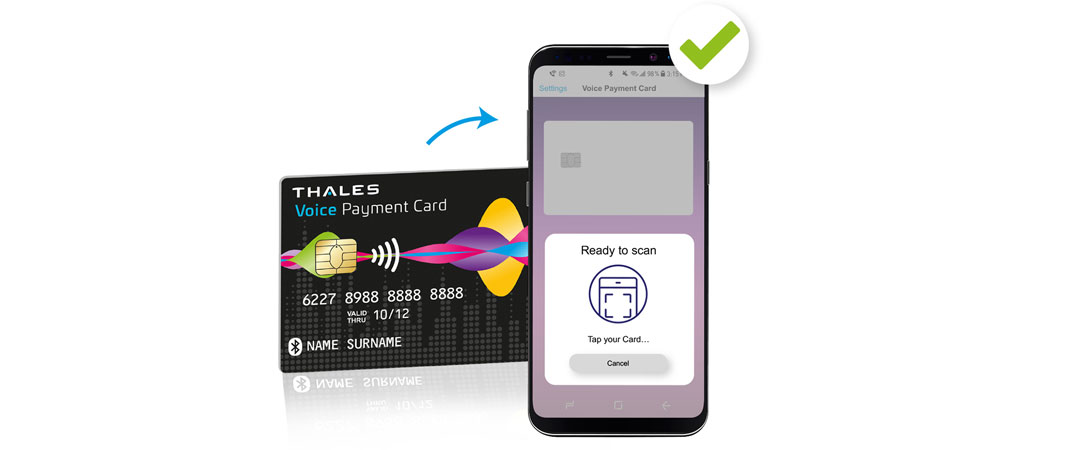 2. Every time they make a payment, a secure link connects their voice payment card to their mobile phone.
3. Their phone voices the transaction amount to them before they enter their PIN on the POS terminal to confirm payment.
4. Their phone then delivers an audio confirmation of the transaction.
The smartphone and the Gemalto Voice Payment Card communicate with each other via Bluetooth.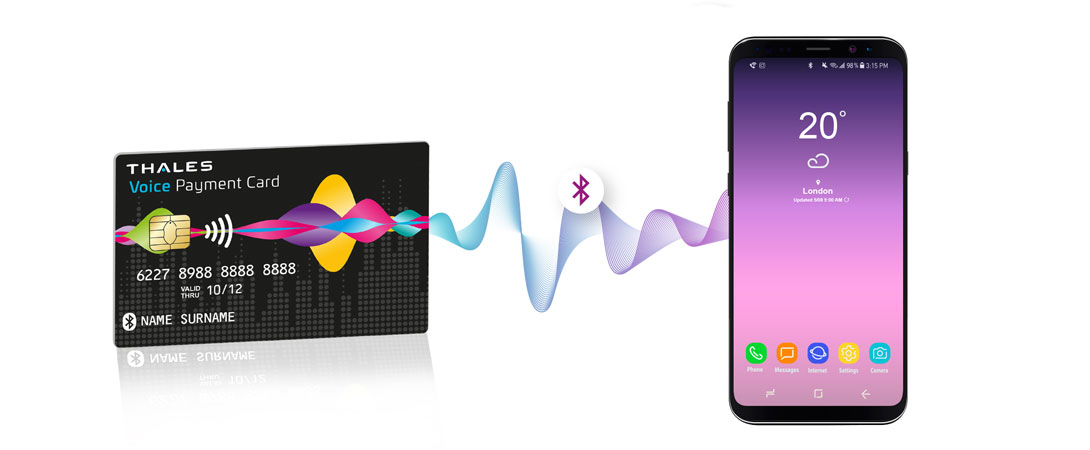 In details:
This solution is compatible with all existing EMV payment terminals with no software or hardware update needed.
 
Security and the voice payment card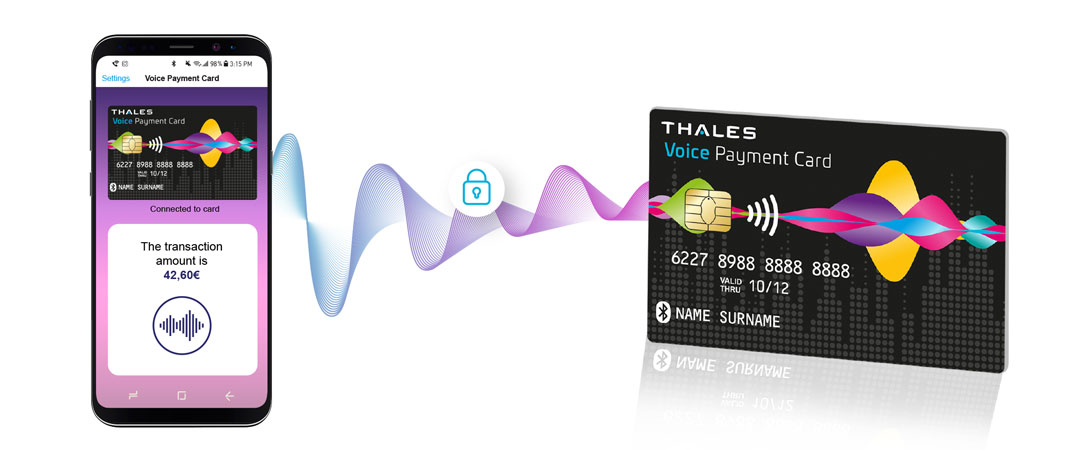 A unique pairing is established between the card and the smartphone to ensure robust security and confidentiality.
If your customer changes their smartphone, they will need to tap the card on their new handset to pair the two. 
Once pairing is complete, and the customer makes their first payment, the voice card is coupled with the new smartphone.
 
Where does Thales fit in?
Thales cares about social concerns and building a more inclusive society. 
So Thales aims to provide everybody with access to payment solutions.
In the payment card segment, Thales provides financial institutions with EMV contact, contactless cards, and related card personalisation and issuance services, such as in-brand instant issuance. 
Our latest innovations include pioneering payment cards such as the voice card, the biometric card with a fingerprint sensor for biometric authentication, and our range of metal cards for high-end users.
We also provide comprehensive solutions for white label schemes allowing local customisation of the broad EMV standards and contactless ticketing for mass transit.
Handsome provides dedicated services for impaired people, including customized mobile application, insurance, and concierge service, available with their own brand or as a white-label offer to other issuers.