Paying with a card should be easy for everyone. 
But for millions of sight-impaired consumers, it can still be a challenge.
There's more. 
Sobering statistics reveal that 89% of visually impaired people have been victims of fraud or made errors when paying for goods and services. (HandSome and Ethik Connection, 2019).
The change is coming.
And in Turkey, leading digital financial services company Papara is stepping up a gear and offering a more secure and inclusive payment experience, totally discreet for the user.
The company is rolling out a new generation payment card called Voice Card, an assistive app designed to help blind or low-vision people pay by card at a POS terminal. 
The solution gives them greater autonomy and makes each transaction more secure and trusted. 
In other words, visually impaired users are sure they're being charged the proper amount by hearing every transaction step.
This voice feedback card is unique in the industry, and its launch in Turkey is a world premiere.
This page will:
Explore Papara's advanced solution and detail how this innovative payment card brings more independence and reassurance to persons with low vision or cognitive disabilities. 
Present the rationale behind this move, the project, and its timeline.
Go behind the scenes, introduce the team, and outline Thales' contribution.
But first, let's discover Papara.
​​​​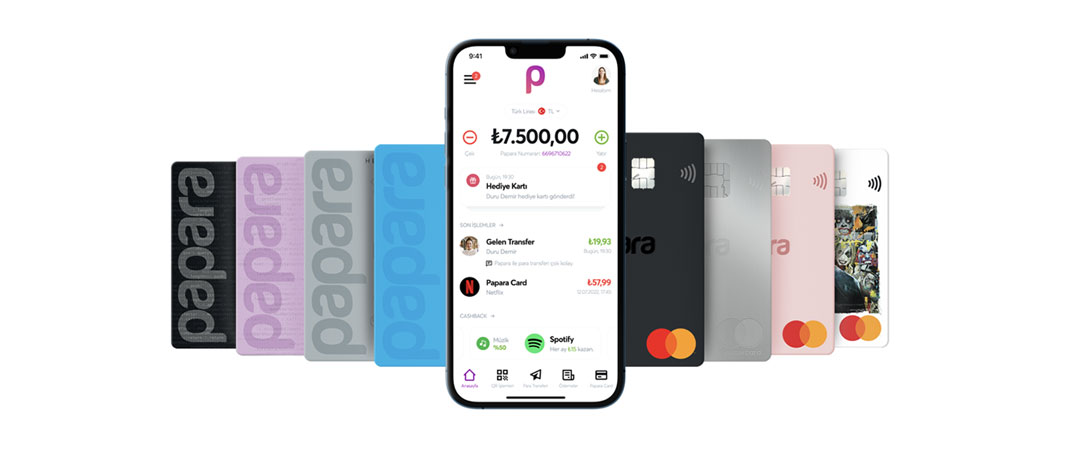 Who's Papara?
Papara is a leading financial technology company based in Turkey. Founded in 2016, Papara is committed to providing fast, simple, affordable, and fun financial services for all.
Papara offers free financial technology services such as 24/7 money transfer, bill payment, mobile phone insurance, budget management, donation, split feature, and tracking spending habits. In addition, Papara offers Papara Cards that are valid worldwide and online. Papara users who use Papara Cards earn instant cash rewards with the Cashback program for their purchases in certain brands and categories.
By 2022 Papara has over 14M retail users, and over 1400 corporate users, incl. Uber, Yandex, and more than +400 employees. Papara plans to expand its products, services, and geographic reach to become the leading challenger bank in the region. 
Papara is listed in the latest KPMG Global Fintech100 and LinkedIn Top Startup Turkey 2022.
So, what makes Papara unique?
 
Creating meaningful change: Papara's distinctive mindset.
Placing purpose over profit sets Papara apart. 
It's part and parcel of Papara's core identity since its inception and determines how its business operates. 
For example, the company ensures that each new product, offering, or partnership genuinely helps underserved or unbanked communities.
​​​​

Papara puts financial inclusion and innovation that matters at the heart of its operations.
 
According to a 4 August 2022 interview in the
Fintech Times
with trailblazing founder and chairman Ahmed F. Karslı, creating meaningful, long-lasting changes is Papara's driving force.
And with Voice Card, Papara walks the talk of innovation with a purpose.
 
Assistive technologies for the visually Impaired
​​​​

Visual impairment, like many disabilities, is a spectrum.
Visual impairment to reach 1.75B by 2050
According to estimates published by the Review of Optometry on 29 March 2021, over 338 million people live with vision loss or moderate to severe vision impairment.  
Beyond that, 258 million live with mild vision impairment, and 510 million have visual impairment due to uncorrected presbyopia.
Most visually impaired people are over 50. 
As the world's population is ageing and people over 65 are the fastest-growing group, these numbers are expected to grow sharply in the next three decades.
People with vision loss and impairment will increase from 1.1 billion in 2020 to 1.75 billion in 2050.
More businesses recognised that blind and sight-impaired people count too. 
For example, Microsoft called for more accessible versions of Windows. Netflix embraced audio description tech for its programs. 
And apps help people create a level playing field and be more independent.
 
Banking for the blind and visually impaired
We must acknowledge that banking services are not sufficiently adapted today to people with disabilities. 
In reality, blind or low-vision individuals have frequently struggled to perform essential financial services like opening a bank account, handling an ATM, transferring money or paying at the point of sale (POS) independently. 
​​​​

Paying at the POS is a big concern for most people with vision impairment, and with good reason>
Improvements and innovations in assistive technologies (products, tools, or services designed to increase independence) are a pressing necessity.
Papara breaks another barrier to financial inclusion in 2022
Papara initiated another bold move to provide more financial freedom and equality. 
The company partnered with BlindLook, to make Papara financial services accessible to the visually impaired. With BlindLook's voice-oriented technology, sight-impaired users can use the Papara app and website without external help and perform all their finances safely and independently.
Papara has gone one step further at the end of 2022 with an industry first. 
The company has worked alongside Thales to design and deliver a unique payment solution at the POS dedicated to individuals with cognitive disabilities: Papara Voice Card. 
 
How does the Voice Card work?
It sounds simple, and it is.
 The solution, compatible with POS terminals, is straightforward. 
1. When users receive their Voice Card, they place it over their phone with a simple tap gesture to pair the two devices via NFC. 
2. Every time they pay, secure Bluetooth communication occurs between their voice card and handphone. 
3. Their phone voices the transaction amount to them (through the phone's speaker or using an earbud for confidentiality).
4. If they agree with the amount, they type their PIN on the POS terminal to confirm the payment. Otherwise, they can simply remove the card from the POS terminal to cancel the transaction.
​​​​

5. If the PIN is correct, their phone then delivers an audio confirmation of the transaction completion status.
​​​​

Easier and safer card payments for blind and partially sighted customers
The results?
Visually impaired customers now have greater control over every payment they make, as well as people with cognitive disabilities. 
Users can proceed with payments at the POS with confidence and discretion without needing help or any additional accessories other than Papara's cards, earbuds and phones.
All transactions are secure. 
Encryption between the card and the mobile phone makes every exchange intelligible only to the sender and the recipient. If a hacker intercepts some data, the intruder sees a meaningless clutter of letters and numbers.
Moreover, the card is now certified by Mastercard.
This solution, alongside others, is a very positive demonstration of what technology can deliver to improve equality and inclusion - in this case, those of the sight-impaired - bringing lasting value to society and helping shape a future we can all trust.
Behind the scene: The birth of the Voice payment card
In 2019, Thales was first alerted by its partner, French fintech HandSome, that fraud and errors were a significant problem for visually impaired customers when purchasing payment cards. 
The team quickly put forward the answer - use Bluetooth to connect the card to the user's mobile phone to provide step-by-step audio feedback about the transactions. Users would then be able to go ahead with a payment serenely. 
Comments from the first visually impaired users to test the prototypes in 2020 were overly positive. 
The first pilots in France in 2021 confirmed the solution's relevance and benefits for the visually impaired.
They provided a real catalyst for the team to move on and complete the project.
The Thales Voice Payment Card (VPC) was born in 2022.
The same year, Papara decided to mobilise Thales' experts for its new initiative and selected the Thales VPC. Papara became the first company to launch this service.
Beyond that, Papara and Thales share the same belief in a more accessible and inclusive payment experience for all, and this common spirit brought them together.
In payment, innovation is vital.
Papara has come one step closer to achieving its ultimate mission of providing financial freedom and equality for all, regardless of gender, age, economic background or disability.
The company seized this innovation as an opportunity for transformational system change. 
To top it off, Papara is gaining a competitive advantage by creating new card payment options that reflect course demand for additional security and convenience. 
Where does Thales fit?
As payment cards, especially contactless ones, will continue to dominate the banking scene in the coming years, bank players need to remodel their payment card offerings to respond to user needs.
For credit, debit and prepaid cards, in particular, Thales has released a steady stream of innovations that can boost differentiation, loyalty and spending. 
To name a few:
The biometric payment card
Discover the biometric payment card experience. With a fingerprint sensor on the card, paying with an EMV card just got easier. Launched in 2021, the Thales biometric credit card allows users to securely and conveniently pay contactless whatever the amount without the need for typing a PIN. It's also great for privacy, as the biometric data never leave the card.
Eco-friendly credit cards
Eco-conscious consumers are dictating changes. They want to make more sustainable choices. Our products and services cover every aspect of a bank card's life, focusing on reduction and compensation. They range from bio-sourced and recycled card body materials to a carbon offset programme.  
Metal cards
With the arrival of metal credit cards, issuers are giving their customers more opportunities to satisfy their desire for style and panache. Key findings indicate that premium metal cards and solid loyalty and reward programmes offer a competitive differentiator for banks and fintechs.  
Card customisation services for Generation Z
With Thales SketchMyCard, launched in 2022, Thales is going one step further in hyper-personalisation and self-expression. This card customising solution with a creative twist targets new consumer trends led by Generation Z (born between 1997 and 2010). 
The new features of AllAboutMe, Thales's turnkey card design application, allow cardholders to create their cards online and turn designing a card into a truly participative internet experience. This solution has also proven to be an innovative tool in differentiation and retention strategies. 
Modern card issuance: the "new normal" in banking
To launch modern card programmes, card issuers must re-invent their card issuing platform. They need to integrate their existing central banking systems must real-time, secure modern front-end that can scale up with the latest novelties introduced by payment schemes. That's what the Thales D1 is about.
Tech-forward fintechs, neobanks and crypto-exchange platforms have implemented these digital-first, all-in-one mobile apps. Banks can disrupt the disruptors

 by allocating more resources and expertise dedicated to building new businesses.
Now it's your turn.
Thales works with over 3,000 financial institutions, retailers, and other players to meet the challenges of payment for both digital and physical transactions.
Why not mobilise our resources?
Give us a call. We'll be delighted to talk with you about your projects. Don't hesitate to contact us.