Nurture your digital-first strategy
With the banking and payments industry constantly evolving and growing, the payments ecosystem has become broader, with new competitive players and consumer demand driving innovation.
 Whether you're a fintech, a neobank, or a traditional bank, it is essential that you have a digital-first card program that meets your customer's demands for easy, quick, and secure payments.  
A digital-first strategy is about unifying and improving your customer's banking and payment journey with real-time digital card issuance and giving them complete control of all their payment credentials.
The result?
You can offer the best mobile experience to retain and acquire customers. 
To do this, you need a platform that can provide you with the ability to ensure a seamless digital journey for your customers. 
81% of companies
compete primarily or entirely on customer experience -
Forrester
Introducing Thales D1 Platform, a digital first solution
The Thales D1 platform is designed for issuers and issuing processors who want to launch their "Digital First, Physical Later" and "Digital only" card programmes.
Our platform enables issuers to offer an optimised mobile-centric user experience to their customers with:
Real-time digital card issuance for online and in-store payments while letting them have 
Complete control over their account and payment credentials – both digital and physical
The Thales D1 platform effortlessly combines and connects to your existing infrastructure for you to launch modern card programs in record time!
 
The fastest way to launch your advanced card programmes
Cash in on one single platform and offer ready to consume services and user-friendly development and administration tools, all in one place.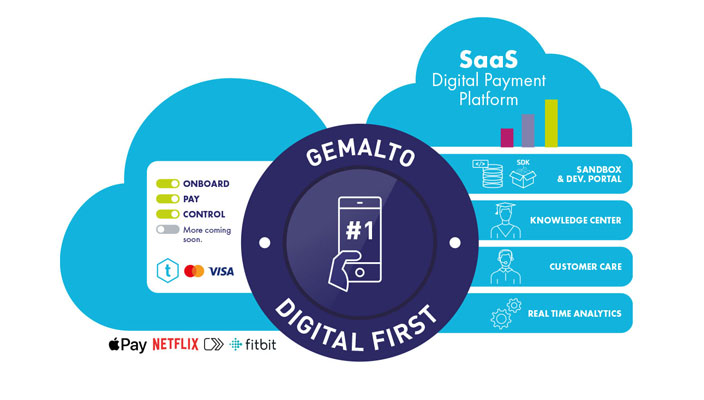 Our technology is based on a proven SaaS platform that uses our existing connections with issuers for card personalisation and tokenisation services. It brings together digital and physical card issuance, virtual card display, payment and tokenisation, and digital PIN delivery. All in a simple service. Giving complete control to your customer.
Thales brings a digital-first solution that provides you with rich ready-to-use services to launch or upgrade a digital-first or digital-only card programme.
Our tools are available and easily accessible to ensure you can connect and use, creating that desired use case most sought out by your cardholders.
The ability to issue a digital card in real-time means your customers can perform immediate e-commerce and in-store transactions without needing to wait for the issuance of a Physical Card.
Why go Digital First?
Meet the needs of your customers today
More straightforward design of digital user experience

Complete control from card issuance to money management
 Privileged relationship through customised benefit programs
Adapt to an evolving market
Fintech disruption with lower card fees
Strong regulatory pressure on interchange
Increase of alternative payment methods
These services are exposed towards one single SDK in an exceptional, highly packaged mobile stack.
Our use of case-level APIs results in a 50% reduction in deployment time.
We remove complexity by connecting to your existing infrastructure leveraging your CMS and core banking assets to absorb all the back-end integration complexity.
You can focus on delivering the best user experience in your banking App. 
One Central platform to deliver a unified experience
Today, modern banking systems provide the ability to have multiple payment means linked to a single account, including a physical card, virtual card and numerous tokens. This, in turn, means your customers have far more payment credentials to manage.
Thales D1 platform aims to unify this experience by uniquely providing all services from one SDK, leveraging use case level APIs to eliminate the current complexity of multiple SDK integrations.
So you have a unified and straightforward way to provide your customers with the best banking experience.
 

The Benefits of Thales D1, a digital first solution
LET YOUR CUSTOMERS BE IN CONTROL: 
Let your customers be in full control over their account and payment credentials with managing dynamic settings of spending limits, enabling and disabling access, direct push of cards into xPays and digital wallets, and so much more! Reduce time spent on tedious customer service enquiries and free your staff to allow them to focus on relationship building and upselling profitable value-added services.
 
BRING INSTANT VALUE TO YOUR CUSTOMERS: 
Focus on enhancing the satisfaction of your customers with the latest banking and payment services, which can be quickly configured and instantly provided to your customers directly to their mobile.
 
KEEP FULL CONTROL OVER COSTS: 
Thales integrates with your legacy systems and issuing processors to optimise your investment and speed your time to market. Capitalise on our technology to remove the expense and time by relying on our robust field-proven platform, expertise and experience to take on the strain to launch your modern card programme. 
Thales D1 in action  - creating the ultimate customer journey
Our platform enables you to offer an optimised mobile-centric issuance experience to issue a ready-to-use digital card in real-time anytime, anywhere, anyplace.
So how does it work?
Imagine your customer has moved to a new city. With our technology, they will open a new bank account and make bank card payments instantly via an app on their phone.
This virtual card can also be added to Apple Pay to make immediate in-store payments.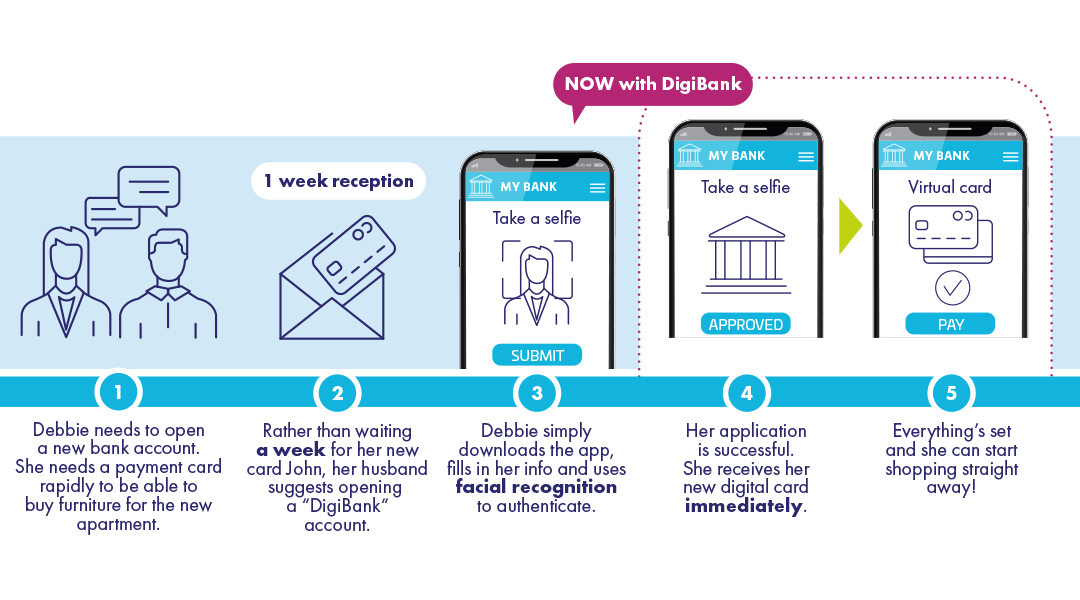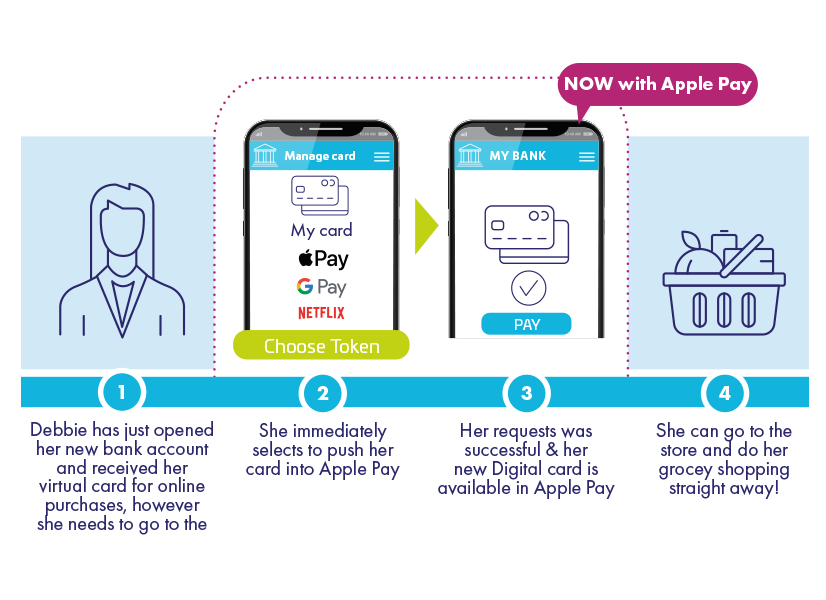 Thales Digital First for your card programmes
 
When Launching or upgrading your card programmes, you can rely on Thales D1 platform to redefine the consumer journey and meet their expectations of a mobile-centric experience.
Our platform unifies and brings all the components needed to provide a digital payment mean for instant spending. This fits perfectly with the ability to add physical and digital services to meet your customer's daily banking needs – all from their mobile.