As a result of the pandemic, consumers - left with no choice- embraced technologies such as contactless payment and mobile wallets at levels only anticipated for two to five years in the future.
This added pressure on banks to boost their digital transformation and accelerate their digital-first strategies. 
This white paper looks at how banks can move forward and take advantage of the latest revolution in payment card issuance.
It will:
describe the benefits banks can expect from a digital-first card issuance strategy, 
present six significant challenges,
give an actionable checklist on how to implement a solution.
The report also appreciates the impact of such a digital-first approach and pictures the new customer experience.
Here is a summary of the document.
 
Digital First completely redefines card issuance.
For banks, digital-first banking involves redesigning their entire cards issuance strategy for physical, digital and virtual cards.
It also means delivering an intuitive mobile application for an outstanding end-user experience combined with the swift roll-out of an integrated solution.
It includes virtual cards for online shopping, digital cards (via in-house and OEM wallets) for at-stores, in-app or in-web payments, and long-established physical dual interface payment cards -with in-branch issuance.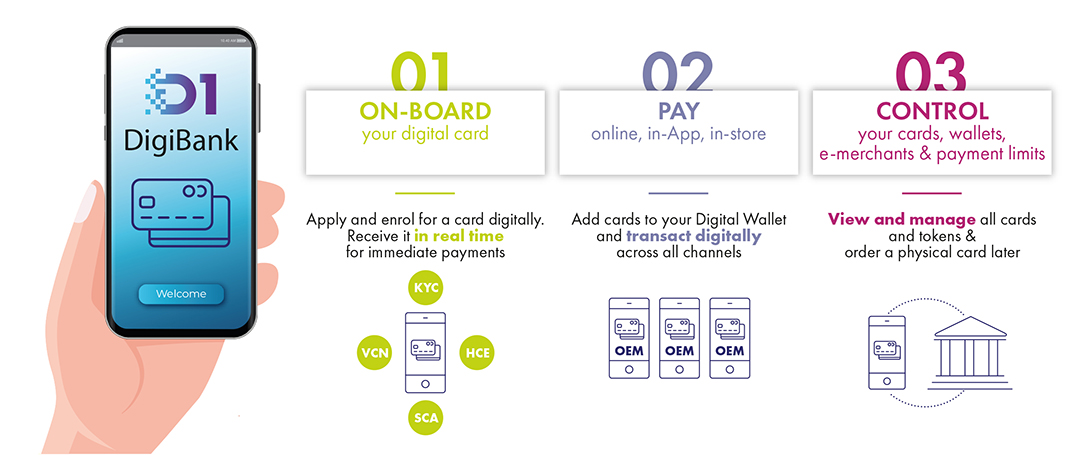 Digital onboarding, card issuance and control are the three foundational features for successful digital-first banking.
Download the whitepaper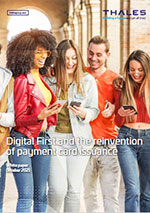 "Digital First and the reinvention of payment card issuance."
What does digital-first in card issuance mean for the user?
Customers no longer need to wait for a physical payment card to be created, mailed and activated before using it or creating a digital card from it. A new virtual card can be ready in seconds on the client's mobile device, delivering instant online payment power. 
In a matter of a few seconds, customers can get their new virtual card, available via the mobile app, and one or several digital cards for their mobile wallets to pay at stores or in-app.
There's more. 
Digital-first does not mean "digital-only" nor eliminating traditional ways to pay.
It's all the best of physical and digital combined and brings the best payment solutions for any shopping scenario.
With virtual card display services, consumers can easily copy and paste their data onto a site and pay for products without having to waste time putting in card details over and over again.
The cardholder is in total control of each digital card via the mobile application: from setting spending limits to transferring credit to other family members, reporting lost or stolen cards, and much more. 
 
What benefits can banks expect from digital-first in issuance?
Because cards can be activated immediately, transaction fees will flow faster than in a traditional card issuance process.
Also, cardholders will quickly build a broader cards portfolio better fitting their personal shopping needs. The result will lead to a top-of-wallet effect, with more transactions and customer satisfaction.
Overall, Digital-first in banking is a powerful asset to acquire and retain clients as its digital features deliver the main ingredients of modern banking and payment– convenience, instantaneity, security and better management of a personal cards portfolio. 
In other words, digital-first banking offers compelling commercial benefits assuming that the implementation strategies are correctly designed and executed.
 
Three dominant principles of digital-first banking 
The digital-first approach is not just another payment service. 
Digital-first does not mean digital-only.
Banks should aim for a unified issuance offer.
The white paper shows that, with this client-centric model, the usual proposal with siloed channels (web, online, branch) often unrelated to each other is no longer relevant. 
So, banks need to offer a comprehensive and fully integrated payment card portfolio.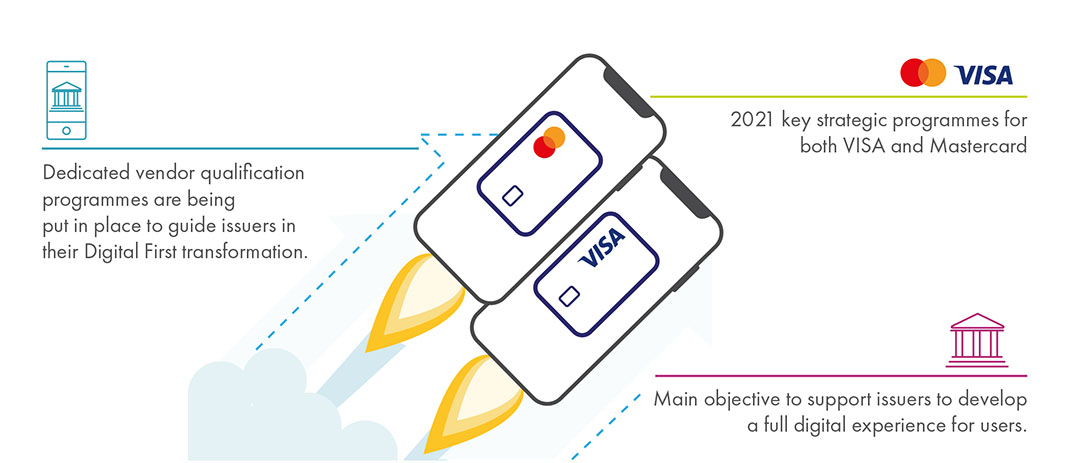 The leading payment networks are fully committed to supporting and accelerating the adoption of Digital First. (Mastercard, Visa)
 
Digital-First: The six key challenges to address
In migrating from siloed solutions to a single product enabling outstanding customer service and optimised operating efficiency, a series of challenges will need to be addressed:
Securing the entire experience with robust multi-factor authentication is essential to prevent fraud and meet regulatory requirements.
Banks also need to provide a frictionless onboarding experience.
Time to market will be one of the defining factors in attracting and retaining customers through a digital-first offer.
UX (User Experience), customer satisfaction and ROI go hand in hand. UX investments are essential to make a difference.
Instant issuance is the new normal for all payment cards. 
The ideal response to siloes is connecting to a single platform that embraces the extended issuance portfolio.
 The Digital First implementation checklist
The emergence of a single platform that can support the entire card issuance operation, combined with a cloud deployment, promises a new era in flexibility, scalability and rapid time to market.
Priorities are likely to include the closest possible integration between virtual, digital and physical, and the fastest timetable for roll-out. 
Banks may have to work around their legacy issuance infrastructures.
They also need to consider which technology platform and supply partner(s) will offer them the freedom to concentrate on developing and delivering an outstanding UX.
You'll find the detailed checklist in the white paper.
Good reading.
More resources on digital-first banking