The years 2020 and 2021 were game-changers for banks.
As a result of the pandemic, consumers have accelerated their adoption of digital banking and online payments.  
There's more.  
They've had their expectations set by other industries for seamless experiences on digital channels using mobile apps. 
These dramatic changes modify the competitive landscape in financial services and put more pressure on banks to address these challenges - urgently.  
The good news? 
By adopting digital-first strategies - turning physical experiences digital - and advances in payment technology, banks can transform their business models to prosper in the digital age.  
The proposed eBook
will explain why the customer journey has moved to priority #1 and why the first step -
 digital onboarding
 - is critical. 
We'll illustrate the digital preference trends and customers' expectations with the most recent data.  
Then, we'll outline the benefits of Thales Digital First solution, a mobile experience revolution for bank's users that delivers instant, simple banking services anytime, anywhere. 
 
Digital transformation in banking: top trends 
To start with, don't expect any slowdown in the unprecedented digital shift we've experienced over the past two years. 
A recent McKinsey survey showed that 15% to 20% of US consumers expect to boost their use of digital channels once the present crisis is over. 
And remember: online and mobile banking already experienced a  20% to 50% growth in the last two years. 
Beyond that, the future isn't digital because it makes banks' lives easier, but because it's the key to the customers' expectations for new services, anytime, anywhere. 
The result? 
A "wait and see" attitude to digital transformation won't work for banks. 
And the very first step to this process is digital onboarding. 
Let's see why. 
A good first impression with digital onboarding 
A good first impression sets the tone for a solid long-term relationship between the bank's user and the financial institution.  
Just think about it.  
Customers remember positive onboarding experiences and look for similar experiences for new products and services. 
So, digital onboarding is the basis of a quality customer experience.
This means banking services need to avoid red tape, delays, and physical queues.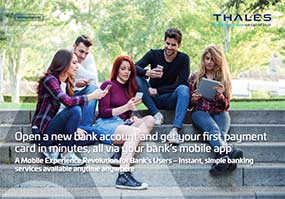 "Open a new bank account and get your first payment card in minutes, all via your bank's mobile app"
Download the e-Book
Deconstructing personal banking ecosystems 
Now for the bad news. 
As Forrester puts it, customers are "deconstructing" their personal banking ecosystems and recreating them with newer and better players.  
They are now demanding better financial services and seamless experiences on digital channels, with more value for money. 
To top it off, consumers today compare and contrast their experience using services categorically different such as Google or Amazon. 
In other words, security, simplicity, and convenience are weighing more today than the institutional loyalty of the past.  
What do consumers want? 
In a nutshell, Digital service is no longer an add-on option.  
Consumers are looking for tools to achieve a specific task and make everyday banking routines easier.  
They want to use their smartphones or tablets to open accounts and access day-to-day services without visiting branches or engaging with call centres.  
Solutions like Thales Digital First are designed with these customers in mind. It offers customers real-time digital card issuance and total control over their account and payment credentials all from their mobile. 
 
Thales Digital First – Designed for a fast-changing market 
The Thales Digital First platform is designed for issuers who want to re-invent their card issuance and seamlessly provide related value-added services. 
The cool thing? 
Payments can take place before the physical card is requested and delivered. With Digital First, your clients can open a bank account at 2 pm and shop with their new card at 2:10 pm.  
It's a no-brainer: speed and efficiency across every level and touchpoint. 
The Thales platform enables cards issuers to offer an optimised mobile-centric issuance experience to their customers. 
They can balance physical and digital and offer the best mobile experience: quick onboarding, instant digital card payment, and personal account management. 
More resources