​​​​A smart move to next-generation identity credentials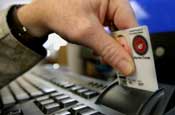 With 826,000 National Guardsmen and Reservists, 732​000 civilian personnel, and more than 1.4 million men and women on active duty in 2021, the United States Department of Defense (DoD) is the United States' single largest employer.
DoD coordinates and supervises all government agencies and functions relating directly to national security and the military. 
The U.S. defense budget for FY2023 is $797 billion. 
What is the Army CAC?
Data integrity is paramount, given the highly sensitive nature of the information handled by DoD employees and contractors daily.
By introducing strong employee authentication measures with secure card certificates and PIN codes, DoD has led digital security for the Federal government. The military CAC program has issued over 25 million smart identity badges to date.
The CAC is the standard approved identification credential for DoD employees and eligible third-party personnel.
In essence, the Common Access Card is a type of smart card used by the United States Department of Defense (DoD) to authenticate the identity of individuals and grant them access to DoD computer networks and facilities.
The CAC contains a microprocessor chip that stores the user's personal information, such as name, rank, and organization, and also includes cryptographic keys and digital certificates that are used to authenticate the user's identity and grant access to DoD resources.
The CAC is used by all branches of the military and by civilian employees and contractors who work for the DoD. It serves as both an I.D. card and a security token and plays a critical role in ensuring the security of DoD information and resources.
At any one time, the ubiquitous CAC is being used by 4.5 million personnel: 
Active-duty armed forces 
National Guard, Reserves 
DoD civil servants 
Select contractor workforce​
Thales is proud to contribute to this initiative as an accredited provider of smart cards to the DoD.
Please visit the DOD ID card reference center for easier telework during the COVID-19 pandemic, more details, and frequently asked questions on the military CAC card.
These security mechanisms have been benefiting national I.D. card schemes around the world as well.
DEERS/RAPIDS 
The Real-Time Automated Personnel Identification System (RAPIDS) is the DoD system name that issues the Common Access Cards in particular. 
RAPIDS uses information stored in the DoD Defense Enrollment Eligibility Reporting System (DEERS).
The RAPIDS ID Card Office is now available online.
What information is on the current military CAC card?​
​The microprocessor has a memory of 1​​44 K.B. of data.
It includes PKI certificates that allow holders to digitally sign documents with a PIN code, encrypt/decrypt emails, and securely connect to online networks.
It also stores :
two digital fingerprints,
the holder's portrait,
Personal Identity Verification (PIV) certificate,
organizational affiliation, agency, Department,
expiration date.
The bar code stores the name, date of birth, personnel category, pay category, benefits information, organizational affiliation, and pay grade.​
As of June 2011, the Social Security Number (SSN) has been replaced by the DoD Identification Number. 
The DoD ID number is displayed on the back of the card.
Of course, when employees leave, their entitlements are immediately and automatically erased, thanks to the DoD identity synchronization feature.
Is the Veteran ID card (VIC) a military CAC card?
No, it's a photo I.D. delivered by the U.S. Department of Veteran Affairs and is unrelated to the CAC. With a VIC, you can get discounts at many stores and restaurants. It's a practical way not to carry around your military discharge papers.
Cac card: essential to every aspect of life at DoD 
Since its implementation, the CAC card has significantly expedited administrative processing. 
The card provides all necessary information in a single use, preventing countless hours of busy work, such as filling out forms by hand. 
Flight manifest tracking, weapons issuance, and deployment processing can be completed in minutes rather than hours, meaning employees and contractors spend less time waiting in line. 
The DoD is also the nation's largest healthcare provider. It serves 9.5 million military members, retirees, and their families. The military I.D. card doubles as a health insurance card.
"When I go to the gym, the only identification I take is my CAC."​
But the military CAC is not just a timesaver. 
With over 1.5 million CAC transactions logged daily, this fully scalable solution has quickly become vital to everything DoD employees and contractors do throughout their workday. 
There's more.
It has streamlined many business practices and processes, making DoD operations more efficient and secure. 
As a reminder, the Department maintains 561,975 facilities at 4,800 sites on 25 million acres. 
In addition to ensuring fail-safe physical and logical security, the CAC card: 
Enables exact headcounts through computerized building access files 
Improves accountability for food service and recruiting functions 
Provides reliable authentication for healthcare and benefits processing 
Has served in place of a visa for deployment to Iraq 
It is recognized as an identification card under the Geneva Conventions.
​The future of U.S. military I.D.
Web magazine fedscoop​ reported on 7 February 2019 that the DOD is working with a Brooklyn-based artificial intelligence startup to replace the military CAC and build better identity, credentialing, and access management (ICAM) through "deep-learning-based" A.I.
However, DOD Chief Information Officer Dana Deasy said in September 2018 that the CAC card is still a vital component of DOD security and will remain the "principal authenticator for the foreseeable future."
DOD also said the National Institute of Standards and Technology's new SP 800-63 digital identity guidelines​ are central to normalizing identity management.
In a recent interview (January 2021), DoD's Defense Manpower Data Center wants to include iPhone and Android devices and create a digital identity for its 8 million clients shortly.
So, stay tuned.
​And​ in the meantime, don't leave your desk without it!​
Where do we fit in?
Thales is the proud partner of the U.S. government for ePassports, the Department of Defense for military CAC cards, and state DMVs for secure I.D.s.