​​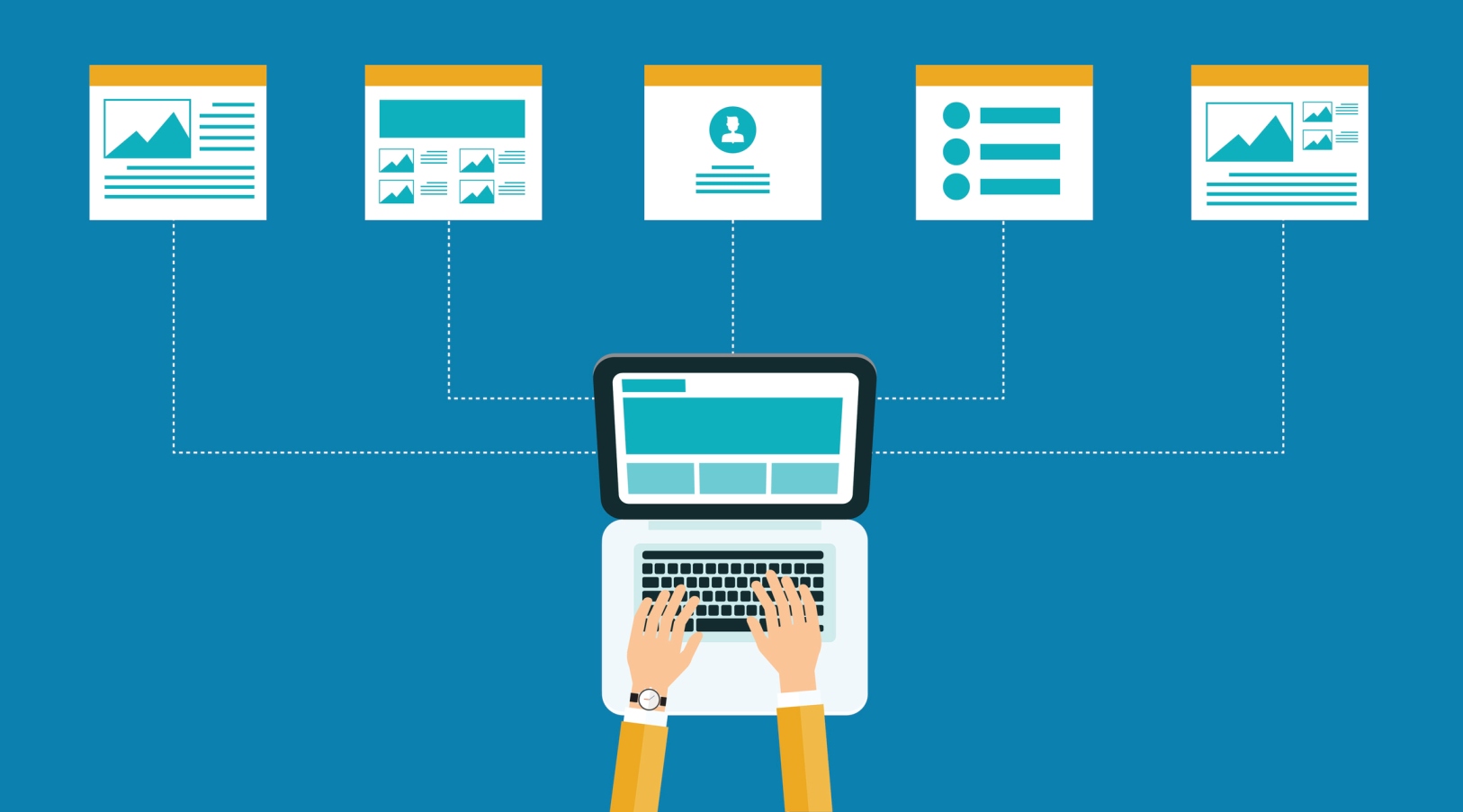 An ever increasing number of governments are making significant, long term investments in electronic document programs. 
They seek to:
increase security – reduce fraud; make the roads safer; secure borders
offer new services to citizens - increase online services while reducing operating costs. 
National Identity programs: a long term investment
National ID programs represent a major, long term investment for government. 
Programs can last ten years and, over this period, regulations and technology will evolve. To maximize the return on investment in their identity programs, governments will seek solutions that not only deliver the highest level of security, but also provide a dynamic eID framework that can evolve over its lifetime. 
In addition, more and more national credentials, and in particular identity documents, are multi-applicative. 
Thus there is a clear need to manage effectively all the applications within the document. This includes not just the release and content of initial applications, and updates when the ID evolves, but also the introduction of new apps once the document is in the hands of citizens. 
To support these government initiatives, the Thales Gemalto Document Management System (DMS) offers a field proven and scalable solution for the secure issuance and use of  smart documents such as national biometric eIDs, driver's licenses, electronic passports, eDriving Licenses and eHealth cards, thereby helping them to protect their investments. 
Thales Gemalto Document Management System (DMS): 4 key benefits 
​​Start small and scale fast for an optimized return on investment
The DMS is designed to be inherently modular and highly scalable, enabling government to quickly deploy the necessary features and services and to scale the system with new services depending on future needs.​ 
Ensure citizen data security
The security and protection of citizen data including biographic, medical or biometric information are fundamental for any government when issuing eDocuments. The increasing deployment and usage of online services give even more value to the citizen's digital identity. With its DMS, Thales has implemented all its know-how and expertise in digital security.
 
Easy integration
DMS integration in any ecosystem is largely facilitated by the use of web service connectors and gateways to integrate with external systems and via platform interoperability to PKI systems.
 
Slash fraud on eDocuments
The DMS offers multi modal eDocument consultation services via fixed stations, or using mobile terminals uploaded with eDocument blacklists that will help police workforces to systematically proceed with eDocument status verification before proceeding with identity verification. This will help to improve significantly the lost/stolen capture rate.
At the heart of the issuance ecosystem
The Gemalto DMS plays a central role in the issuance process - managing the eDocument and its applications to secure its issuance and enable usage. 
The DMS interfaces with a range of back-end systems, such as a National Registry, Certificate Authority and the Interpol database, to retrieve or provide information. It also interfaces with main issuance systems, such as personalization centers in either centralized or decentralized issuance schemes, document delivery solutions, and post-issuance systems responsible for updating the eDocument.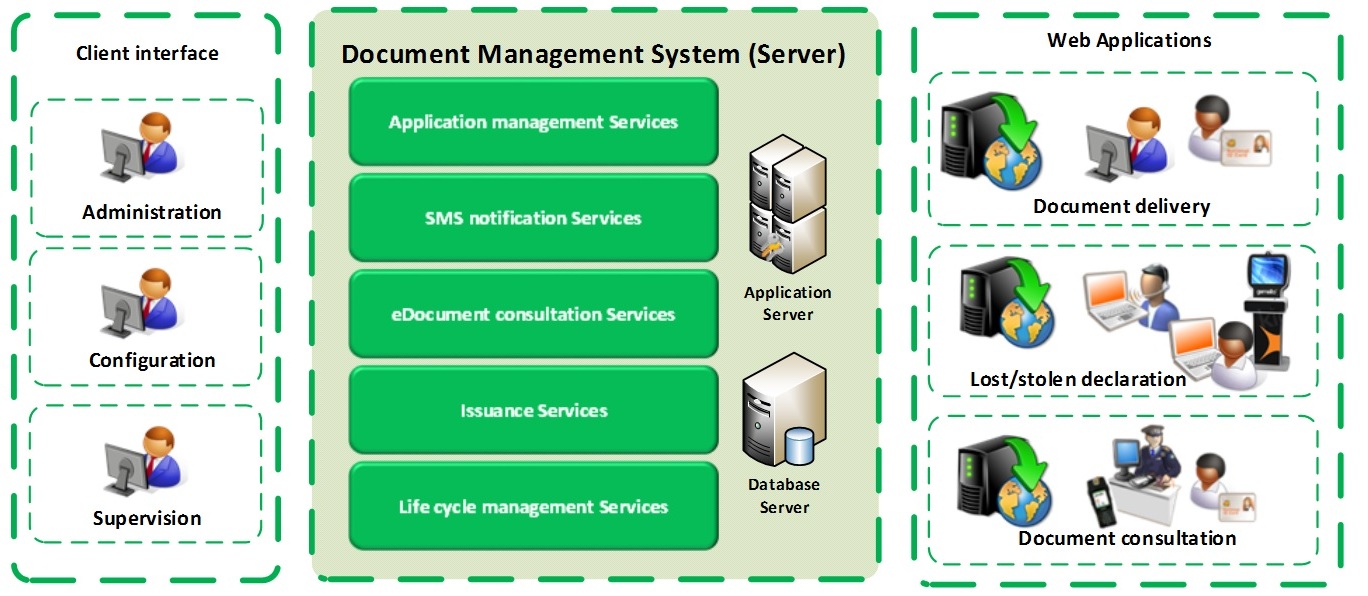 Gemalto DMS solution architecture
The Gemalto DMS solution architecture is inherently modular and highly scalable. It is made up of several system components, divided into three main categories: 
Services for document management
There are five services hosted on the DMS server:
life cycle,
issuance,
consultation,
SMS notification,
application management.
All these services are totally independent and can be deployed at different times. 
Client interfaces
The DMS offers client interfaces for supervisors and other authorized personnel, in order to administrate and supervise the system. 
Web applications
The DMS works with web applications hosted on web servers. Web applications are used at key stages of the eDocument life cycle.
At delivery, authorized personnel will register all eDocuments received and all eDocuments issued to citizens.
If an eDocument is lost or stolen, a dedicated web interface is accessible to record the event.
If information on an eDocument needs to be checked, authorized personnel can consult the document history and status via a dedicated web application. 
Easy integration with external systems
To communicate with external systems, the DMS uses connector and gateway modules. These are pluggable components implementing a predefined interface dedicated to a specific. 
Best-in-class security
As a central and key element in the eDocument issuance scheme, the DMS will implement different security mechanisms to ensure the confidentiality and integrity of eDocument applications and data. 
Encrypted communication
Database encryption
File encryption for audit files, log files, production files
Applicative encryption to protect against insider attacks
​User management and strong identification
Some customers' implementations 
A complete eHealthcare solution for Algeria
Algeria is a fast-growing country with a population of close to 40million, over 80% of whom benefit from the national healthcare organization, the Caisse Nationale des Assurances Sociales des Travailleurs Salariés (CNAS). 
As prime contractor, Thales manages the entire project eHealth care project including delivery of complete Secure Issuance Solution including a Document Management System and a personalization solution configured for high-volume centralized personalization environment and color photo printing by dye sublimation technique. 
Leveraging its expertise in solutions, Thales assisted the CNAS in launching the production process and ensure proper training for the CNAS personnel. 
Cameroon's new national ID card
Launched in 2016, Cameroon's new national identity card and the complete overhaul of its system of identification and card manufacture for new documents are an illustration of the will of the country's authorities to strengthen security on its territory, in particular by combating identity theft and document fraud. 
Cameroon is at the same time also modernizing its solution for the enrolment of citizens opting for Gemalto's Enrolment platform, its Document Management System and its card personalization with it secure issuance software which implements color laser engraving technology.  
Oman electronic passport
On January 15 2015, Royal Oman Police (ROP) launched the new Omani electronic passport.
Thales is providing the Royal Oman Police with an end-to-end electronic passport solution for the Sultanate. The turnkey solution encompasses Thales' ICAO compliant ePassport documents, and a full software solution suite to enroll citizens, personalize and manage the life cycle of the document secure documents.​

​Get results with Thales
Thales is a reliable and trusted partner for all your public sector ID initiatives including eIDs, electronic passports, and other international and national identification schemes as well as healthcare and social security programs. 
We offer a complete range of secure solutions that are tailored to local markets, and we deliver what you want, where you want it, with the support of a strong network of local partners.
Thales relies on 100 years of innovation in secure documents, and our unique expertise in digital security means we provide innovative, trusted solutions that you can count on.
Our Issuance solutions are designed to be YOUR turn-key solution, integrating state of the art security. They are evolutionary and serviced by local support teams.
And because we know the success of your project does not rely on products and solutions alone, we offer our Managed Services - a complete range of services for governments, ministries, agencies and more ... In particular, Issuance Managed Services offer you outsourced personalization services for all your secure documents, as well as mainstream services for your backup, contingency or disaster recovery plans. 
The company's products and solutions are deployed in over 200 active programs worldwide, with specific expertise in secure document issuance, biometrics, document readers, authentication, ID management and data protection. 
Feel free to contact us for any remark or question on issuance and document management. We'll be glad to help.​