As of 1 January 2023, Thales cellular IoT products business is part of Telit-Cinterion. You can find the relevant information on the
Telit-Cinterion website
.
Traditionally, smart meter vendors need a multitude of product SKUs each with a regional IoT module, to match each metering deployment location. Thales IoT Modules are capable of providing worldwide LPWAN cellular connectivity but that's only half the battle of delivering a seamless, resilient global connectivity ecosystem.  
The Thales Connectivity Activation platform provides a single connectivity solution for autonomous service provisioning on any cellular network anywhere in the world. By digitizing SIM connectivity selection, service provisioning, and activation, Thales eliminates the need for MNO-specific product variants and complicated deployment logistics saving time and expense.   
Thales IoT eSIM delivers last mile global connectivity
Every Thales IoT module comes with the option of a ´dematerialized´  IoT eSIM embedded during manufacturing. This provides a native Thales bootstrap that will be able to automatically provision cellular connectivity with the meter vendor's preferred carrier or best connectivity provider observed at installation or during lifetime. The solution is based on pre-defined criteria and business critical features such as network signal strength, smart meter location and more.  
The Thales Connectivity Activation solution also provides autonomous, agile switch to other service operators if and when needed, throughout the lifecycle of the device. This maintains steadfast connectivity and reliability in the field. 
The solution integrates seamlessly with the Thales IoT Offer, a powerful lifecycle management platform that continuously monitors metering assets, pushes planned updates and diagnoses connectivity issues to prevent downtime. 
 
How does Thales Connectivity Activation work?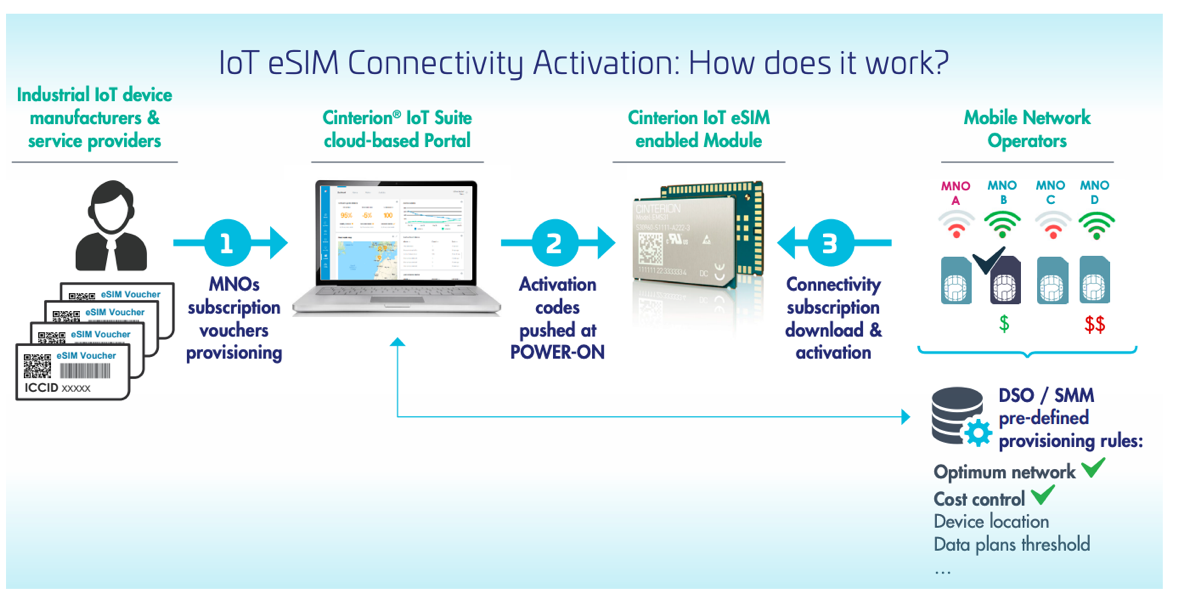 ​
The Connectivity Activation solution benefits

Simplified Manufacturing and Logistics
Unique meter designs and global connectivity solution eliminate the need for multiple SKUs.

Faster Installation Time
The Thales IoT eSIM autonomously selects the cellular network with the best coverage at the point of installation. 

Maximised Device Uptime and Resilience
Autonomous switch to back-up connectivity providers avoids network grey zones and maintains business continuity. 
Enhanced Security and Trust
The Thales IoT eSIM provides a secure, tamper resistant environment at the core of Thales Cinterion modules.
Revolutionising Smart Metering with Last Mile, Global Connectivity Solution
Thales offer dedicated IoT modules, a breakthrough IoT eSIM and agile lifecycle management tools to lay the foundation for resilience, efficiency and security of the grid.
Learn more on simplifying metering daily operations
Smart Energy 2.0
A 6-step infographic comparing traditional vs streamlined smart metering operations and how smart grid actors can benefit from the latest cellular connectivity breakthroughs.
Download the infographic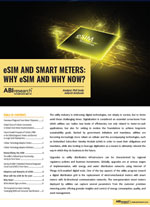 eSIM and Smart Meters: Why eSIM And Why Now?
Download this whitepaper from ABI Research to understand how to streamline daily metering operations with new technologies
Download the whitepaper