Historically the mobile industry has done a good job of deterring cyberattacks.

However, the arrival of a new virtual 5G Core, private network slicing, and a vast array of IoT connections change the nature of the threat and requires building a new trust model for the 5G era.

If industry and consumers are excited about 5G, so are cybercriminals.

On 3G and 4G, network functions resided on hardware platforms. This physical isolation provided a level of protection.

The virtualization of the 5G network means data is no longer stored centrally, which gives attackers more chances to intercept it.

Virtual networks are also (usually) zero-touch automation environments.

This is efficient, but the lack of human oversight means corrupted insights from compromised devices can trigger negative events.

There's more.

It can also speed up the distribution of malware. 

MNOs and CSPs to protect servers and clients

As we've seen, 5G exponentially increases the number of connected devices too. This widens the attack surface for cybercriminals.

What's more, many device makers do not build their products with security in mind. 

It falls to MNOs and CSPs to protect both servers and clients from unauthorized access.

Encrypting data at rest and in motion is self-evidently an effective way to nullify most cyberattacks. This starts with encrypting data on physical media such as hard disks, tape drives, or the arrays that contain them. 
A complimentary technology to encryption is tokenisation, which protects sensitive data by substituting it with an undecipherable token. The token can be stored in the same size and format as the original data. 

Thales' solutions to protect sensitive data

Thales' CipherTrust Manager is a unified solution for discovering, classifying, encrypting, and tokenising sensitive data.

Encryption obviously keeps data safe by making it unreadable. However, at some point, an individual has to decrypt it with a key.

What if the key falls into the wrong hands?

Good key management should separate keys from data and provide the option for multiple keys (for files, backup, etc.). The best practice is to set up an external key management system.

Thales offers Hardware security modules that provide the highest security level by always storing cryptographic keys in hardware.
Thales' cybersecurity and data privacy support 
Thales offers a range of products and services that can protect telco providers against cyberattacks.
They include: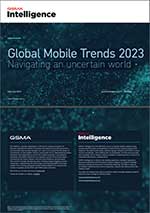 Download the whitepaper
10 things you should know about the latest "Global Mobile Trends 2023" report where you will find  highlights on 5G deployment, satellites and non-terrestrial networks, Private networks, the enterprise vertical stories: IoT 2.0, eSIM and the drive to scale, among many other impacting trends.
Building a 5G world we can all trust
How Thales is helping telcos maximise revenues and minimize risk in the 5G era
Download the whitepaper