In a consumer market dominated by digital players such as Uber, Netflix and Spotify, users have grown to expect intuitive systems, service flexibility and granular control over their mobile-first experiences.
This level of service might be difficult to match.
Creating a digital telco proposition
However, by fully embracing modern digital infrastructure, operators can facilitate a smooth and secure digital customer journey, develop new digital brands within days and seize new opportunities.
The result of a move to digital is the removal of many of the significant pain points cited by customers, including inflexibility in service management and unwieldy signing-up procedures.
Thales and Mobile World Live assess the current market status and rich opportunities facing Communications Service Providers in this document.
Thales Trusted Digital Telco: a telco in an app approach
This includes explaining how the Thales Trusted Digital Telco provides the tools to excel by launching a digital brand in just four months – without impacting existing services.
Good reading.
Download the whitepaper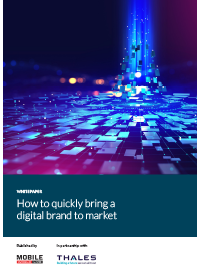 "How to quickly bring a digital brand to market."