M2Cloud Signs MOU with Thales to Enter Global Biopharma Cold Chain Market Based on IoT
25th February, 2022 – M2Cloud, the leading bio-cold chain technology company in Korea, has announced that it has developed an IoT-based 'LTE monitoring system' optimized for biopharmaceutical monitoring with Thales, a global leader in IoT communication modules.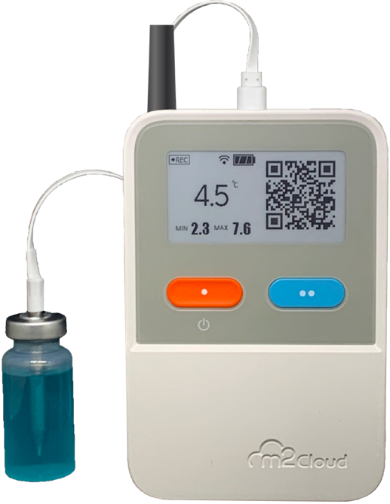 M2Cloud also signed a Memorandum of Understanding (MOU) with Thales Korea to enter the global bio-cold chain market based on IoT with the technical agreements to work on the development of next-generation bio-cold chain systems. 
In the future, the two companies will strengthen cooperation for product development optimized for bio-cold chains and global expansion, such as technology cooperation to develop bio-medicine monitoring IoT devices and to ensure a stable supply of IoT modules by combining industry-leading security and IoT technology,
Unlike Bluetooth devices for near-field communication, the newly developed IoT cold chain system which is equipped with a low-power LTE communication chip, does not require additional gateway adoption or complex setups such as internet connectivity. It can remotely check temperature and location information in real time by just turning the power on, making it suitable for real-time monitoring of refrigerators, refrigerated warehouses, etc., as well as tracking the delivery boxes being transported in real time.
In particular, because it ensures real-time visibility and data integrity, and can check temperature history without data loss in the event of a power outage or network failure, it  enhances the safety of pharmaceutical products with technologies optimized for biopharmaceutical management, such as vaccines that confirm the validity of products with a temperature history.
In addition, it can provide services that meet global biopharmaceutical regulations as well as temperature data manipulation defense conditions stipulated in the revision of the「Manufacturing and Sales Management Rules for Biological Products, etc.」promulgated by the Ministry of Food and Drug Safety.  
M2cloud ranks number #1 in Korea for IoT security authentication technology that meets all IoT security standards, including data stability, encryption, integrity, and software security.  M2cloud established an integrated logistics system for COVID-19 in 2021 with real-time visibility into the entire supply chain, ensuring integrity, proof of compliance to ensure product quality, IoT technology optimized for temperature sensitivity, and cloud technology for ESG practices. 
M2cloud has also established and operated a cold chain system throughout the process of receiving, storing, and delivering COVID-19 vaccines from AstraZeneca (refrigeration), Janssen (freezing), and Pfizer (ultra-low temperature), which are all biological agents.
In 2022, we plan to develop and supply competitive products in cooperation with various overseas partner companies to enter the global market while stably supplying new products to the domestic bio/medicine cold chain market.

MOON Jin-soo, CEO of M2cloud
For a quarter of a century, customers across all industries have trusted Thales' industry-leading IoT solutions to seamlessly connect and secure IoT devices and to help them transform real-time data into efficient decision making. We are proud to work with M2cloud to help keep their cold chain monitoring and management solutions connected, and to contribute solutions that support the healthcare industry in Korea.

Sandy GILLIO, Country Director and Chief Executive of Thales in Korea