SonarTech and Thales Partner to Further Develop Mine Warfare Systems in Korea
 Korean defense SME, SonarTech and Thales have signed a Memorandum of Understanding (MoU) for joint in-depth research and development in mine warfare sonar systems.
 Thales Korea has also been awarded a Certificate of Commendation for its continued support and partnership with the Korean defense industry ecosystem.
 The collaboration underscores the strong commitment of Thales Korea to furthering the ambitions of the Korean defense sector, and enabling local SMEs to bring their solutions to market.
As Korea continues to promote its defense industry, partnerships and growing local expertise become critically important. On the opening day of DX Korea 2022, SonarTech and Thales signed a Memorandum of Understanding (MoU) for joint research and development in mine warfare variable depth sonars for the next generation of Mine Counter Measure Vessels (MCMV).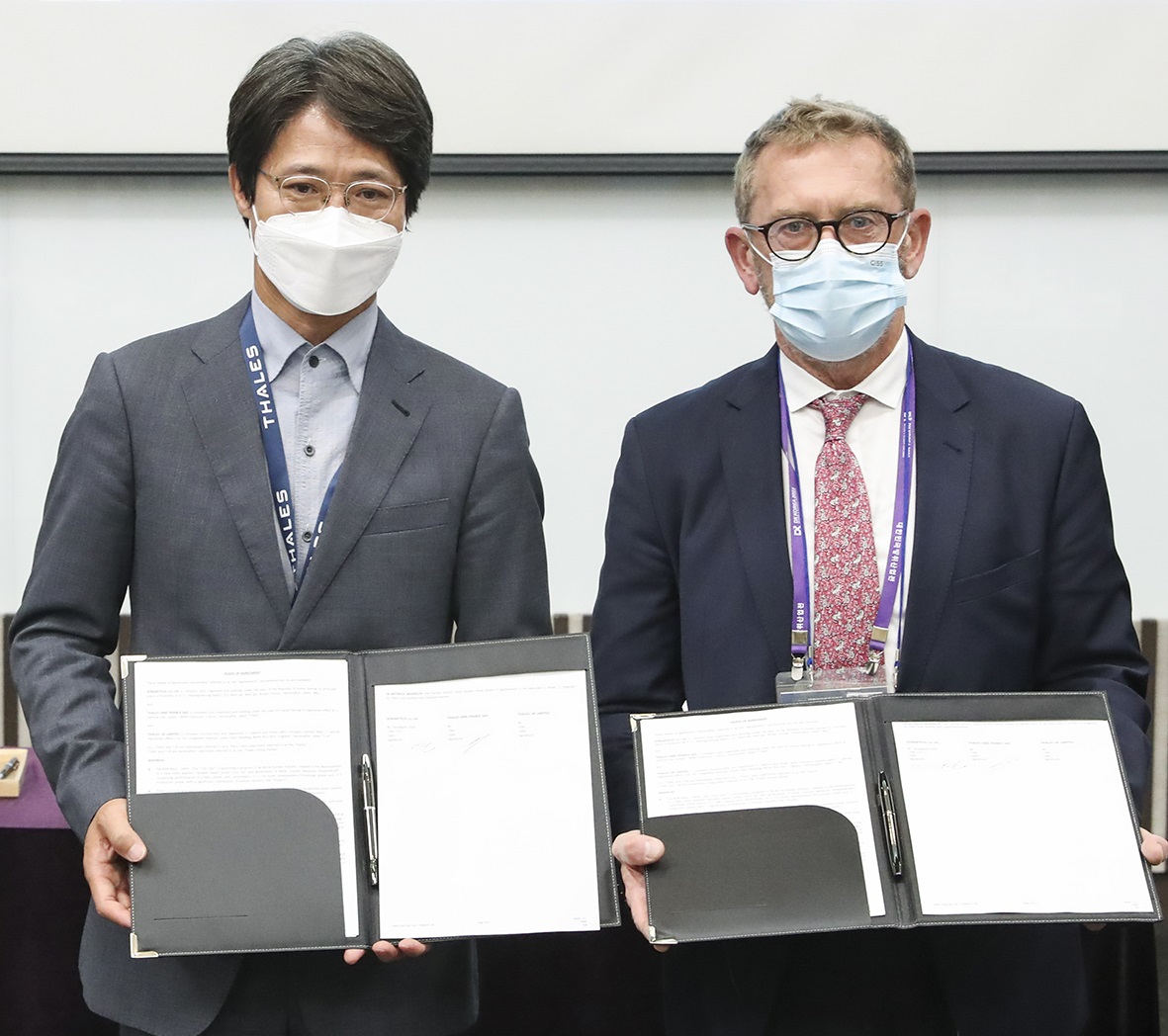 © Thales
Thales Korea was also honored to receive a Certificate of Commendation from the Korea Research Institute for Defense Technology Planning and Advancement (KRIT) for its continued contributions to the Korean defense industry for close to forty years.
As the governmental research agency under the Korean Defense Acquisition Program Administration (DAPA), KRIT undertakes the planning, management, and evaluation of defense technology that supports the Korean defense industry. KRIT's launch of the Defense Industry Promotion Day highlights the importance of strong cooperation between international players like Thales and the Korean defense SME ecosystem. Through this MoU, Thales will provide its operational expertise in the field of high-frequency Variable Depth Sonars (VDS) for mine warfare sonar systems.  SonarTech will bring its technical expertise in the field of underwater acoustic products and mine warfare hull-mounted sonar inboard electronics.
Thales has been a long-term partner to the Korean armed forces, supplying equipment including radars, sonars and fire control systems to the Republic of Korea Navy (ROKN) since the early 1990s. Recognizing the importance of building local capabilities, Thales has actively supported technical cooperation with local Korean partners and military research institutions including SonarTech and LIG Nex 1, by providing equipment, technology and engineering assistance to develop local equipment. 
We are pleased to partner with the Thales Group, who brings decades of expertise in underwater mine warfare capabilities and sonar technology. As a proud Korean company, we have industry-leading sonar equipment but we also bring a solid understanding of the needs of the Korean armed forces. This win-win partnership is a key example of how Korean companies can successfully make their mark in the global defense industry and help drive the Korean defense sector forward.

PARK Seungsoo, 
Chief Executive Officer, SonarTech
Thales is honored to receive this recognition from KRIT, for our commitments towards partnering the Korean defense sector and developing local capabilities and expertise. Our presence in Korea dates back close to 40 years, and today, we are committed to helping the country build its local indigenous capabilities and support the armed forces as they modernize their capabilities. We look forward to a long lasting partnership and to further engagement with other stakeholders in the ecosystem

Sandy GILLIO,
Country Director, Thales Korea  
About Thales 
Thales (Euronext Paris: HO) is a global leader in advanced technologies, investing in digital and "deep tech" innovations – connectivity, big data, artificial intelligence, cybersecurity and quantum technologies – to build a confident future crucial for the development of our societies. The Group provides its customers – businesses, organizations and governments – in the defense, aeronautics, space, transport, and digital identity and security domains with solutions, services and products that help them fulfil their critical role, consideration for the individual being the driving force behind all decisions.
Thales has 81,000 employees in 68 countries. In 2021, the Group generated sales of €16.2 billion.
About SonarTech 
Founded in 2000, SonarTech is a pioneer in the field of maritime and underwater sonar equipment. The company designs, manufactures and repairs a range of equipment for underwater research, surveillance and electronic communications, based on its industry-leading sonar technology. Beyond that, SonarTech is also extending its area of expertise to sonar applications and mobile communication technology as well as maritime leisure equipment.
SonarTech aims to be the industry leader in research and development in the areas of underwater acoustics, electronic communications and control measurements.