Malaysian Armed Forces Boosts Air Defence Capabilities with Thales
Together with its Malaysian partner, Global Komited, a member of the Weststar Group, Thales announces that the ForceSHIELD Ground-Based Air Defence system project has reached its final milestone with Full System Acceptance (FSA) occurring on October 2018.
ForceSHIELD Ground Based Air Defence (GBAD) system project for the Malaysian Armed Forces (MAF) reaches final milestone with Full System Acceptance (FSA). 
The next generation of Short Range Air Defence (SHORAD) capability to the Malaysian Army, Air Force and Navy will now enter service with MAF.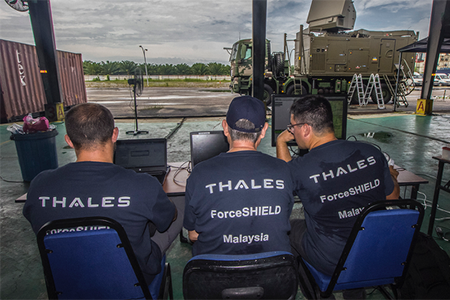 This achievement represents the culmination of a successful tri-party team working together, including programme management, operational and technical staff from the Malaysian Armed Forces (MAF), Global Komited and Thales, since September 2015 when the ForceSHIELD contract was signed at the DSEI exhibition in London.
In addition to bringing the next generation of SHORAD technology to Malaysia, Thales is a core partner to the Malaysian Armed Forces for over 40 years, supplying and maintaining tactical radios as well as OICS systems for armed vehicles to the Army. Thales also provides Air Surveillance and ISR systems to the Air Force as well as Combat Management Systems, Electronic Warfare and Satcom solutions to the Navy.
Aligned with its growth strategy to boost its local presence through strategic partnership with local players, Thales has successfully delivered innovative and high-value offset programmes in collaboration with government agencies that include the Technology Depository Agency, Cyber Security Malaysia and the Malaysian Industry-Government Group for High Technology (MIGHT). 
Thales is proud of the strong collaboration we have with the Malaysian Armed Forces and Global Komited that have enabled us to reach this successful milestone that supports the safety and security of Malaysian skies. Through this project, Thales contributed significant offsets in Malaysia including training, tactical simulators and investments in building the future of defence technology with an MSc degree in collaboration with UPNM. We remain focused on building sustainable, long-term partnerships with Malaysia and we look forward to growing our collaboration with the Malaysian Armed Forces as they build capabilities for the future.
Thomas Pistre, Country Director, Thales in Malaysia
About Thales in Malaysia
The people who make the world go round – they rely on Thales. Our customers come to us with big ambitions: to make life better, to keep us safer. Combining a unique diversity of expertise, talents and cultures, our architects design and deliver extraordinary high technology solutions. Solutions that make tomorrow possible, today. From the bottom of the oceans to the depths of space and cyberspace, we help our customers think smarter and act faster, mastering ever greater complexity at every decisive moment along the way. Thanks to its 65,000 employees in 56 countries, Thales recorded sales of €15.8 billion in 2017. 
Present in Malaysia for 40 years, Thales has over 200 employees, including personnel from its joint venture, Sapura Thales Electronics, who have been building and maintaining long-term, strategic partnerships with key local partners across all business areas: defence, transportation, security, and aerospace.