Thales and Bristol University sign strategic agreement to collaborate in research and education activities
Key Points
Strategic Agreement with University of Bristol, covering Security, Communications, Sensors, Autonomy and Complex Systems
Ensuring cross-collaboration through research projects
Supporting the ambition to ensure innovation at the heart of Thales's value proposition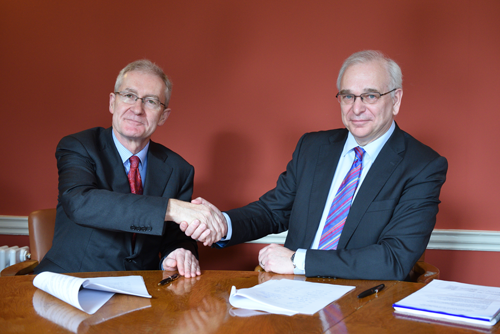 The University of Bristol and Thales Group have signed a Strategic Agreement to collaborate in research and education activity. The agreement strengthens an existing relationship, where Thales has worked with Bristol for 20 years on several joint UK and European Union based research projects, whilst supporting over 15 doctoral students.
 
In all its countries of operation, Thales strives to build long-term partnerships with local academic institutions, design centres and high-tech firms to imagine innovative use cases, business models and technologies.
Dr Alvin Wilby, VP Research, Technical & Innovation, Thales UK said
"Thales has a real capacity to innovate through partnerships across the entire high-tech ecosystem: start-ups, universities... We are proud to broaden our partnerships by working with the University of Bristol." 
Thales aims to identify and exploit a broad range and scope of innovation across its business to drive profitability and sustainable growth. Fundamental to this is the ability to understand emerging technologies, through the facilitation of partnerships, including academia. Following on from similar programmes across the globe, this is the first dedicated strategic partnership Thales has entered into with a UK university.
Working with the University's Departments of Electrical and Electronic Engineering, Computer Science and the Systems Engineering Centre, Thales will look to develop a programme of work around Security, Communications, Sensors, Autonomy and Complex Systems. The collaboration will continue to be a key relationship for Thales in the years to come with a focus on the key challenges that confront modern engineering teaching and technology research, setting out a framework for interdisciplinary working that organises state-of-the-art integrative research, built around a set of Thales use cases.
"We're very excited to sign this strategic partnerships agreement with Thales and look forward to seeing the exciting new technology which will be developed in partnership with our students and researchers in the future. Such a partnership offers our staff and students a unique insight into real-life research challenges across a variety of sectors, and an opportunity to develop solutions to  some of the technological and societal challenges."

Professor Nishan Canagarajah, Pro Vice-Chancellor for Research at the University of Bristol
About Thales
Thales is a global technology leader for the Aerospace, Transport, Defence and Security markets. With 64,000 employees in 56 countries, Thales reported sales of €14.9 billion in 2016. With over 25,000 engineers and researchers, Thales has a unique capability to design and deploy equipment, systems and services to meet the most complex security requirements. Its exceptional international footprint allows it to work closely with its customers all over the world.
Thales in the UK
Thales in the UK demonstrates its capability of being at the forefront of safeguarding people and organisations through such examples as follows:
More than 130,000 passengers use Thales in-flight entertainment systems every day, equivalent to almost 50 million viewers per year

Thales secures the information systems of 19 of the world's 20 largest banks

Provides the UK Royal Navy with the key situational awareness sensors and systems to allow the fleet to operate effectively at sea

Almost every train in the UK is fitted with the Train Protection & Warning System provided by Thales UK

Thales Alenia Space UK is a critical partner on the latest generation of Telecommunication satellite systems as well as part of the Exomars mission.
Most of Thales's business activities are technology intensive, making innovation a strategic priority and the driving force behind the long-term development of the company. Thales Research, Technical and Innovation achieved the Investor in Innovations award in December 2015.