CAAS and Thales collaborate to develop new generation air traffic management technologies
The Civil Aviation Authority of Singapore (CAAS) and Thales have signed a Memorandum of Understanding (MOU) to cooperate on developing new concepts of operations for air traffic management (ATM), as well as the next generation of ATM technologies. The MOU was signed by Mr Kevin Shum, Director-General, CAAS, and Mr Alex Cresswell, Thales Executive Vice President (EVP) for Land and Air Systems, on the sidelines of the Singapore Airshow.
The MOU will facilitate cooperation in analysing the impact digital trends have on the aviation ecosystem, applying artificial intelligence in ATM, and co-developing an ATM system architecture that is future-ready and flexible to allow new advanced technologies to be easily incorporated into operations. Mixed use of airspace for manned aircraft and drones will also be explored. These activities will support the development of the next generation of ATM operations that will be nimble, scalable and adaptable.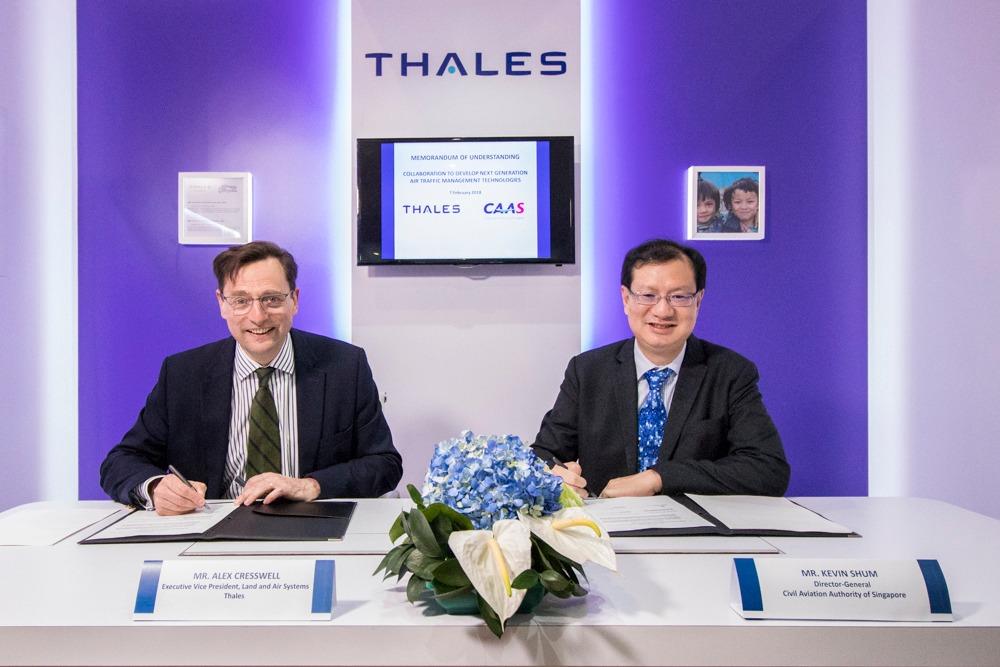 Mr Kevin Shum, Director-General of CAAS, said, "Aviation is on the cusp of a technology revolution. As a leading Air Navigation Services Provider, we are committed to exploring new innovations and digital technologies to develop ATM solutions that address the unique challenges faced by Singapore and the Asia Pacific region. We believe such investments will not only enhance our ATM capabilities, but also make a
real difference towards the sustainable advancement of aviation in the region."
Mr Alex Cresswell, Thales EVP for Land and Air Systems, added, "Thales no longer views digital revolution as an emerging trend but as an immediate reality, with a €1billion investment in digital technology already materialised by the Group. The aviation ecosystem is one of the domains we feel will benefit most from digitisation. Through this multidisciplinary relationship CAAS and Thales will collaborate for the air
traffic management of the future, and we could not be prouder."
About the Civil Aviation Authority of Singapore
The mission of the Civil Aviation Authority of Singapore (CAAS) is to grow a safe, vibrant air hub and civil aviation system, making a key contribution to Singapore's success. CAAS' roles are to oversee and promote safety in the aviation industry, develop the air hub and aviation industry, provide air navigation services, provide aviation training for human resource development, and contribute to the development of
international civil aviation.
About Thales
Thales is a global technology leader for the Aerospace, Transport, Defence and Security markets. With 64,000 employees in 56 countries, Thales reported sales of €14.9 billion in 2016. With over 25,000 engineers and researchers, Thales has a unique capability to design and deploy equipment, systems, and services to meet the most complex security requirements. Its exceptional international footprint allows it to work
closely with its customers all over the world.