Metal 3D printing: Thales creates a global centre of expertise in Morocco
Thales supports Morocco's ambition to progress in the aerospace sector and is inaugurating its industrial Competence Centre in Casablanca, specialising in metal additive manufacturing, also known as metal 3D printing. This plant will become a platform allowing the international requirements of the Group and its customers to be met.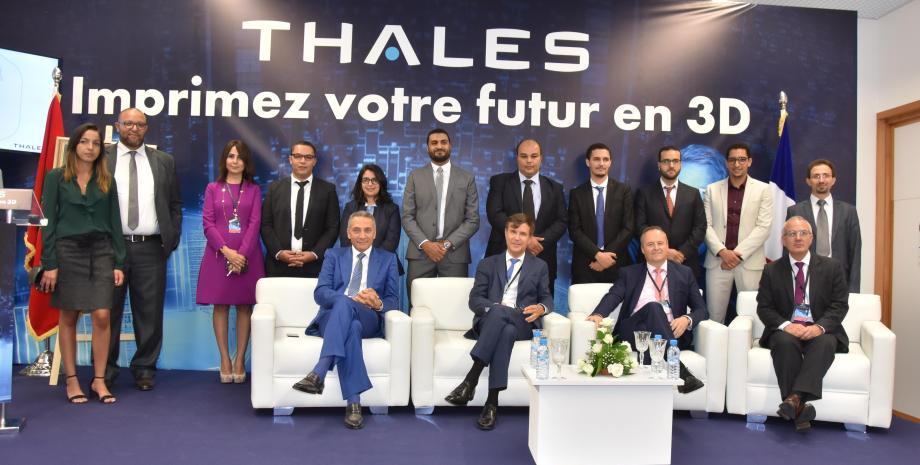 Key points
Metal 3D printing will lead to a reduction in the development and manufacturing times for parts with high added value made from complex metal alloys in all mechanical domains, in particular the aerospace and space domains.
The industrial Competence Centre at the heart of the Thales group's "Industry 4.0" development generates employment.
Thales is continuing with its commitments as part of its cooperation with Morocco.
This industrial Competence Centre forms part of the Industrial Acceleration Plan 2014 to 2020, supported by the Kingdom of Morocco, which supports the development of an innovative ecosystem involving Thales and its local suppliers, including the creation of a high-tech industrial competence centre.
"With an existing aerospace ecosystem of subcontractors, Morocco has everything needed to become Thales' global centre of expertise in 3D printing. The use of a secure digital platform provides the industrial Competence Centre with the latest innovations in terms of connected industry and smart plants, and will improve the competitiveness of the solutions offered to our customers"

Pierre Prigent, Thales Country Director in Morocco.
Spread across an area of 1000 m², in the Midparc zone in Casablanca, this industrial Competence Centre will eventually employ around twenty engineers and technicians. It is currently equipped with two so-called selective laser melting technology machines. This technique, which involves fusing metal alloy powders using a high-intensity laser, is used to manufacture metal parts of unrivalled complexity, which cannot be manufactured using current technologies. It is freed from the high-reliability constraints of traditional manufacturing, while reducing the number of parts used and making them lighter. The initial qse series will be produced using aluminium and titanium, widely used in the aerospace sector. In the medium-term, Thales is planning to acquire 10 machines.
The "Industry 4.0" type procedure undertaken accelerates the efficiency of the production tool, allowing improved production, at a lower cost and in a more environmentally friendly manner. It offers a new way of handling production through smart systems used to collect, store, manage and analyse thousands of items of information from their sensors. This Competence Centre, which specialises in 3D printing, is fully in line with the digital transformation of Thales and will provide a genuine global centre of expertise, from which Morocco will be the first to benefit.

"Thales is bringing state-of-the-art technology and a high added value profession to Morocco: it is a genuine source of pride for us to deliver this leap forward to the country's industrial sector. This new project is proof that the Moroccan is achieving a diametric shift in its industrial sector, which is driving the creation of highly specialized jobs in the country."
Moulay Hafid Elalamy, Minister of Industry, Investment, Commercial and Digital Economy.
Thales in Morocco
Thales has a long-standing partnership with Morocco. The company opened its local office in Rabat in 2006 and is active in Morocco in defence, aerospace, transportation and security, and has 45 employees. Key references include:
In the security domain, Thales provides IT (cybersecurity) and physical security systems for critical facilities (essential operators, banks, etc.).
In the transportation domain, Thales deploys a global system for mobile telecommunications (GSM-R) over 7 lines of the Moroccan network, including the high-speed line, and deploys its signalling solutions on the Taourirt-Béni Ansar line.
In the aerospace domain, Thales has supplied air navigation assistance equipment to the Moroccan Airports Authority (ONDA), along with on-board entertainment systems for the B737 and B787 aircraft of Royal Air Maroc.
In the defence domain, Thales is providing combat systems for Morocco's SIGMA-class corvettes and communication systems and a sonar suite for the FREMM frigate Mohammed VI.
In April 2013, Thales and Rabat International University signed a partnership agreement in aerospace, space and cybersecurity to support technological innovation through training and research.