Tacticos is famous for its reliability and its ability to integrate virtually anything. The massive installed base and the unparalleled track record of integration have ensured a continuous evolution. Due to its solid legacy it has become the worlds finest combat management system in service with well over 50 navies (both Nato and non-Nato) on more than 130 platforms of all types.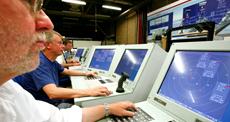 Commander C3 is Thales' Marine Command, Control, and Communications System for non-Combatant applications. It provides seamless near realtime sharing of the Common Operating Picture (contact data, messages, and geo-referenced map overlays) between vessels, helicopters, and shore installations. COMMANDER C3 also provides gateway interfaces to achieve interoperability with major naval data link standards. The system is ideal for both civilian and military users who require an effective, affordable solution to address the technical and interoperability challenges associated with co-operation and co-ordination of various maritime agencies.
Compact Sensor & Control System (CSCS) The Compact Sensor & Control System services the small ship market providing command and control, even Automatic Identification. It can be integrated with fire control systems in order to achieve full combat system capabilities. It is based on open-standards and architecture and capitalizes on the use of COTS technology.