Thales announces order for ForceSHIELD Integrated Air Defence system and STARStreak missiles for Malaysian Armed Forces
Thales announced today at DSEI that it has signed a contract with Global Komited, a company within The Weststar Group, to supply the Malaysian Armed Forces with ForceSHIELD, the Thales integrated Advanced Air Defence system.
---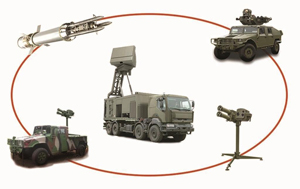 In addition to the STARStreak missiles, the system comprises CONTROLMaster 200 radar and weapon coordination systems, RAPIDRanger and RAPIDRover mobile weapon systems and the Next Generation Lightweight Multiple Launcher, as well as associated communications.
The STARStreak missiles and launcher systems are manufactured in Thales's facility in Belfast and the CONTROLMaster by Thales in France. This significant purchase by the Malaysian Armed Forces will increase jobs in Belfast and develop high value added jobs and skills set in Malaysia through a programme of technology transfer.
The purchase of ForceSHIELD will enable the Malaysian Armed Forces to replace and enhance the previously commissioned Thales STARBurst missile system, which has been in service since the mid 1990's.
The STARStreak missile utilises the proven principle of 'high velocity' to defeat threats with short unmasking times.  The three-dart configuration maximises lethality and the highly accurate laser beam riding guidance enables engagement of small signature targets.
Victor Chavez, CEO of Thales UK, says: "I am delighted that another country has decided to buy ForceSHIELD.  This latest-generation sensors to effectors solution will give Malaysia a world class, cutting edge capability.  Increasing our export sales is a key part of Thales' growth strategy and today's news marks another milestone."
"I am delighted that Westar and Thales have agreed to work together to supply the STARStreak missile system to the Malaysian Armed Forces. This is an excellent example of companies sharing technology to support the ongoing modernisation of the country's Armed Forces. I very much value our Defence relationship with Malaysia and look forward to working with their government and Armed Forces as part of our enduring Defence cooperation."

Philip Dunne, Minister of State for Defence Procurement
About Thales
Thales is a global technology leader for the Aerospace, Transport, Defence and Security markets. With 61,000 employees in 56 countries, Thales reported sales of €13 billion in 2014. With over 20,000 engineers and researchers, Thales has a unique capability to design and deploy equipment, systems and services to meet the most complex security requirements. Its unique international footprint allows it to work closely with its customers all over the world.