Hong Kong Airlines celebrate the delivery of their A350 XWB aircraft with Thales AVANT IFE and Connectivity
In November 2016, Thales was chosen by Hong Kong Airlines to equip their new A350 and A330 aircraft with AVANT IFE and connectivity solutions and FlytCare services.
AVANT, Thales's state-of-the-art Android IFE solution, will provide Hong Kong Airlines' passengers a customizable experience with a robust selection of features and applications.
Hong Kong Airlines A350 will fly with Ka-band connectivity offering fastest airborne internet speeds to their passenger.  Entry into service is set for September 2018.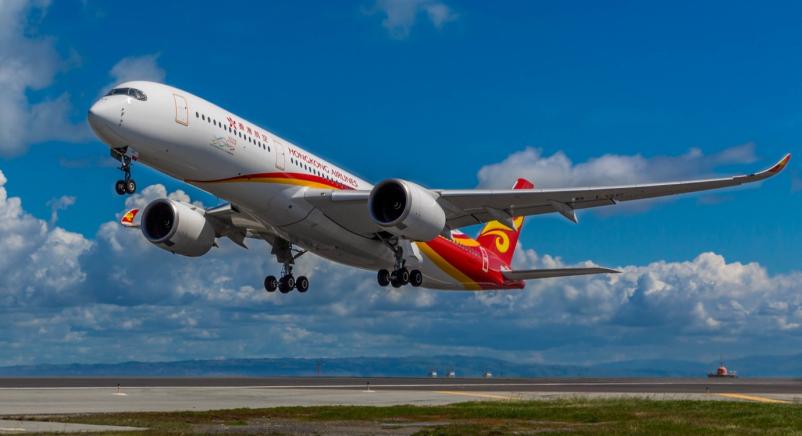 Hong Kong Airlines and Thales will celebrate the entry into service of the airlines new A350 aircraft in September 2018. The aircraft will fly with Thales AVANT IFE featuring the latest High Definition (HD) screens at every seat for all guests to enjoy a spectacular onboard entertainment experience. Hong Kong Airlines operates one of the youngest fleet in the world. Its average fleet age stands at just around 5 years and currently operating a fleet of 38 aircraft. The airline has been awarded the internationally acclaimed four-star rating from Skytrax since 2011. With an ever expanding international network, Hong Kong Airlines relies on Thales as a partner of choice for their inflight entertainment.
Hong Kong Airlines chose Thales inflight entertainment and connectivity for its fleet of 9 new A330 and 19 A350 featuring AVANT, Thales's state-of-the-art IFE solution, will provide Hong Kong Airlines' passengers a customizable experience with a robust selection of features and applications including high definition (HD) screens providing a brilliant viewing experience. The system features the Avii Touch Passenger Media Unit. Avii provides intuitive navigation, full android smartphone look and feel, and acts as a second entertainment screen.
With AVANT, Hong Kong Airline guests will enjoy an immersive and engaging experience with unmatched levels of inflight comfort on the new aircraft.
"Thales congratulates Hong Kong Airlines on their entry into service of the new A350 with AVANT IFE.  As we continue to strengthen our partnership, together we strive for exceptional onboard entertainment experiences for all travelers." Said  Philippe Carette, Chief Executive Officer, Thales InFlyt Experience "It is a great honor to work alongside Hong Kong Airlines and supporting  their ambitions to deliver  the best inflight experience." 
About Thales
The people we all rely on to make the world go round – they rely on Thales. Our customers come to us with big ambitions: to make life better, to keep us safer. Combining a unique diversity of expertise, talents and cultures, our architects design and deliver extraordinary high technology solutions. Solutions that make tomorrow possible, today.  From the bottom of the oceans to the depth of space and cyberspace, we help our customers think smarter and act faster - mastering ever greater complexity and every decisive moment along the way. With 65,000 employees in 56 countries, Thales reported sales of €15.8billion in 2017.
About Thales in China
Thales provides innovative solutions for the infrastructure that forms the backbone of China's growth. The Group has been active in China for more than 30 years and is trusted partner for the Chinese aviation and urban rail transportation industries. Thales employs 1,300 people in China, 95% of whom are Chinese nationals.