Key points
AVANT IFE system for its complete fleet renewal programme, totaling 39 aircraft.

Thales AVANT IFE solution provides Gulf Air a fully customisable passenger experience.

The B787-900 and A320 NEO entry into service will begin in 2018. The A321 NEO delivery is scheduled to start in 2020.
---
At the Farnborough Airshow, Thales announces that Gulf Air, the national carrier of the Kingdom of Bahrain, has selected the AVANT In-Flight Entertainment system on their new fleet of B787-900, A320 NEO and A321 NEO, totaling 39 aircraft. The first B787-900 and A320 NEO deliveries are scheduled for 2018 and the A321 NEO delivery will start in 2020.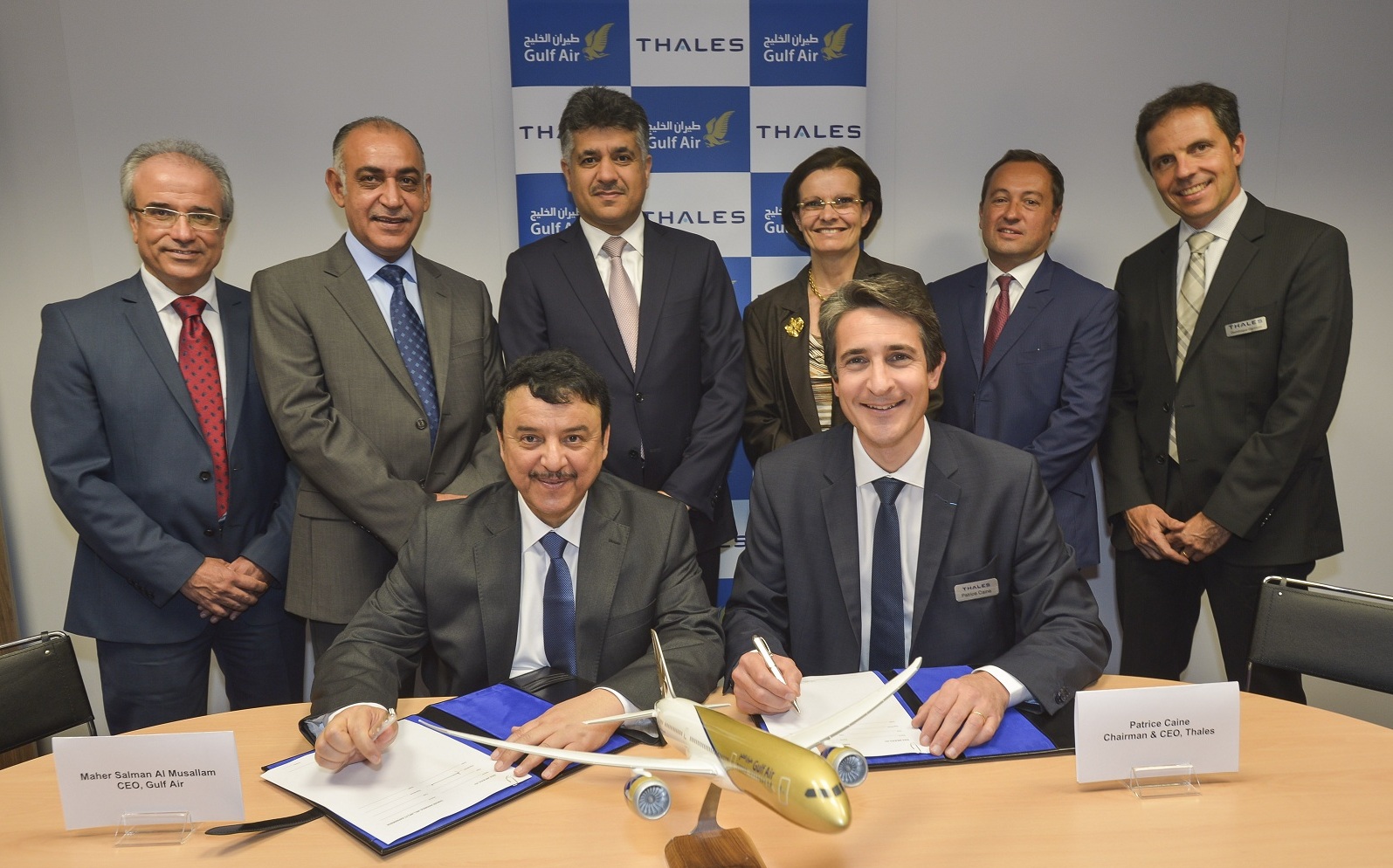 Gulf Air expects the new cabin to be the pride of the Kingdom of Bahrain. Thales is committed to providing a premium passenger experience on Gulf Air's new fleet with the AVANT state-of-the-art Android-based IFE solution. AVANT offers a highly customisable passenger experience with a wide selection of features and applications.
Mr. Maher Salman Al Musallam, Gulf Air Chief Executive Officer, said: "We are delighted to introduce an enhanced product and service offering onboard Gulf Air's newest aircraft - further appealing to passengers across the globe. We are committed to ongoing investment in the Gulf Air offering, to elevate our passenger experience. With Thales AVANT IFE system passengers now have greater entertainment options onboard, ensuring their comfort."
Gulf Air recently announced restructured aircraft orders in January this year at the Bahrain International Airshow 2016, geared towards facilitating long-term expansion capabilities for the airline's future network requirement.
The orders comprise 45 aircraft in total, 39 of which will be equipped with the latest AVANT full high definition monitors, the most lightweight ever deployed. The business cabin will be equipped with the award winning Thales Touch Passenger Media Unit providing the opportunity to multi-task on a second screen, which greatly enhances passenger experience.
Today's announcement follows the recent release of Gulf Air's 2015 financial and operational results, which showed the airline's ongoing positive development as it realises full commercial sustainability and increasingly focuses on managing and further investing in its ongoing growth and development.
"Thales is very proud to have been selected by Gulf Air, a longstanding airline carrier in the Middle East. We are honoured to support the airline in their goal of excellence in passenger experience. This selection represents a major win for Thales in the region, reinforcing our presence within the Kingdom of Bahrain." Dominique Giannoni, CEO, Thales InFlyt Experience