The countdown has started for ExoMars mission
Thales Alenia Space to contribute to push boundaries and to search for the origins of life on Mars
Rome, March 11, 2016 – The countdown has started for ExoMars mission now ready to be launched on March 14 from the Baikonur Cosmodrome in Kazakhstan with a Proton Breeze M rocket. Thales Alenia Space as prime contractor, has put all the best of the technology to serve this extraordinary adventure.
The vehicle dedicated to this fascinating journey to the Red Planet is composed of an orbiting module, called TGO (Trace Gas Orbiter), integrated at the Thales Alenia Space plant in Cannes, and a descent module, called EDM (Entry descent landing Demonstrator Module), built at the Thales Alenia Space plant in Turin. The latter module is named Schiaparelli in honor of Giovanni Virginio Schiaparelli, considered one of the greatest figures of Italian astronomy of the nineteenth century and at the same time one of the greatest scholars of history, science and ancient astronomy.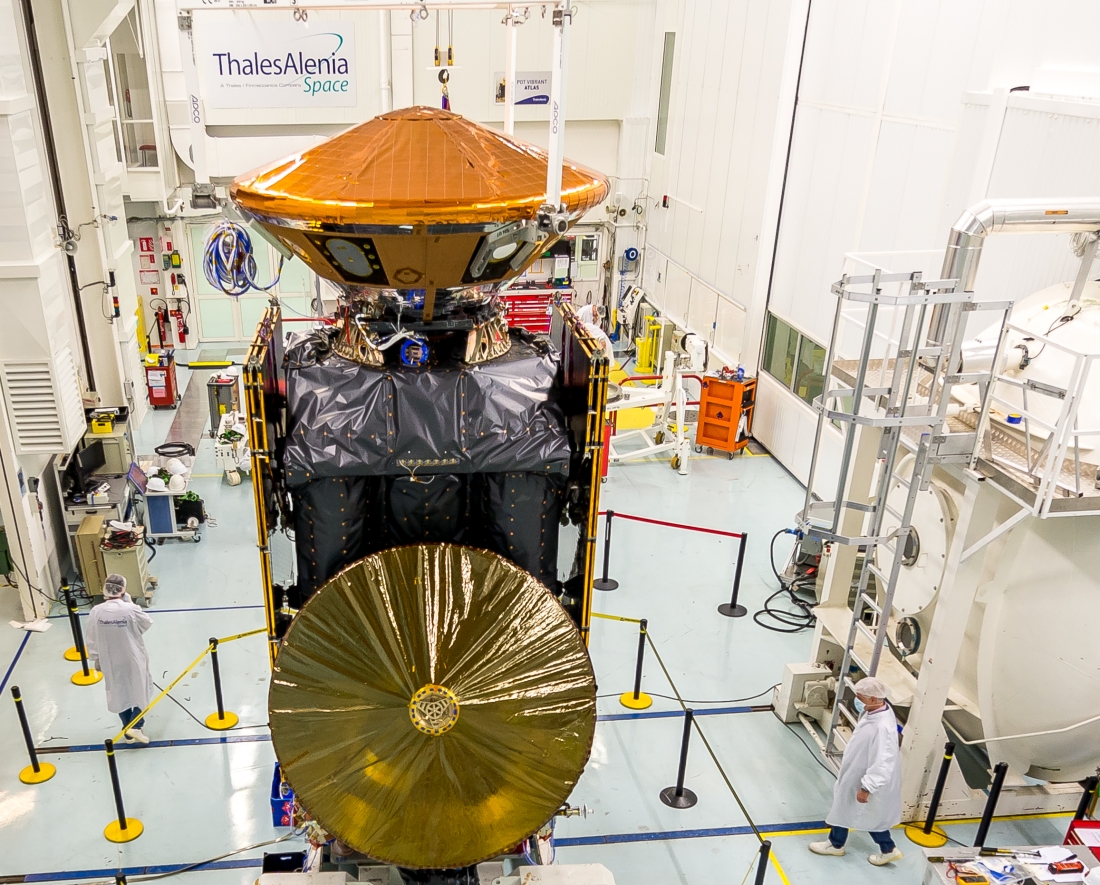 © © Thales Alenia Space/Imag[IN]

 
The goal of this mission is to study the Martian atmosphere and demonstrate the feasibility of several essential technologies for the entry into the atmosphere, descent and landing on Mars.
A second mission will follow and will include an autonomous European rover capable of collecting soil samples at a depth of two meters and analyzing its chemical, physical and biological properties "We are both proud and excited to have met the challenge of delivering ExoMars on time for its "rendez-vous" with the Red Planet", said Walter Cugno, ExoMars program Director. "The spacecraft is now safely installed under its fairing, at the launch site in vast Kazakh steppes, ready for its long journey eleven years after the Cassini-Huygens probe made in Thales Alenia Space a flawless landing on Titan. With ExoMars, Thales Alenia Space is once again playing a historic role, by helping humanity quench our timeless thirst for exploration and supporting our endless quest to find the origin of life. In the face of this extraordinary mission, I can just humbly add 'Go Exomars go' !"
The two ExoMars missions are expected to play a fundamental role in our search for the origins of life. They may well help to discover if life ever existed on Mars, or even if microbial life forms exist today. But to do so, it is absolutely essential that the landing spacecraft itself not contaminate the planet. Therefore, for this first mission, the last contamination tests of the Schiaparelli module are carried out right on the launch pad, just before the launch. This module was previously integrated in clean rooms specially configured to detect the slightest trace of  bacteriological contamination, using procedures similar to those in the pharmaceutical industry.
The ExoMars program is the fruit of an international cooperation between the European Space Agency (ESA) and the Russian Space Agency (Roscosmos), strongly supported also by the Italian Space Agency (ASI), which also developed the INRRI laser micro-reflector (INstrument for landing-Roving laser Retroreflector Investigations)The program is developed by a European consortium led by Thales Alenia Space Italia that involves around 134 space companies of the ESA partner countries. Finmeccanica's Avionics and Space Systems Division, Telespazio through its subsidiary Telespazio VEGA Deutschland are also involved at subsystems and at the mission control level respectively.
Photos: © Thales Alenia Space/Imag[IN]
 

---
About Thales Alenia Space
Thales Alenia Space, a joint venture between Thales (67%) and Finmeccanica (33%), is a key European player in space telecommunications, navigation, Earth observation, exploration and orbital infrastructures. Thales Alenia Space and Telespazio form the two parent companies' "Space Alliance", which offers a complete range of services and solutions. Because of its unrivaled expertise in dual (civil/military) missions, constellations, flexible payloads, altimetry, meteorology and high-resolution optical and radar instruments, Thales Alenia Space is the natural partner to countries that want to expand their space program. The company posted consolidated revenues of 2.1 billion euros in 2015, and has 7,500 employees in eight countries. www.thalesaleniaspace.com
La cuenta atrás ha empezado para la misión ExoMars, lista para su lanzamiento el 14 de marzo desde el cosmódromo de Baikonur en Kazajistán mediante un cohete Proton Breeze M. Thales Alenia Space, como contratista principal, ha puesto la mejor tecnología al servicio de esta extraordinaria aventura.
 
El vehículo dedicado a este fascinante viaje hacia el planeta rojo está formado por un módulo orbitador, llamado TGO (Trace Gas Orbiter – orbitador de gases traza), integrado en la planta de Thales Alenia Space en Cannes, y un módulo de descenso, llamado EDM (Entry descent landing Demonstrator Module – módulo demostrador de entrada, descenso y aterrizaje), construido en la planta de Thales Alenia Space en Turín. Este último módulo ha sido bautizado "Schiaparelli" en honor a Giovanni Virginio Schiaparelli, considerado una de las mayores figuras de la astronomía italiana del siglo XIX además de uno de los mejores docentes de historia, ciencia y astronomía antigua.
 
El objetivo de esta misión es el estudio de la atmósfera marciana y demostrar la viabilidad de varias tecnologías esenciales para la entrada en la atmósfera, descenso y aterrizaje en Marte. Ésta vendrá seguida por una segunda misión, que incluirá un robot autónomo europeo (rover) capaz de tomar muestras del terreno a una profundidad de dos metros y analizar sus propiedades químicas, físicas y biológicas.
 
Con la participación de Thales Alenia Space España
 
Thales Alenia Space España participa en la misión de 2016 con el diseño, fabricación y pruebas en sus instalaciones de Madrid de la Red de Distribución de Radiofrecuencia (RFDN) del TGO. Este ensamblaje de unidades de radiofrecuencia permite la interconexión entre las antenas, transpondedores y amplificadores de potencia y filtrado de señal del subsistema de telecomunicaciones. Este sistema en banda X permitirá las comunicaciones entre el TGO y la Tierra, y actuará así mismo de radioenlace para las comunicaciones entre la Tierra y los elementos en la superficie marciana de ambas misiones.
 
 "Estamos orgullosos y entusiasmados de haber superado el reto de entregar ExoMars a tiempo para su encuentro con el planeta rojo", dijo Walter Cugno, director de programa de ExoMars. "El vehículo está instalado bajo la cofia de forma segura, en la base de lanzamiento en las vastas estepas kazajas, listo para su largo viaje, once años después de que la sonda Cassini-Huygens, fabricada en Thales Alenia Space, aterrizara perfectamente en Titán. Con ExoMars, Thales Alenia Space desempeña de nuevo un rol histórico, ayudando a la humanidad a saciar nuestra sed sin límite de exploración y apoyando nuestra búsqueda interminable sobre el origen de la vida. Delante de esta extraordinaria misión, sólo puedo humildemente añadir ¡vamos ExoMars!"
 
Eduardo Bellido, CEO de Thales Alenia Space España, añadió "estamos orgullosos de contribuir a una misión tan excitante con nuestros equipos de distribución de radiofrecuencia, corroborando nuestra dilatada participación en misiones de ciencia y exploración de la ESA."
 
 
 
 
Se espera que las dos misiones ExoMars tengan un rol fundamental en nuestra búsqueda de los orígenes de la vida. Pueden ayudar a descubrir si alguna vez ha existido vida en Marte, o incluso si existen hoy en día formas de vida microbiana. Pero para conseguir esto, es absolutamente esencial que el módulo de aterrizaje no contamine el planeta. Por ello, en esta primera misión, las últimas pruebas de contaminación del módulo Schiaparelli se llevan a cabo en la misma base de lanzamiento, justo antes del lanzamiento. Este módulo fue integrado previamente en salas blancas configuradas especialmente para detectar cualquier traza de contaminación bacteriológica, utilizando procesos similares a los de la industria farmacéutica.
 
El programa ExoMars es fruto de la cooperación internacional entre la Agencia Espacial Europea (ESA) y la Agencia Espacial Rusa (Roscosmos), apoyado fuertemente también por la Agencia Espacial Italiana (ASI), que desarrolló así mismo el micro-reflector laser INRRI (INstrument for landing-Roving laser Retroreflector Investigations). El programa lo desarrolla un consorcio europeo liderado por Thales Alenia Space Italia que cuenta con la participación de 134 compañías espaciales de los países socios de la ESA. La División de Aviónica y Sistemas Espaciales de Finmeccanica, y Telespazio a través de su filial Telespazio VEGA Deutschland, participan también a nivel de subsistemas y control de misión respectivamente.