Inmarsat GX5 satellite, manufactured by Thales Alenia Space, now in orbit
Inmarsat GX5 very-high-throughput telecommunications satellite successfully launched
Cannes, November 27, 2019 – The Inmarsat GX5 geostationary telecommunications satellite has been successfully orbited by Arianespace atop an Ariane 5 launcher from the Guiana Space Center in Kourou, French Guiana. Built for Inmarsat, the world leader in global, mobile satellite communications, by prime contractor Thales Alenia Space, a joint venture between Thales (67%) and Leonardo (33%), this satellite will boost Inmarsat's Global Xpress (GX) broadband network, offering more capacity for inflight Wi-Fi services covering the Middle East, and Europe. The world's first and only globally available true broadband service delivered through a single operator, the Inmarsat GX service operates in the Ka-band and is designed and optimized for mobile applications.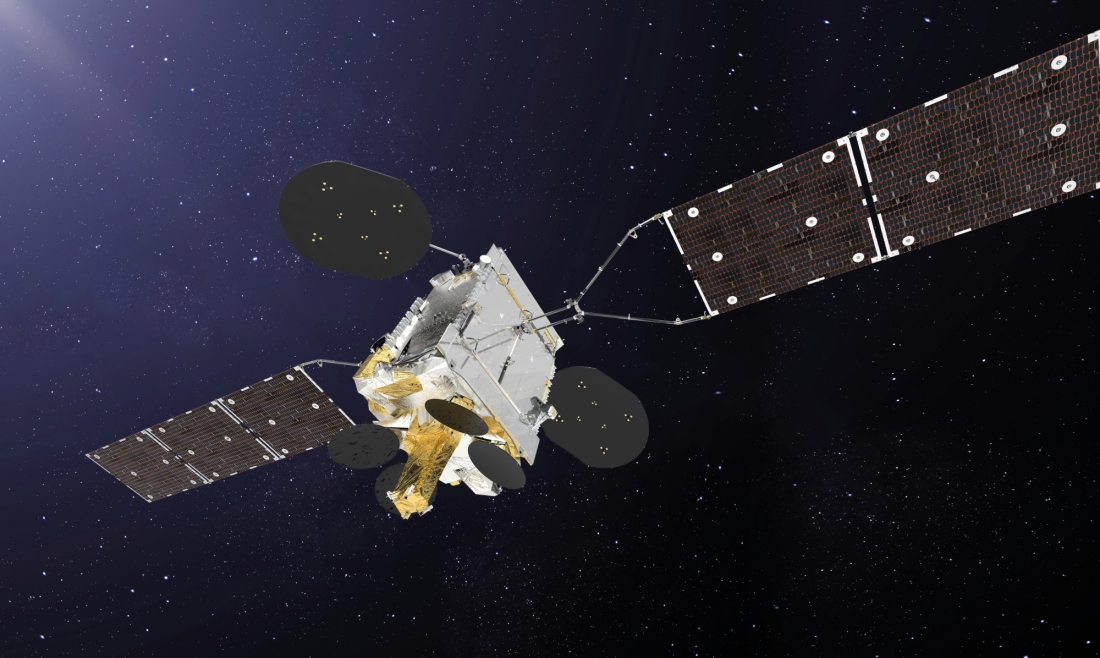 Weighing less than 4 metric tons at launch, Inmarsat GX5 satellite is built around the Spacebus 4000 B2 platform. It is the most powerful telecommunications satellite that Thales Alenia Space has ever built in the Spacebus 4000 B2 category. It has an estimated design life of more than 16 years.
Inmarsat GX5 is the 17th telecommunications satellite designed by Thales Alenia Space to have been successfully launched this year.
"Thales Alenia Space is proud to have partnered with Inmarsat in building its GX5 satellite, which will serve airline passengers' growing connectivity needs over Europe and the Middle East, as well as meeting increasing demand from maritime and government users" said Pascal Homsy, Thales Alenia Space Executive Vice-President, Telecommunications. "We currently offer a range of product lines tailored precisely to the new expectations of the telecommunications market. Through our Spacebus 4000 B2 and Spacebus NEO offering able to deliver fast-broadband services around the globe, and our new Space InspireTM product line, fully digital and reconfigurable in orbit, Thales Alenia Space is the ideal partner to provide concrete solutions for operators, increase connectivity and bridge the digital divide."
Artistic view  & photo ©Thales Alenia Space
ABOUT THALES ALENIA SPACE
Drawing on over 40 years of experience and a unique combination of skills, expertise and cultures, Thales Alenia Space delivers cost-effective solutions for telecommunications, navigation, Earth observation, environmental management, exploration, science and orbital infrastructures. Governments and private industry alike count on Thales Alenia Space to design satellite-based systems that provide anytime, anywhere connections and positioning, monitor our planet, enhance management of its resources, and explore our Solar System and beyond. Thales Alenia Space sees space as a new horizon, helping to build a better, more sustainable life on Earth. A joint venture between Thales (67%) and Leonardo (33%), Thales Alenia Space also teams up with Telespazio to form the parent companies' Space Alliance, which offers a complete range of services. Thales Alenia Space posted consolidated revenues of 2.5 billion euros in 2018 and has 8,000 employees in nine countries. www.thalesaleniaspace.com
THALES ALENIA SPACE – PRESS CONTACTS
Sandrine Bielecki    
Tel: +33 (0)4 92 92 70 94    
sandrine.bielecki@thalesaleniaspace.com
Cinzia Marcanio        
Tel: +39 06 41512685          
cinzia.marcanio@thalesaleniaspace.com
Tarik Lahlou         
Tel : +33 (0)5 34 35 35 67    
tarik.lahlou@thalesaleniaspace.com