Last batch of Iridium NEXT satellites in orbit
The world's highest performance and most sophisticated telecom constellation now fully deployed
Cannes, January 11, 2019 – The last batch of Iridium® NEXT satellites, built by Thales Alenia Space, the joint company between Thales (67%) and Leonardo (33%), was successfully launched today from Vandenberg Air Force Base in California. With this successful eighth launch, the Iridium NEXT fleet is now fully deployed to low earth orbit. The operational constellation comprises 66 satellites, at an altitude of about 780 kilometers, organized in six orbital planes, each containing 11 satellites, plus nine spare satellites in a parking orbit and six more ground spares.
The major challenge for Thales Alenia Space, as prime contractor for the Iridium® NEXT program, was to deploy a complex, end-to-end turnkey satellite system, while also ensuring compatibility between the old and new generations of Iridium Block One satellites. It marks the first time that an operator and a manufacturer have worked hand-in-hand to replace a complete constellation of 66 satellites, one-by-one, without any interruption in user service*.
The Iridium® NEXT constellation, now completely in orbit, represents the current state-of-the-art in terms of technology and flexibility. It features global coverage and independence from the ground segment, since each satellite is linked to the four closest satellites: in front, behind, to the left and the right. No matter where users are on Earth, they will always be in the line-of-sight of at least one satellite, meaning that they can always establish a connection. This type of direct satellite access, whether for transmission or reception, provides communication capability at any given moment, even in the case of natural disasters, conflicts, or in isolated environments. It also ensures secure communications, with protection against intrusion and piracy**.
Denis Allard, Vice-President Constellation Projects at Thales Alenia Space, said: "Thales Alenia Space is very proud of this successful last launch. We have just delivered a constellation comprising 81 satellites – a daunting challenge, but one that our teams met with panache. The success of this program also confirms Thales Alenia Space's global leadership in the constellation market, and further bolsters our unrivaled expertise as prime contractor for end-to-end and turnkey complex telecommunications systems."
* Slot swap
Thales Alenia Space handled satellite positioning and in-orbit testing from Iridium's satellite control center in Leesburg, Virginia, near Washington, D.C. The satellites are launched in clusters of ten and, given their LEO orbit, ground stations have only ten minutes per orbit to send commands while the satellites are visible. This means that all teams had to be exceptionally well prepared and on top of their game to do everything needed during those ten minutes.
The new satellites are then placed in their final orbital position one by one, before control is handed over to Iridium's teams for the actual "slot swap" operations, handled by Iridium with the support of Thales Alenia Space, based on procedures defined and tested by Thales Alenia Space. Each Iridium® NEXT satellite is fitted with a star sensor from Leonardo that guarantees orbital position-determination and control. The satellites were previously integrated by Northrop Grumman Corporation (the former Orbital ATK), a subcontractor to Thales Alenia Space based in Gilbert, Arizona, supervised by specialized teams from Thales Alenia Space and Iridium.
** Telecom signal routing in orbit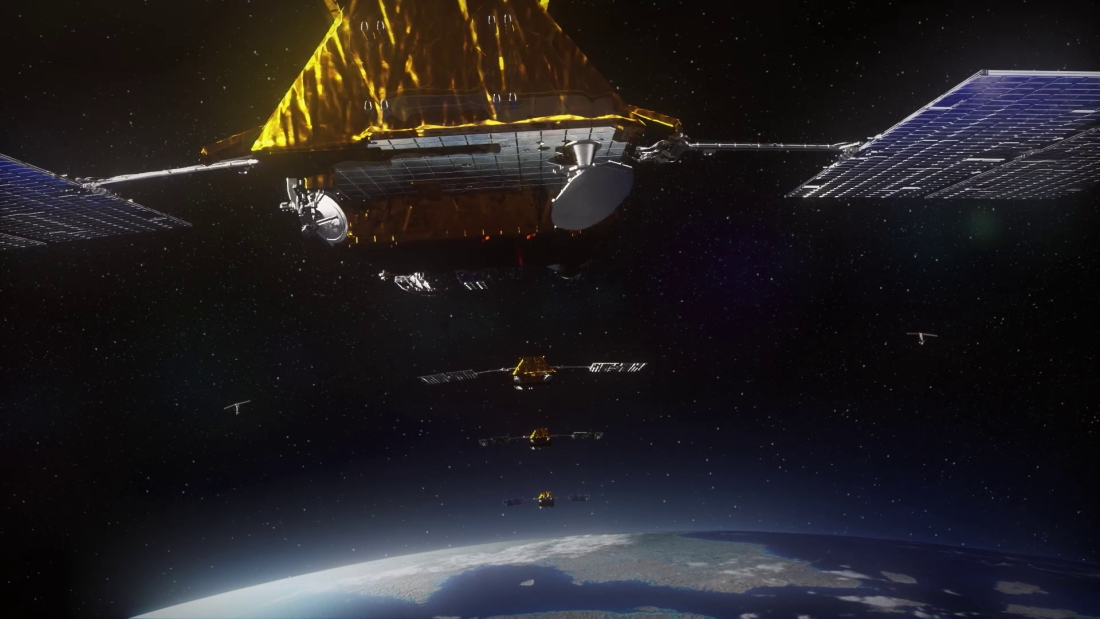 Each satellite has links to the four other closest satellites, in front, behind, left and right, making the service completely independent from ground networks. This in-orbit routing is completely software-driven by an onboard processor (OBP) and a platform computer (PFC). These software programs are the most sophisticated used to date on a constellation of satellites. They can also be uploaded from the ground, meaning that ground operators can send updates if needed, as well as deploy higher-performance versions, enabling Iridium to expand and enhance its customer services.
Photos copyrights:
Artistic views: ©Thales Alenia Space/Master Image Programmes
Photos: ©Thales Alenia Space/Imag[IN]
About Thales Alenia Space
Drawing on over 40 years of experience and a unique combination of skills, expertise and cultures, Thales Alenia Space delivers cost-effective solutions for telecommunications, navigation, Earth observation, environmental management, exploration, science and orbital infrastructures. Governments and private industry alike count on Thales Alenia Space to design satellite-based systems that provide anytime, anywhere connections and positioning, monitor our planet, enhance management of its resources, and explore our Solar System and beyond. Thales Alenia Space sees space as a new horizon, helping to build a better, more sustainable life on Earth. A joint venture between Thales (67%) and Leonardo (33%), Thales Alenia Space also teams up with Telespazio to form the parent companies' Space Alliance, which offers a complete range of services. Thales Alenia Space posted consolidated revenues of 2.6 billion euros in 2017 and has 7,980 employees in nine countries. www.thalesaleniaspace.com
Thales Alenia Space – Press Contacts:
Sandrine Bielecki    
Tel: +33 (0)4 92 92 70 94    
sandrine.bielecki@thalesaleniaspace.com
Chrystelle Dugimont
Tel: +33 (0)4 92 92 74 06
chrystelle.dugimont@thalesaleniaspace.com
Cinzia Marcanio    
Tel: +39 06 41512685         
cinzia.marcanio@thalesaleniaspace.com