Thales Alenia Space inaugurates automated production plant for photovoltaic assemblies on satellite solar panels.
Thales Alenia Space confirms its position at the forefront of digital innovation and expands its footprint in the Belgian space industry
Hasselt, September 20, 2019 – Thales Alenia Space, Joint Venture between Thales (67 %) and Leonardo (33 %),  today inaugurated a new plant in Hasselt, Belgium, dedicated to the automated production of photovoltaic assemblies (PVA), which generate electrical power on satellite solar arrays. Representing an overall budget of about 20 million euros, including strong support from Belgium, this plant showcases Thales Alenia Space's Industry 4.0 approach and is the only one of its kind in Europe. It also perfectly complements the Leonardo center of excellence in Nerviano, Italy, which designs and builds photovoltaic assemblies for all the major programs conducted by the European and Italian space agencies (ESA and ASI, respectively). With this new "Factory 4.0", the Space Alliance (between Thales Alenia Space and Telespazio) will be able to deliver a complementary and highly competitive range of PVA solutions for all types of satellites.
Thales Alenia Space is developing the production of photovoltaic assemblies by calling on state-of-the-art technologies, while also capitalizing on the skills of the teams that underpin the process. It deploys new techniques such as robotized assembly of the panels, digital management of data and traceability, augmented reality and online tests and inspections. People and machines share the workplace, for a harmonious blend of cognitive and physical capabilities, thus opening new possibilities in terms of greater efficiency and agility.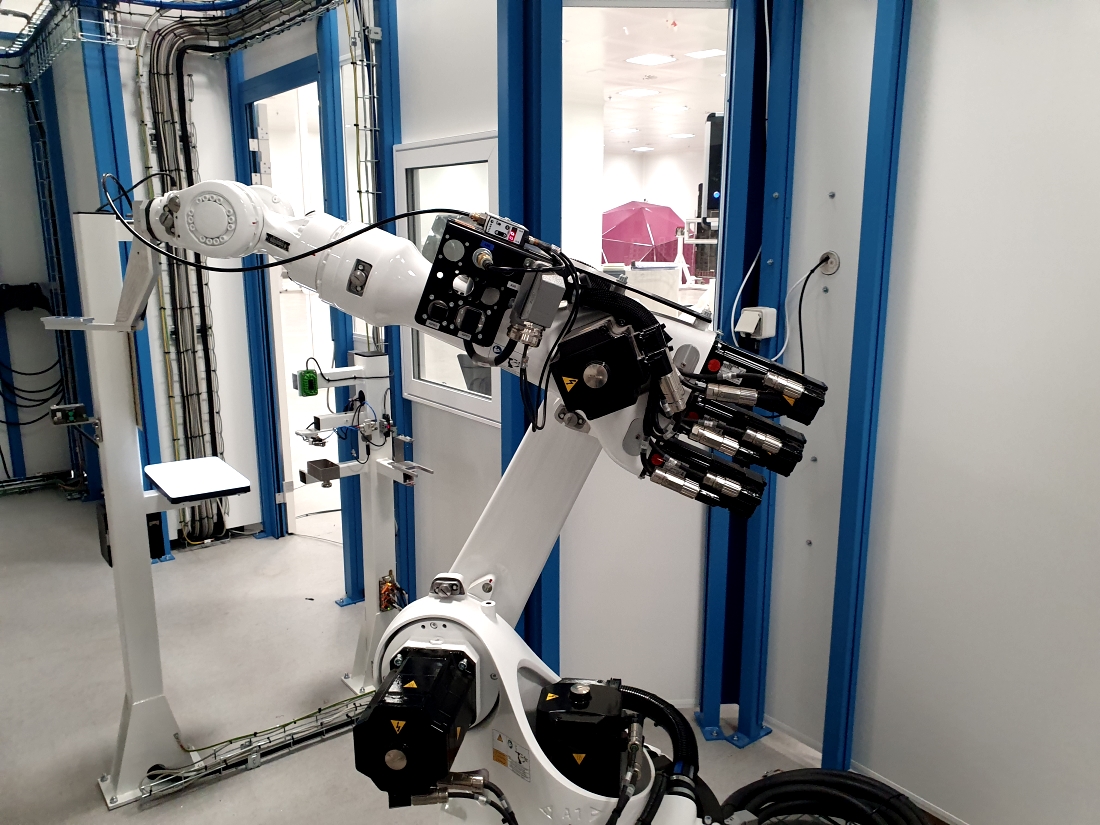 © Thales Alenia Space
The space industry, now undergoing a major transformation, has seen the emergence of new players and new initiatives leading to significant industrial disruption. While innovation continues to play a key role in this competitive environment, companies must also improve their processes and transform their production operations if they are to meet market demand for reduced costs and accelerated production rates. The new plant will offer an annual production capacity of 100,000 to 200,000 photovoltaic assemblies accordingly with the need.
"With the construction of this new center of excellence in automated production, Thales Alenia Space confirms its position at the forefront of digital innovation," said Jean Loïc Galle, President and Chief Executive Officer of Thales Alenia Space. "This plant marks a key milestone in the deployment of our strategy that aims at expanding our European footprint as a complement to our existing facilities. We are enriching our line of products, transforming our production methods and improving our agility to address the needs of our fast-changing and fiercely competitive market. I would especially like to thank BELSPO [Belgian Science Policy] and all other official bodies that support the space industry in Europe, and also reaffirm the strategic importance of these commitments to deal with the structural changes in the global business model."
The PVAs will now be made in-house at the Hasselt plant and then be sent to Thales Alenia Space's plant in Cannes, southern France, for integration in the solar panels.
"The first PVAs built here will be used on Indonesia's SATRIA communications satellite, to be developed by Thales Alenia Space as prime contractor," notes Davy Vrancken, general manager of the company's facilities in the Flemish region.
Thales Alenia Space is also developing a flexible PVA solution to meet the requirements of upcoming mega-constellation projects, as well as the needs expressed by telecom operators for innovative solutions. They offer unrivaled performance, competitiveness and light weight. Based on its Factory 4.0 approach, Thales Alenia Space is gearing up to meet these challenges.
The construction of this new facility in Hasselt was supported by the Belgian government as well as the European Space Agency's ARTES project (Advanced Research in Telecommunications Systems). It also provides a perfect fit with Thales Alenia Space's strategic plan, involving an expanded footprint in key countries that are investing heavily in the space sector.
"By building this production plant in Hasselt, one of the first in the world to use programmable robots for this type of space product, Thales Alenia Space strengthens its position in the Belgian space industry," said Ina Maller, Chief Executive Officer of Thales Alenia Space in Belgium. "This latest strategic location follows the creation of our facility in Leuven in 2014. It clearly shows the growing role played by Thales Alenia Space in Belgium, a country that is fully committed to supporting space programs. We plan to work closely with the entire ecosystem of academia, research centers and small businesses in the Flemish region to further energize innovation at our company."
About Thales Alenia Space
Drawing on over 40 years of experience and a unique combination of skills, expertise and cultures, Thales Alenia Space delivers cost-effective solutions for telecommunications, navigation, Earth observation, environmental management, exploration, science and orbital infrastructures. Governments and private industry alike count on Thales Alenia Space to design satellite-based systems that provide anytime, anywhere connections and positioning, monitor our planet, enhance management of its resources, and explore our Solar System and beyond. Thales Alenia Space sees space as a new horizon, helping to build a better, more sustainable life on Earth. A joint venture between Thales (67%) and Leonardo (33%), Thales Alenia Space also teams up with Telespazio to form the parent companies' Space Alliance, which offers a complete range of services. Thales Alenia Space posted consolidated revenues of about 2.5 billion euros in 2018 and has around 8,000 employees in nine countries. www.thalesaleniaspace.com
Thales Alenia Space – Press Contacts: 
Sandrine Bielecki  
Tel: +33 (0)4 92 92 70 94
sandrine.bielecki@thalesaleniaspace.com
Chrystelle Dugimont  
Tel: +33 (0)4 92 92 74 06
chrystelle.dugimont@thalesaleniaspace.com
Thales Alenia Space in Belgium
Thales Alenia Space in Belgium is the country's largest manufacturer of space electronics and the world leader in power supplies for satellites. Almost 200 spacecraft with the company's equipment have been launched to date. The company also supplies 50% of the electronics on the Ariane 5 launcher and the safeguard system for the Ariane 6 and Soyuz launchers. Thales Alenia Space in Belgium has nearly 700 employees at facilities in Mont-sur-Marchienne (Charleroi), Leuven and Hasselt.
Press Contact:
Mélanie Catoir    
Phone: +32 (0)71 44 26 29   
melanie.catoir@thalesaleniaspace.com