Thales Alenia Space partners with Hellas Sat for the 5G satellite backhauling demonstration
Thales Alenia Space at the forefront of the 5G technology deployment
Cannes, July 12th, 2021 - Thales Alenia Space, a joint venture between Thales (67%) and Leonardo (33%), and Hellas Sat performed a successful 5G demonstration in Greece in the presence of the Ministry of Digital Governance, represented by Athanassios Staveris-Polykalas, Secretary General of Telecommunications & Posts.
As operator, Hellas Sat aims to provide 5G network to remote areas in Greece and Cyprus. To do so, the experiment consists in backhauling the connection between a 5G Core Network and a 5G gNB through Hellas Sat 3 / Inmarsat S EAN satellite. In this case, the satellite is not only a complement to terrestrial 5G network but a fully integrated part of it by receiving 5G network from Earth and then returning it to remote areas where traditional backhauling technologies (wired, fiber, radio beams) are not suitable for technical and/or economic reasons. This experiment reinforces the bounds between Thales Alenia Space and the Greek space industry.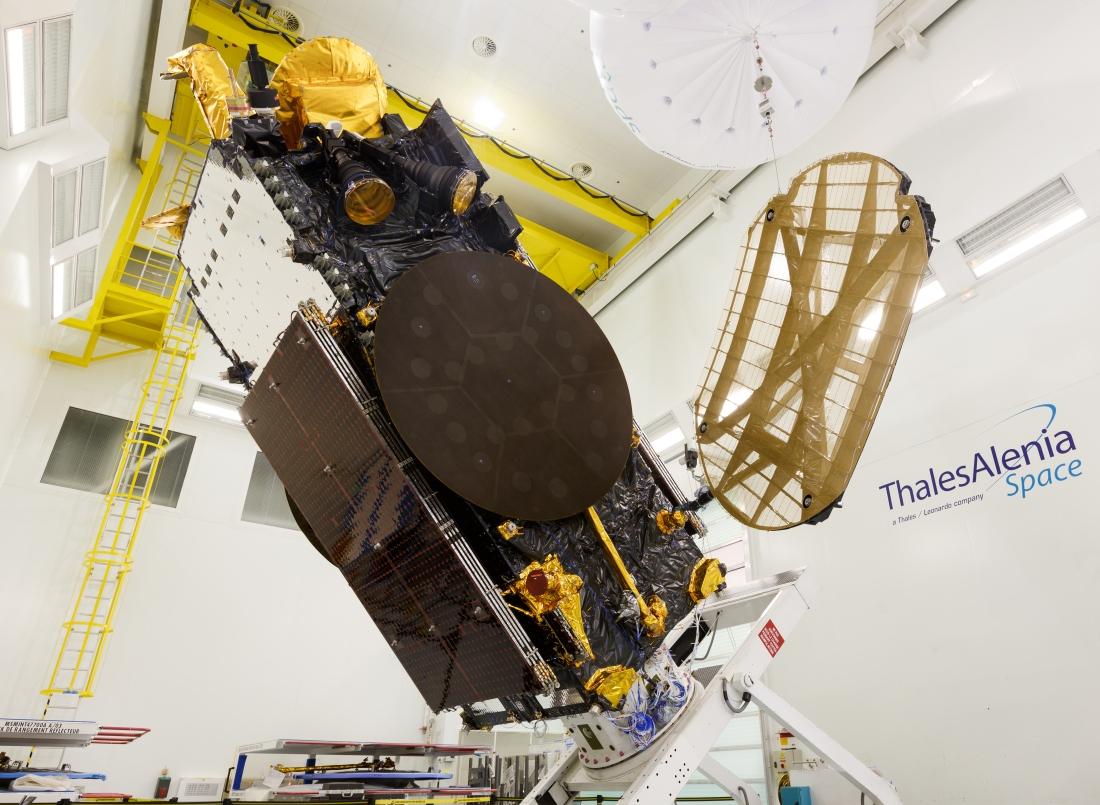 Hellas Sat 3 / Inmarsat S EAN, is a co-branded geostationary telecommunication satellite, which was built by Thales Alenia Space on the Spacebus 4000 C4 platform and launched on June 29th, 2017 from Kourou in French Guyana. The Hellas Sat 3 payload used for this demo delivers DTH (Direct To Home) and Telecom services in Europe, Middle East and Southern Africa, maintaining and expanding Hellas-Sat's business reach with additional capacities.
Christodoulos Protopapas, CEO of Hellas Sat, declared: "With the completion of 20 years of operations, Hellas Sat is exploring the new era of 5G communications providing satellite connectivity solutions to remote areas."
Following the previous, and first, 5G satellite backhauling demonstration made with South Korean operator KT SAT in February 2021, Thales Alenia Space continues to showcase its expertise as 5G system integrator for the future 5G NTN Radio Access Technology and to prove that its satellites are ready for 5G. Thales Alenia Space plays a pioneering role within all the initiatives designed to seamlessly integrate satellite communications in the 5G network infrastructure. Thales Alenia Space participates in several projects including the Omnispace future constellation of hybrid satellites for 5G which will be intended for the Internet of Things, SaT5G (Satellite And Terrestrial Network for 5G), a project launched as part of the European Commission's Horizon 2020 program to incorporate space components in 5G telecom systems, and the ALIX project funded by ESA to support the standardization of satellite aspects in 5G, in relation to the 3rd Generation Partnership Project (3GPP), which is in charge of defining 5G systems.
Marc-Henri Serre, Executive Vice President of Thales Alenia Space's Telecommunications Business Line, declared:  "At Thales Alenia Space, we are honored to support Hellas Sat with this 5G demonstration. This marks another step in our partnership and reinforces Thales Alenia Space's expertise in 5G. Also, this shows that we are pioneers and that our satellites fits with all the challenges of our changing world."
Artistic view ©Thales Alenia Space/Briot - Photo ©Thales Alenia Space/Alban Pichon
 
ABOUT THALES ALENIA SPACE
Drawing on over 40 years of experience and a unique combination of skills, expertise and cultures, Thales Alenia Space delivers cost-effective solutions for telecommunications, navigation, Earth observation, environmental management, exploration, science and orbital infrastructures. Governments and private industry alike count on Thales Alenia Space to design satellite-based systems that provide anytime, anywhere connections and positioning, monitor our planet, enhance management of its resources, and explore our Solar System and beyond. Thales Alenia Space sees space as a new horizon, helping to build a better, more sustainable life on Earth. A joint venture between Thales (67%) and Leonardo (33%), Thales Alenia Space also teams up with Telespazio to form the parent companies' Space Alliance, which offers a complete range of services. Thales Alenia Space posted consolidated revenues of approximately 1.850 billion euros in 2020 and has around 7,700 employees in 10 countries with 17 sites in Europe and a plant in the US. www.thalesaleniaspace.com
THALES ALENIA SPACE – PRESS CONTACTS
Marija Kovac                  
Tel: +39 (0)6 415 129 91     
marija.kovac-somministrato@thalesaleniaspace.com
Tarik Lahlou                
Tel: +33 (0)6 87 95 89 56    
tarik.lahlou@thalesaleniaspace.com
Catherine des Arcis    
Tel: +33(0)6 78 64 63 97    
catherine.des-arcis@thalesaleniaspace.com