Thales Alenia Space put on track its Space Inspire product line
Preliminary Design Review held
Cannes, November 27, 2020 – Thales Alenia Space, Joint Venture between Thales (67 %) and Leonardo (33 %)  announces that a major milestone for Space Inspire (INstant SPace In-orbit REconfiguration) development has been achieved by the accomplishment of the Preliminary Design Review (PDR).
Thales Alenia Space is developping this innovative product line with the aim to allow  seamless telecommunication mission and services reconfiguration, instant in-orbit adjustment to the demand, outstanding flexibility for video broadcasting and broadband connectivity services while maximizing the efficiency & effective use of the satellite resources.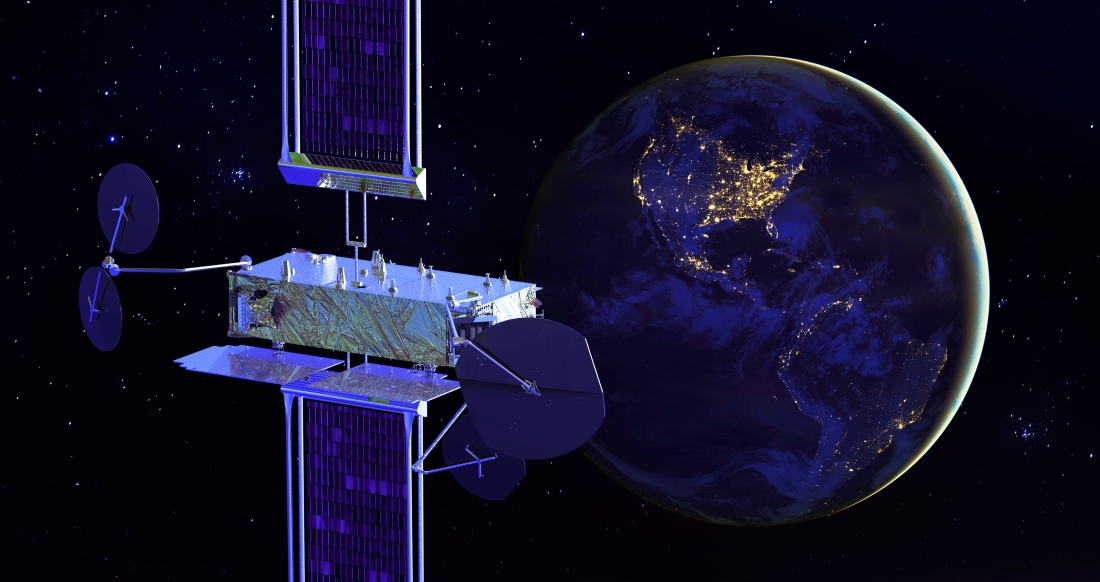 This product line is supported by France's space agency (CNES) with which a contract for satellite system engineering and development for phase CD activities has just entered into force in the frame of Space Inspire PIA (Plan d'Investissement d'Avenir), and by the European Space Agency's through a dedicated Partnerships Project contract which has also entered into force and which will develop several building blocks outside France within an extensive European supply chain.
Space Inspire product line will embark major innovations :
A new design and architecture to fully fit new satellites communication environment, in particular regarding flexible payload and multi launches capability;
A new industrial approach enabling series production designed to lower cost satellites and reduced procurement schedule;
Major breakthroughs with disruptive technologies to allow European industries to take the lead on major innovations
Following this Preliminary Design Review, Space Inspire product line is now entering into final design and qualification phases involving an industrial consortium all across Europe.
"We are delighted to put on track our Space Inspire product line thanks to the fruitful partnership and strong involvement of all the industries and agencies teams.  Mixing extremely high capacity, unique agility, in-orbit reconfiguration, flexible coverage, this solution is perfectly adapted to operators' expectations in the evolving telecommunication market" , declared Marc-Henri Serre, EVP Telecommunications at Thales Alenia Space.
"Space Inspire is based on advanced technologies both for payload and for platform with an important foot print in France. It will offer full in-orbit flexibility together with very attractive capacity and cost. CNES is strongly involved in the development of this new satellite generation since the preliminary definition phase, and will manage the satellite system phase CD contract for the french Investment Plan for the Future (PIA). The new product line should also benefit from building blocks developpment outside France through ESA coordination", declared Caroline Laurent, Director of Orbital Systems at CNES.
Elodie Viau, Director of Telecommunications and Integrated Applications at ESA, says: "The next generation of satellites built as part of Space Inspire will be able to adapt almost instantly to customer demands. ESA is proud to support the European and Canadian space industries to develop innovative satellites for the competitive global telecommunications market. I congratulate all the Thales Alenia Space, CNES and ESA teams for their hard work and looking for the success of this project."
Artistic view ©Thales Alenia Space /Briot
ABOUT THALES ALENIA SPACE
Drawing on over 40 years of experience and a unique combination of skills, expertise and cultures, Thales Alenia Space delivers cost-effective solutions for telecommunications, navigation, Earth observation, environmental management, exploration, science and orbital infrastructures. Governments and private industry alike count on Thales Alenia Space to design satellite-based systems that provide anytime, anywhere connections and positioning, monitor our planet, enhance management of its resources, and explore our Solar System and beyond. Thales Alenia Space sees space as a new horizon, helping to build a better, more sustainable life on Earth. A joint venture between Thales (67%) and Leonardo (33%), Thales Alenia Space also teams up with Telespazio to form the parent companies' Space Alliance, which offers a complete range of services. Thales Alenia Space posted consolidated revenues of approximately 2.15 billion euros in 2019 and has around 7,700 employees in nine countries. www.thalesaleniaspace.com
THALES ALENIA SPACE – PRESS CONTACTS
Sandrine Bielecki    
Tel: +33 (0)4 92 92 70 94    
sandrine.bielecki@thalesaleniaspace.com
Tarik Lahlou        
Tel: +33(0)6 87 95 89 56    
tarik.lahlou@thalesaleniaspace.com
Cinzia Marcanio            
Tel: +39 (0)6 415 126 85             
cinzia.marcanio@thalesaleniaspace.com
Marija Kovac            
Tel: +39 (0)6 415 129 91      
marija.kovac-somministrato@thalesaleniaspace.com