Thales Alenia Space will provide the IRIS altimeter for the Copernicus CRISTAL mission
At the heart of the operational system for cryosphere and ocean
Toulouse, 2020, September 21. Thales Alenia Space, a Joint Venture between Thales (67 %) and Leonardo (33 %) has today signed a close to €88 million contract with Airbus Defence and Space, prime contractor of the satellite, to develop the two IRIS flight models (Interferometric Radar Altimeter for Ice and Snow) of the Copernicus polaR Ice and Snow Topography ALtimeter (CRISTAL) mission. The CRISTAL mission is part of the expansion of the Copernicus Space Component programme of the European Space Agency, ESA, in partnership with the European Commission. The European Copernicus flagship programme provides Earth observation and in situ data and a broad range of services for environmental monitoring and protection, climate monitoring, natural disaster assessment to improve the quality of life of European citizens.
The CRISTAL satellite will carry, for the first-time, a dual-frequency Ku/Ka bands radar altimeter to measure and monitor sea-ice thickness and overlying snow depth. Measurements of sea-ice thickness will support maritime operations and they will help in the planning of activities in the polar regions. IRIS will also measure and monitor changes in the height of ice sheets and glaciers around the world, thanks to its interferometric radar mode. IRIS will significantly improve the measurement accuracy of its predecessor SIRAL-2 (a Ku band only altimeter on board ESA's CryoSat-2 Earth Explorer mission) thanks to the dual frequency operation and by adding the measurement of sea surface height as part of the mission objectives. The CRISTAL global mission is essential to better understand and monitor Earth climate in a context of the rapid climate change.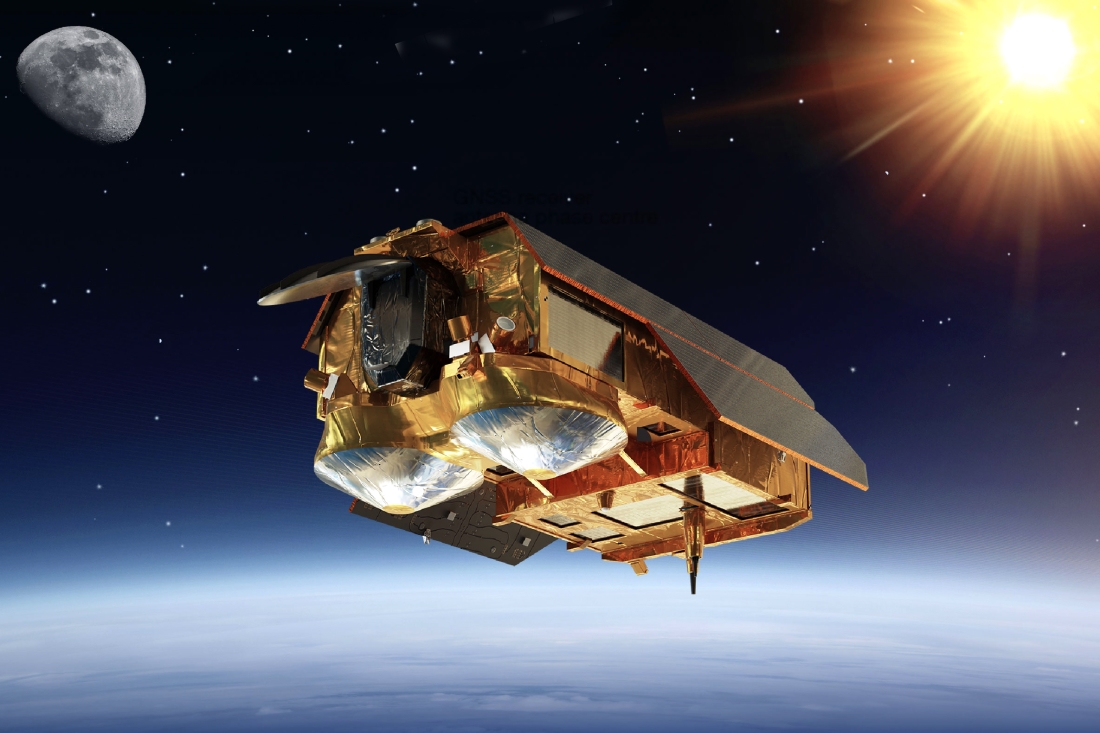 Hervé Derrey, CEO of Thales Alenia Space declared: "By providing the IRIS altimeter onboard CRISTAL, Thales Alenia Space is pleased to contribute to improve the data already provided by SIRAL-2 on board Cryosat and ensure the continuity of ice monitoring. Polar regions have a real influence on patterns of global climate, thermohaline circulation, and the planetary energy balance. A long-term program to monitor Earth polar ice, ocean and snow topography is therefore of the utmost interest to both operational and scientific users of Arctic and Antarctic measurements."
Marc-Henri Serre, VP Observation and Science domain, at Thales Alenia Space in France added: "Thales Alenia Space will bring all its expertise and long-standing heritage on space altimetry, and its flight proven heritage acquired with SIRAL-2 to serve this crucial mission to understand and monitor the climate".
The IRIS altimeter is designed and it will be built from the legacy of several  altimeter programs of the Thales Alenia Space product line, including SIRAL-2, Poseidon 4 on board Sentinel-6/Jason-CS, Alti-Ka on the CNES/ISRO satellite, and KaRIn on board the CNES/JPL SWOT satellite. Thales Alenia Space is also the first to have flown an interferometric SAR altimeter (SIRAL) offering a unique expertise in interferometric radar electronics and interferometric antennas.
About industrial contributions for CRISTAL
Thales Alenia Space in France is prime of the IRIS altimeter, with contribution from Thales Alenia Space in Belgium for the Ku and Ka band Solid State Power Amplifiers power supply, Thales Alenia Space in Italy for the Ultra stable Oscillator. Thales Alenia Space in Spain will provide the S-Band transponder (SBT) of the CRISTAL satellite.
Thales Alenia Space: world leader in space altimetry
Thales Alenia Space is a world leader in space altimetry, a technique that lets us study sea surface height, sea ice thickness and river and lake levels, as well as land, ice sheet and seabed topography. The company has provided a whole host of instruments for oceanography, like the Poseidon altimeters on the Topex-Poseidon and Jason 1, 2 and 3 missions for the CNES. Thales Alenia Space also built the AltiKa Ka-band altimeter for the French-Indian SARAL oceanography satellite, and the SIRAL 2 very-high-resolution SAR (synthetic aperture radar) altimeter on ESA's Cryosat-2 satellite, capable of measuring variations in sea ice thickness and continental ice mass balance with unprecedented accuracy. In addition, Thales Alenia Space supply the SRAL SAR altimeters for Sentinel-3, the SWIM altimeter on the CFOSat satellite for CNES, which measures wave spectra, and the SADKO altimeters on Russia's GEO-IK satellites.
To know more about geophysical parameters to be measured by the CRISTAL mission (source ESA)
1.    Floating Ice parameters including sea ice extent/concentration/thickness/type/drift velocity, thin sea ice distribution, iceberg detection/volume change and drift, ice shelves thickness and extent. These parameters are key to operational services (navigation, marine operations) as well as to climate modeling.
2.    Glaciers, caps and ice sheets parameters including extent/calving front/grounding line/surface elevation and surface elevation change/surface velocity/mass balance and mass change/melt extent. These parameters are essential for climate change/sea level rise.
3.    Sea level/sea level anomaly parameters are essential parameters for oceanic large scale and mesoscale circulation / variability and currents, marine forecasting.
4.    All weather Sea Surface Temperature for climate modeling, mesoscale analysis, oceanic predictions and as climate change indicator.
5.    Surface Albedo as major determinant for the energy balance between atmosphere and surface, is crucial for many application domains including climate, meteorology, numerical weather modeling, hydrology and more.
6.    Surface freshwater (river runoff and discharge, river and lake ice thickness) as an important resource for the supply of water to populations as well as for transport activities and impact on ocean changes/climate modeling.
7.    Snow (extent/fraction and snow equivalent water, melt extent) important for many applications in hydrology, meteorology, water management and climate modeling.
8.    Permafrost (extent/fraction and topography/deformation monitoring) important for operational activities (transport, construction/ground movement) as well as indicator of climate change.
Artistic view © Airbus Defence and Space
ABOUT THALES ALENIA SPACE
Drawing on over 40 years of experience and a unique combination of skills, expertise and cultures, Thales Alenia Space delivers cost-effective solutions for telecommunications, navigation, Earth observation, environmental management, exploration, science and orbital infrastructures. Governments and private industry alike count on Thales Alenia Space to design satellite-based systems that provide anytime, anywhere connections and positioning, monitor our planet, enhance management of its resources, and explore our Solar System and beyond. Thales Alenia Space sees space as a new horizon, helping to build a better, more sustainable life on Earth. A joint venture between Thales (67%) and Leonardo (33%), Thales Alenia Space also teams up with Telespazio to form the parent companies' Space Alliance, which offers a complete range of services. Thales Alenia Space posted consolidated revenues of approximately 2.15 billion euros in 2019 and has around 7,700 employees in nine countries. www.thalesaleniaspace.com
THALES ALENIA SPACE – PRESS CONTACTS
Sandrine Bielecki    
Tel: +33 (0)4 92 92 70 94    
sandrine.bielecki@thalesaleniaspace.com
Catherine des Arcis    
Tel: +33 (0)4 92 92 72 82    
catherine.des-arcis@thalesaleniaspace.com
Marija Kovac        
Tel: +39 (0)6 415 126 85      
marija.kovac-somministrato@thalesaleniaspace.com